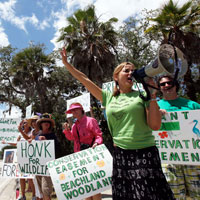 Parents give new Beachland traffic plan thumbs down
STORY BY EILEEN KELLEY, (Week of May 3, 2012)
Photo: Beach work still going on late Monday on the north barrier island.
A plan to reroute vehicles along residential streets in Central Beach as a way to ease the traffic congestion on Beachland Boulevard and Indian River Drive when parents pick up their children at Beachland Ele-mentary School has been met with a resounding no.
It now appears that the school district is back to square one: Coming up with yet another plan.
More than 50 parents and residents in the Central Beach area told school officials, the architect of the plan and two school board members there must be a better way for school buses and parents to get onto the school property without impacting the lives of residents who live on Date Palm Road and Mockingbird Drive.
The plan to reroute the traffic on the two roads that border the school was put together after a huge public debate erupted last month when residents and parents learned large swaths of the oak hammock on school property would be cut down and roads built through it for the new parent and bus pick-up spots.
"We listened to you," said school administrator Susan Olsen, who oversees construction projects for the district, after the decision not to disturb the oak hammock.
But if Olsen and other school officials thought the secondary plan – one that would mean not cutting down any trees – would be met with great applause, they could not have been more wrong.
Instead, nearly all of the more than a dozen neighbors who spoke told officials the new plan would do more harm than good as far as the safety of children who walk to and from school was concerned, and would unfairly penalize neighbors with no connection to the school by diverting traffic along Date Palm and Mockingbird roads.
"Get the traffic off of Date Palm; they don't want it," said Central Beach resident Bob Franklin.
At several points in the meeting, tempers flared over the secondary plan.
Jim Shea, a Central Beach resident and member of the Audubon Society, thanked the school officials for sparing the trees, but he said if it had not been for the public outcry over saving the oak hammock, "the bulldozers would probably already be in the woods."
Architect John Binkley of Edlund, Dritenbas and Binkley Architects and Associates of Vero Beach, told the residents after the two-hour meeting at the school that once again, their concerns came across loud and clear.
"We can re-look at this again," Binkley said. "I'm going to be flexible."