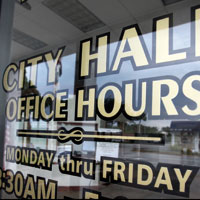 City Hall case study: How a secretary gets to $60,000-a-year (plus benefits)
STORY BY LISA ZAHNER, (Week of May 31, 2012)
Mark Twain once said, "If you do what you've always done, you'll get what you always got."
Twain obviously didn't know anyone who worked for the City of Vero Beach.
Maybe Woody Allen had a little more insight into Vero Beach city government jobs when he said, "Ninety percent of life is just showing up."
It's difficult for taxpayers to get their heads around the fact that the City of Vero Beach each year spends five times what it collects in property taxes, and the vast majority of that goes to employee salaries, employee health insurance and employee pensions.
How did expenses mushroom so far beyond the tax revenues? And why?
The answer: The city has for years padded its general fund with roughly $11 million annually siphoned off its electric and water utilities, to cover a growing municipal staff and increased salaries. Now, officials are having trouble even thinking about how to wean the city off the free-flowing electric, water and sewer dollars.
It's nearly impossible to dissect the problem as a whole, but a close look at one long-term employee – Vero's $60,000 secretary – gives a glimpse into how things spiraled so far out of control over the past three decades.
City Manager Jim O'Connor's assistant, Joyce Vonada, has been with the City of Vero Beach since 1979. She earns $30.68 per hour or roughly $60,000 per year, plus paid health insurance, life insurance, disability insurance, pension benefits, paid holidays and plenty of paid time off available for illness and vacation.
By way of comparison, the median salary for an executive assistant in Vero Beach, according to salary.com, is $47,119.
Vonada started out more than three decades ago as a secretary in the city clerk's office, then in the water-sewer department, then made a lateral move to the engineering department in 1985 after marrying a water-sewer supervisor. In November 1988, she replaced the retiring Eleanor Odorico and became secretary to City Manager John Little and the assistant city manager.
Since then, Vonada has performed virtually the same job, but her rate of pay has almost tripled from $11.50 to $30.68 per hour.
Actually her responsibilities used to include assisting two bosses, but now she has just one boss since the assistant city manager position was eliminated.  She was there through the administrations of Little, Rex Taylor, David Mekarsky, Jim Gabbard, interim city manager Monte Falls and now O'Connor.
Vonada is regarded – and sometimes feared – by city staff as the person who knows the whereabouts of every skeleton in every closet at City Hall.
She came to her job with an Associate's degree from a two-year secretarial program in Binghamton, N.Y., which she listed on her job application in 1979. There are no copies of diplomas or certificates or transcripts in her file showing any advanced training or further college or vocational education. There's no evidence of requests for tuition reimbursement.
There is no long paper trail of glowing performance reviews – just a probationary review, one from 1982, and a new review from April 19, on which Vonada scored "excellent" in every category. The city did not believe in performing annual reviews during the intervening 30 years.
What makes up the bulk of this employee's personnel file is a thick stack of forms showing pay raises – sometimes two per year – with the last one in October 2008. The city stopped giving raises after the recession hit.
For the person who made a living somewhere outside the hallowed halls of government who might wonder how the secretary to the city manager (later reclassified as the "office administrator" of an office that consisted of her and her boss) could be pulling down $60,000 per year, here's how it happened:
On April 23, 1979, Vonada was hired as a Secretary II in the City Clerk's office with a starting salary of $7,995 per year, or $4.31 per hour, plus benefits, which increased 30 cents or 7 percent after a probationary period. She moved into an Administrative Secretary position in the water-sewer department in 1980. In July of 1980 she received a 17.4 percent increase to $5.41 and then on Oct. 1, 1980 she got a 10 percent increase to $5.93.
That's a 37.5 percent increase in her first 18 months. 
In October 1981, there was a 10 percent increase across the board for all city employees, followed by a 5 percent increase on her anniversary date in April 1982, which increased her hourly rate to $6.81. That's a 57.5 percent increase in just three years.
October 1982 brought a 5 percent increase for all employees, plus a 3.5 percent increase on top of that in April 1983 for Vonada on her anniversary date, bringing her hourly wage to $7.40 and her annual salary to $14,430 plus benefits.
In 1983, the anniversary raises went away, leaving just the across the board raises which all city employees received. Those raises were 4.5 percent in 1983, 5 percent in 1984, 6 percent in 1985, 4 percent in 1986, 7 percent in 1987 and 5 percent in 1988 bringing her hourly rate to $10 per hour.
That's a 132 percent increase in 9 years. Then she got the job in the city manager's office and was bumped up to $11.50 per hour.
After less than one year in the city manager's office, John Little increased Vonada's pay 8 percent to $12.49 per with a note saying "To bring the incumbent closer to salary of previous position holder." Keep in mind, Vonada replaced a woman who had enough years of service with the city to retire.
Three months later, Vonada got the annual across the board increase of 5.5 percent, raising her salary to $25,545 in October 1989. Annual raises for all employees were 7 percent in 1990 and 6 percent in 1991 bringing her to $14.86 per hour, despite the fact that the whole country was enduring a major recession.
Then in July 1992, Vonada's job was reclassified as "Office Administrator." When long-time employees have hit a pay cap for a certain position, cities and counties often employ job reclassifications to restructure pay scales.
Annual increases for all employees were 4 percent in 1992, 4 percent in 1993, 4.75 percent in 1994 and 5 percent in 1995. In 1996, employees only got 2.7 percent but in 1997, there were two raises – 2.2 percent on Oct. 1 and another 3 percent on Oct. 23.  The years 1998 and 1999 brought 3 percent and 2.75 percent raises, respectively.
The next decade, raises started to creep back up, with 4 percent in 2000 and 4 percent in 2001. Then somehow between 2001 and 2003 (there seems to be a page missing from the file), Vonada's salary increased from $42,646 to $47,515 – a full 11.4 percent in just two years. In 2004 employees got 2.7 percent.
When she hit her 25th anniversary in 2004, a letter in Vonada's file states that she got to go down to a  local jeweler and pick out a $250 wristwatch as a gift.
There is no paperwork for 2005. In 2006, without any explanation in the file, Vonada began receiving the same raises as employees who were members of a union representing some city workers.  As a result, she started getting a base pay or "step" raise plus a "longevity" raise. In 2006 that meant a 5 percent step raise plus a 3 percent longevity raise for a total of 8 percent.
In 2007, the step raise was 5.2 percent and the longevity raise was 3.7 percent for a total of 8.9 percent. In October 2008, step raises for all employees were 4 percent and Vonada's longevity raise was 3.5 percent for a total of 7.5 percent. All that resulted in her current  hourly salary of $30.68.
Cost of living increases published by the federal government were 4.1 percent for 2006, 2.3 percent for 2007 and 3.3 percent for 2008. Vonada's pay increased at nearly three times those rates in the same three years.
In October 2009, the city implemented furloughs and employees took a 5 percent pay cut, but that was reversed in 2011.
With 33 years of service at a multiplier of 2.25 percent of pay per year, Vonada would get an estimated $44,000 pension per year if she retired today, plus a tidy cash payout for banked sick and vacation time. But she's only 55 years old, so chances are she'll stay at the city at least another 10 years until she's eligible for Medicare.
Of the more than 400 city employees, there are examples in every department of people who have enjoyed the 7 percent, 8 percent or even 8.9 percent annual increases of past years – and who are not yet ready to retire.
And people wonder why the City of Vero Beach is in financial trouble.