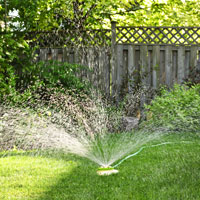 Reuse water rate cuts may bring reduction in homeowner fees
STORY BY LISA ZAHNER, (Week of May 17, 2012)
Barrier island communities that rely on reuse irrigation water from Vero Beach utilities to keep their lawns and golf courses green will see bills cut by almost two thirds as of Oct. 1, enabling some associations to cut homeowner fees next year.
Homeowner and condo associations will not be issued new service agreements with Vero Beach Utilities, but instead will be covered under the 30-year franchise agreement recently inked with the Town of Indian River Shores.
According to city officials, even reuse customers outside the Shores will benefit from the same deal – Indian River County reuse water rates.
That means 67 cents per 1,000 gallons of reuse water as opposed to the $1.97 currently being charged by Vero, cutting bills by nearly two thirds.
Riomar Golf Club, The Moorings and St. Edward's School are among the large reuse customers outside the Shores that will see their irrigation bills drop after meters are read in October.
"All customers will receive the same rate," said Vero water-sewer Director Rob Bolton. "Agreements are not necessary."
The town's franchise agreement also guarantees that Vero will make available a minimum of 2.4 million gallons per day to the Shores, gradually increasing the amount it provides every few years until the minimum volume reaches 3.4 million gallons per day in 2040.
The city has budgeted a quarter million dollars over the next two years to install a pump system which will allow it to utilize storm water from the main relief canal. That water, after some filtering and minimal processing, will be pumped out and sold as reuse water to meet the increased commitments, according to public records.
Vero has also committed to deliver that reuse water at no less than 40 pounds per square inch of pressure. Inadequate or inconsistent pressure has  been a concern in the past.
With regard to rates, the terms of the Shores franchise agreement are pretty simple and are tied to county rates. Indian River County charges 67 cents per 1,000 gallons, compared to Vero's $1.97 for the same volume of reuse water.
The reduction in rates, according to public records provided to the Shores from Vero, will slice the city's reuse water revenues from an estimated $690,000 in the current year to $467,000 next year.
Ocean Colony residents spoke up at numerous town council meetings about the gouging they've experienced at the hands of Vero Beach Utilities over the past three years – increases that have cost hundreds of dollars out of the pockets of each resident. Those protests and others were heeded as the council voted to re-up with Vero to get a break on reuse rates in October instead of waiting until November 2016, the earliest Indian River County could have taken over all the water utility functions from Vero.
That four-year wait would have cost Ocean Colony folks dearly, according to association board Treasurer John Steiner, who at an April Shores council meeting said the additional cost  amounts to a whopping $3,000 per month for 28 homes.
The Board of County Commissioners approved a graduated plan to increase rates by 7 cents per year over the next three years, but county reuse rates are scheduled to top out at 88 cents in October 2015 – still a pretty good bargain.
County Utility Director Erik Olson has said repeatedly that the county does not anticipate increasing rates – for reuse, potable water or sewer services – in the next few years. If anything, Olson and County Administrator Joe Baird say they will be able to ease rates slightly as nearly $25 million in bonds are paid off.
Shores Vice Mayor Jerry Weick said the new rates will make a huge difference for communities like his that have pressurized reuse water piped to the sprinkler system of each and every single-family home.
 Weick lives in Bermuda Bay and serves on the association board. He has estimated that the new rates will save him and his 103 neighbors $72,000 per year just in reuse rates. On top of that, he noted that residents' potable water and sewer rates will also go down Oct. 1.
In an effort to keep dues under control, communities have had to make sometimes difficult choices, skimping on maintenance or enhancement of common areas to afford basics like water and electricity.
Bermuda Bay's association dues are $4,900 per year and the savings in water will amount to about a 14 percent reduction in costs when the board sits down to hammer out the 2013 budget in October and November.
Mayor Tom Cadden had urged Vero officials to expedite the reduction of rates to give Shores residents relief as early as this summer. But Weick defended the fact that City Manager Jim O'Connor stood his ground on the Oct. 1 effective date for the new rates across the board.
"The city has already budgeted for that revenue," Weick said. "If we as the Town of Indian River Shores had budgeted revenue, we wouldn't want to change something part of the way through the budget year either.