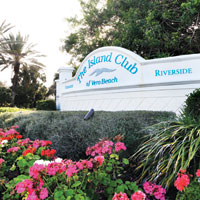 Shores bid to annex Island Club familiar ground for Cadden
STORY BY LISA ZAHNER, (Week of May 10, 2012)
When the Indian River Shores Town Council voted to begin annexation proceedings with Island Club, at least one member, Mayor Tom Cadden, said he felt like he was in familiar territory. "I lived through the last time and it ended rather abruptly – at their request," Cadden said during last week's meeting.
The town was on the verge of annexing the Island Club a decade ago before the development pulled out of the transaction for fear of getting sucked into a multi-million dollar lawsuit with the Lost Tree Village Corporation over the Lost Tree Islands controversy.
According to Florida court documents handed down last year, the town was named in litigation with Lost Tree Village Corporation, the owners and developers of John's Island and Lost Tree Village in Palm Beach County over permits that had been denied by various government agencies for filling wetlands and developing environmentally sensitive islands just north of the Merrill Barber Bridge.
The powers that be at Island Club at the time saw no reason to join the fight. The Lost Tree Islands were eventually designated a 508-acre conservation area of shared jurisdiction among the Shores, Vero Beach and Indian River County, but the venture wasn't cheap or easy.
According to court records, the town paid $1 million in 2003 for its part of the purchase of the Lost Tree Islands in an epic government land-taking case. That cost, plus legal fees would have been spread among all town residents.
Now, Town Manager Richard Jefferson said the Island Club residents have voted to again begin courting rituals with the town and the town council, eager for the estimated $111,000 more in property taxes Island Club property owners would pay, voted unanimously to direct Town Attorney Chester Clem to get the legal ball rolling.
Cadden urged the town to make sure the whole deal is properly vetted – in public – so no one can complain about it later after the 258 single-family residences and the 360 registered voters have been added to the town.
Clem said some public hearings would be called for in short order, but they have not yet been scheduled.
Florida statute prescribed the steps which must be taken in order to legally annex property into a municipality. The Board of County Commissioners must be notified, but that body has no say over whether the Island Club may join the Shores.
"I think we could get it done by the end of the year," Clem said. "It's sort-of an easy sign-off process, not a full-scale look at it."