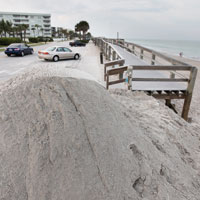 County to pay way more than Vero for replacement sand
STORY BY EILEEN KELLEY, (Week of November 8, 2012)
Photo: Sand for beach repair stockpiled at south end of boardwalk.
The city of Vero Beach, for all its issues, was able to quickly shore up Ocean Drive following the recent beach erosion while paying sand miners about 36 percent less per truckload than what the county plans to pay for sand.
The city paid Ranch Road Lake Sand Mine $12.70 a cubic yard for about 800 yards of sand put between the boardwalk at Conn Beach and the road, and a city public works department employee did the rest of the work.
The county, on the other hand, expects to pay about $20 a cubic yard for the 3,000 to 4,000 cubic yards of sand it believes it will need for its emergency erosion repairs.
Ranch Road Lake Sand Mine is the company that tangled in a not so friendly way with the county earlier this year over bills and the lack of available sand to finish the three-year, $15 million county beach restoration project that ended in March.
In the current situation, the county maintains the city had the advantage of having a considerably smaller emergency project and did not need to pay contractors to bring their massive trucks up the beach because they could just dump the fill along Ocean Drive.
Starting Oct. 24, four days of strong winds from Hurricane Sandy caused severe erosion along the Indian River County coastline.
In a letter sent to President Barack Obama requesting a major disaster declaration for areas from Miami-Dade up to Brevard, Gov. Rick Scott said preliminary reports suggest that uninsured losses to coastal counties stand at a staggering $67 million.
Indian River County's losses, which include Vero Beach's lost dunes, were pegged at about $12 million.
As of late last week, county officials still had not decided which upland sand company it would chose to do emergency repairs at three beaches.
County Coastal Engineer James Gray said roughly 1,500 cubic yards of sand would be needed at the Tracking Station Beach and roughly the same amount at Wabasso Beach.
About 500 cubic yards was needed at Sea Grape, Gray said, just to shore up the structures there.
At Tracking Station Beach, Gray said "the dunes retreated 15 plus feet."
The loss of the dunes comes after the county spent $14.7 million to rebuild 6.6 miles of beach along the northern portion of the barrier island.
The project took three years and added some 560,000 cubic yards of sand to the shoreline.  The project was just completed in March.
For that area alone, Gray estimated it will cost about $7.4 million to replace what was lost to Sandy.