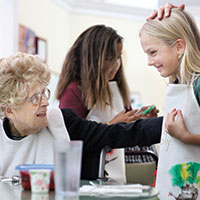 At Thanksgiving, kids help elderly fight the loneliness of the season
STORY BY EILEEN KELLEY, (Week of November 22, 2012)
Photo: Clara Hart with Emily Parker.
The elderly woman with short silver hair is one of the last to arrive. She rests her hands neatly on her lap. With her bowed head, it appears as if she is praying. The woman's daughter leans over and whispers into her ear. "The children are getting ready to sing," Sherry Kitchen quietly says. "They are third-graders."
And with that, a soft smile spreads across the woman's face. Not a bad way for Anne Hynson to spend her first day at the Green Gables assisted-living facility on 22nd Avenue in Vero Beach.
The children are students at Imagine School, a charter school in the county, and are reaching out to the Green Gables residents at a time – the holidays – when loneliness can be an older person's worst enemy.
According to a University of California San Francisco study on loneliness and aging Americans, 43 percent of those surveyed reported feeling lonely on a regular basis. Lonely seniors are more likely to become ill or die faster as a result.
The Green Gables residents are among about 2,000 older Indian County residents who live in assisted-living facilities or nursing homes, many without families nearby.
Hynson, who is blind and turns 93 on New Year's Eve, is among the fortunate to have family that come to visit.
She shares her new home at Green Gables with two dozen women and three men.
"There's a lot of people in this area that don't have anyone," says Hynson's daughter Kitchen after reaching over her mother's shoulder and gently leading her hand to a paper and feather table decoration traced by a child hand and meant to resemble a turkey.
"I cannot imagine what it is like for the people who don't have an advocate," Kitchen says. "This is what is so good about these children being here."
Families, Kitchen says, should take the time to share with their children the importance of inclusion, even when it's with strangers.
That's exactly why islander Valerie Bing, a teacher at Imagine School, brought the children to the assisted-living facility that her parents and sister own.
About six weeks ago, Bing asked her third-grade class for show of hands for those interested in being part of a reading club that would stage a Thanksgiving performance at Green Gables.
Eighteen of the children raised their hands and each spoke exuberantly about what they know of the elderly and why they wanted to participate.
One student said:  "The old people have a lot of stories to share and they have so much to say that I cannot get a word in."
Ten were picked and practiced for one hour after school each week for five weeks.
Sophia Gunther relished the opportunity to be around people who have sorted out life's complexities. "When you are grown up, you don't make mistakes anymore," she says.
Bing says she had a gut feeling the students would deliver a memorable performance and create a heartfelt Thanksgiving event.
"I do feel this group of 10 students has a respect and understanding for the older generation," Bing says.
At almost 93, Hynson is not the oldest resident at Green Gables. That distinction goes to 98-year-old Ruth Molander.
"Very good," says Molander as the 10 children from Imagine School finish a song.
Still, the show is not over.
The children stand with backs straight as boards as they position their colorful paperboard binders at eye level so they can follow the reading performance and not miss a beat.
The story they share with the residents, half of whom sit somewhat slumped over in wheel chairs, is about the Pilgrims.
The children take turns talking about the Pilgrims journey to the New World, a place far from home. They speak of loneliness, fear and sadness.
The children speak words that clearly many of the residents here and elsewhere in the county at times have felt as they've lost another loved one to age or disease, and themselves had to say goodbye to all that was familiar in the own homes before starting anew in an assisted-living facility or nursing home.
But the children also speak of the grand feast at Plymouth where the masses came together and broke bread, an event that would one day be celebrated as the Thanksgiving holiday.
For the most part, the residents at Green Gables are fortunate in that they all have families although some go six to eight months without a visit.
That's where the children from Imagine School come in.
After the song, the play and three special readings on what three little girls were thankful for, the children pass out a traditional Thanksgiving dinner of turkey, potatoes, stuffing and green beans.
"This is just adorable," says 93-year-old Clara Hart. "They are just beautiful every last one of them. I'd like them to come back every month."
On Thanksgiving, Green Gables will offer another traditional meal to the residents.  But many elderly, who are not in assisted-living facilities or nursing homes, will spend a quiet day alone without family.
"Most of our clients live alone and already deal with isolation and depression," says Sheldon Kleger, the director of client and health services with the Senior Resource Association of Indian River County.
Kleger estimates that about 75 percent of those his agency sees routinely will not have visitors come to their house on Thanksgiving or be invited to join another family.
The agency, which is closed on Thanksgiving as well as Friday, brought frozen foods and a turkey dinner over to its clients in advance of the holiday.
"At least this will give them some nutrition," says Kleger. "I know, though, it doesn't solve the depression and isolation issue."
The agency provides case management service for close to 800 people.
Now, with Christmas just four weeks away, Kleger says case workers will reach out and ask the shut-ins who receive Meals-on-Wheels what they would like as a gift this year.
The list is pretty predictable: A flannel shirt for some. A tin of cookies for others.
Kleger says he thinks most really just want some company.