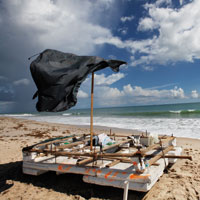 Cuban refugee boat washes up south of Moorings
STORY BY EILEEN KELLEY, (Week of October 4, 2012)
Photo: Homemade boat built by Cuban refugees abandoned on beach just south of The Moorings.
A small, patchwork boat, apparently used by Cuban refugees fleeing their island homeland, washed up on Vero's south beach Friday – and the big question was what happened to the passengers seeking exile.
Coast Guard officials in Miami said they deal with so many vessels they'd have to comb their records to determine if the boat had been stopped and its passengers off loaded, or whether the passengers might have drowned during the transit.
Petty Officer Jon-Paul Rios said it could take several days to sort out the matter as there were no clear identifying marks on a boat such as registration information.
"We run into so many that look that way," Rios said. "It's nothing new to run across vessels like that."
An orange mark on the back of the boat indicates the vessel might have been tagged by the Coast Guard – intercepted at sea and then with no passengers aboard, allowed to drift on.  But officials with the U.S. Coast Guard in Fort Pierce said they had not tagged the boat.
There also was no indication that any passengers came ashore here.  If any had, they would automatically be entitled to asylum.
A Coast Guard spokeswoman said it is unusual for rafts from Cuba to make it this far north, though she pointed out that five Cubans landed in Fort Pierce in June.
Over the weekend, the small homemade vessel sat on water's edge just south of the Moorings. Plenty of passersby stopped to get a closer look. They called neighbors to come down and see the boat, stopped to have their photos taken near it, and paused to reflect.
Various brands of Cuban chips, candies, colas, beer, cigarettes and water were packed into a boat cobbled together from one- by-six inch boards and Styrofoam panels jammed between its wooden ribs.
The boat measured 14-feet long by seven-feet wide. The mast, a two-by-two inch post, rose nine feet into the air. A black tarp served as the sail and the tiny craft featured a homemade boom and rudder.
"They must be pretty desperate – those poor people," said Peter Tyson of St. Christopher Lane.
Over the past decade, a few vessels have washed ashore, some with motors and others much more primitive: inner tubes and sticks.
By comparison, last week's find was pretty ingenious.
"It's kind of unique," said Tyson.
The boat, said Tyson and islander Troy Westover, serves as a reminder to the kind of desperation of the passengers chasing their dream of a new life in a new land.
Those who stowed away apparently fished for food as the boat had a spool and monofilament line as well as a rusty knife.
The refugees also brought provisions for starting over: a bright blue bag marked with the Spanish word for rice, arroz. A slender sleeve, such as those used to wrap a newspaper that gets flung into driveways, was filled with dried red beans.
Westover was particularly stuck by the spent cigarette butts stored in a glass container. The butts could have easily been tossed overboard but weren't.  He wondered was it love and appreciation for the sea, or some other reason, that led the passengers to keep them in the jar.