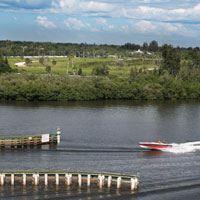 Michael Creek project about to come back to life
STORY BY STEVEN M. THOMAS, (Week of September 6, 2012)
Photo: The 31-acre, 60-home Michael Creek subdivision at the east end of the Wabasso Bridge.
The Michael Creek subdivision at the east end of the Wabasso Bridge, which has been sitting idle the past four years, may finally see the start of some homes  in the not too distant future, according to Ironwood Properties.
"Models are within striking distance.  We are very anxious to get started up there," says Cary Glickstein, president of the 25-year-old Delray Beach-based development company. "It is a small, unique site, not a production site, very different from a large subdivision of several hundred homes. Our idea has always been to create something special there.
"We spent a lot of time getting the waterfront entitlements, and we have every intention to build out the community.
"We see the market improving in Vero Beach and see the improvement accelerating. There are no barriers to pulling permits and we have been discussing the possibility of going in there not this season but next season."
The subdivision, which is planned for 60 homes, can be seen plainly when driving over the Wabasso Bridge onto the island. It sits on the right side of SR-510 behind a masonry wall, extending from the lagoon to the fire station.
Infrastructure, including roads, sewers and a central lake, has been in place since 2008, but no homes have been built.
Glickstein acquired a total of 31 acres in two parcels in 2006, at the height of the housing boom. He bought 28 acres from the Lier family, descendants of island citrus pioneer A.B. Michael, for $16 million.
He paid another $1.6 million for an adjacent 2.8-acre parcel at the same time.
Twenty acres of the property are zoned RS-6, which normally means six homes per acre can be built. But deed restrictions agreed to by the Liers when they fought with the county commission to rezone the land from agricultural to residential limits the number of homes per acre to three.
The remainder of the property is zoned as conservation or agricultural land.
As late as the fall of 2008, Glickstein still thought he could buck the down market with a well-designed community of luxury homes.
Realty eventually sunk in, however, and he put the development on hold.
"We made a decision when the market continued to deteriorate not to start something we might not be able to complete," Glickstein said.
Under the original plan, homes were priced from $800,000 for those on interior lots to $3.2 million for direct riverfront.
This time around Glickstein will offer less-expensive, possibly smaller homes "commensurate with the market."
Glickstein says he is encouraged by reduced inventory on the island and by sales of new homes at River Club and other developments. "We are watching the situation very closely and see signs of stabilization, but we want to see more before we move ahead at Michael Creek."
"Ironwood's preliminary plat approval is good through November 2014," says county senior planner John McCoy.
In the meantime, Glickstein plans to revive his other Vero community in the upcoming season.
Ironwood developed and still owns The Antilles, a high-end mainland subdivision where 3-bedroom, 3-bath homes once sold for $700,000 and are now available for resale between $319,000 and $350,000.
"We are working on construction documents for a model home we hope to build this coming season in The Antilles," says Glickstein. "There are 90 homes in there and we have 170 left to build."
The Antilles took a hit in 2009 when Chinese drywall was discovered in approximately 40 homes.
Those problems have since been largely resolved and Glickstein thinks the market is ripe for new homes in the subdivision priced in the high $300's.
"We still believe in Vero Beach," he says.

Ironwood Properties Inc. was founded in 1988, according to its website. Press reports say Glickstein has completed more than 30 residential developments, mostly in Delray Beach, Palm Beach and other south Florida locations.