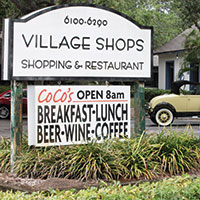 Village Shops sold to Jay McLaughlin
STORY BY STEVEN M. THOMAS, (Week of April 25, 2013)
Photo: The Village Shops: 'Major improvements planned.'
The Village Shops, a cluster of shops under the oaks in Indian River Shores which has grown a bit tired in recent years, was sold last week to Jay McLaughlin, owner of a group of high-end clothing stores, for $3.85 million, according to realtor Terry Torres.
"My client is a brilliant retailer and businessman and he has definite plans to upgrade the shopping center and raise its profile," says Torres, president of Bird Realty Group Treasure Coast, Inc., who represented the purchaser.
The property, which consists of 3.13 acres and seven small buildings on the east side of A1A north of Fred R. Tuerk Drive, is the only shopping center in the Shores.
"Investors that come through have always been interested in it for that reason," says Buzz MacWilliam, owner of Alex MacWilliam Real Estate Inc. "I took the owners several offers over the years, but they never seemed too interested. They did not want to reveal their income and expenses which is required in a deal like that."
McLaughlin moved to Vero Beach several years ago from Manhattan, opening a J. McLaughlin shop on Ocean Drive as well as buying and renovating a home in The Moorings.
Torres says he and McLaughlin saw potential in the Village Shops, pursued the property, and were able to convince the owners to sell.
"It is a gorgeous, garden-like property with an ambiance unlike any other. There are seven distinct buildings with some interesting architecture and roof lines, and giant old oak trees.
"Mr. McLaughlin plans major improvements to make it more attractive and bring it up to its full potential."
The sellers were members of the Smith family that owns Vero Beach citrus packing company Leroy Smith, Inc.
"There were three sellers," Torres says. "One owned 50 percent, one owned 35 percent and one owned 15 percent."
The shopping center was developed by Lola Maroon of Maroon Development Company, beginning in the mid-1970s, according to Torres. Buildings were added and remodeled through the 1980s.
Maroon, a longtime Vero Beach resident who passed away in 2008, also developed the 20-home subdivision behind the shops that is named after her in county property records along with a number of other projects in Indian River County.
There is a total of 24,000 square feet of space in the center according to Torres, who says he may be involved in some capacity in redeveloping and managing the property.  
A directory at the shops that lists 17 tenants is out of date is some regards. It still shows the onsite restaurant, now called Coco's Village Bistro, under its former name of Chelsea's Café and Market, for instance.
But most of the retail/office spaces are occupied.
There is a day spa, a travel agent, a real estate office, a jeweler, an art gallery and a florist along with a number of clothing and gift shops.
McLaughlin, who is currently out of town, plans to meet with tenants at the end of the month to reveal his plans for the center.
"Tenants get a little bit nervous when a property changes hands," say Torres. "They want to know who the new owner is, what he is going to do, how it will affect them. So Mr. McLaughlin wants to do them the courtesy of meeting with each of them individually."
The Bank of America building, which sits on a separate half-acre parcel that protrudes into the Village Shops property, was not included in the sale.