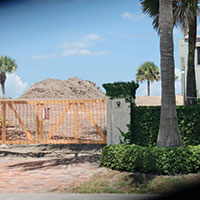 High-end home construction booming on the barrier island
STORY BY STEVEN M. THOMAS, (Week of August 22, 2013)
Photo: A new home construction project getting underway on Ocean Drive.
The pace of new home building has picked up substantially on the barrier island in 2013.
The activity isn't as apparent here as it would be in most other places because many of the houses are going up in in gated communities or in cul-de-sacs where they aren't highly visible but the county has issued more than four times as many new home permits so far this year in the 32963 area as in all of 2011 and nearly twice as many as in 2012.
High-end projects are underway in a dozen or more communities from Kansas City Colony south of the Moorings to Windsor and Ambersand Beach in the north. There are two major houses under construction on the short stretch of Ocean Drive between the twin towers and Jaycee Park, with a third house permitted and ready to break ground any day.
Carl Lachnitt's company CAL Builders is 90 days away from finishing five $900,000 spec homes in the Estuary subdivision, which are being built for a group of three investors, and there are five more homes with an aggregate value of $25 million under construction in John's Island, according to John's Island Real Estate Co. Broker Bob Gibb.
Island builders are feeling upbeat about the surge in activity.
"I have seven new homes underway on the island," says Bob McNally, president of Palm Coast Development, an integrated design-build firm that provides architectural and interior decorating services for its new-home clients.
"People are feeling a little more optimistic than they were for a while. I think the good news in the stock market has something to do with it."
"People seem happier and don't have as much hesitancy about committing to a project. They are more willing to move forward with a new home."
McNally says the homes he is building range in price from about $700,000 to $2 million and are going up in several neighborhoods.
"The biggest concentration is in River Club, but we are also building in Bermuda Bay, Central Beach and the Moorings. That is a good sign, I think."
"The market is improving," says John Huryn, owner of Huryn Construction, who has 34 men working on four new home projects in Windsor and Old Riomar that range in price from approximately $2 million to $4 million.
"The architects all seem much busier than they were a year ago, which makes me think builders will be even busier next year than we are now."
Architect Tom Hoos, who just opened a new office downtown, says high-end residential building is "absolutely" on the upswing.
He has projects in Windsor, River Club and Kansas City Colony, where he is designing what will likely be $20-million-plus house on a lot that is being prepped for construction at press time, though the details of the price and ownership are confidential.
"I left town in 2009 because there was no work," Hoos says. "It feels like I came back at just the right time!"
Tradesmen are benefiting from the boom along with builders and designers.
Ray Reinhardt, vice president and sales manager of HBS Impact Glass says his crews were busy installing window in 15 new homes on the island in August, including seven oceanfront homes.
"It is a huge difference from a couple of years ago when it was just dead," Reinhardt says. "On the barrier island in particular we are seeing a steady flow of work this year. We are very pleased."
A majority of new homes going up on the island this summer are custom homes built for the people who will occupy them rather than spec homes, which predominated during the boom.
But spec building is beginning to make a comeback.
"There are four new homes under construction in the Moorings," says Moorings Realty Sales Co. Broker Marsha Sherry.
"That includes one spec home, which is a pretty amazing sign of the times," Sherry said.  "It has been years since a spec home was built in the Moorings."
Spec homes are going up in the Estuary, where the investors CAL Builders is working in the belief there is a market for new product, and in Coastmark Construction's North Shore Development, where Coastmark is building a 7,500-square-foot spec house for a private investor.
"The pre-construction price is $4,995,000 but that will jump to $5,495,000 in the fall when we start putting in the interior finishes," says Coastmark Vice President Yane Zana.
"We have seen a great deal of interest in the property and expect to sell it pre-completion or at completion,"  Zana said.
Interest in the North Shore Property has convinced Zana and his associates there is an appetite for the product they are offering and Coastmark plans to begin construction in the fall of a similar spec home on its own dime on a lot the company owns on Reef Road in the Moorings.
Partners Clark French and Cindy O' Dare also think the spec home market is set to take off in the months ahead, driven by a 35-year low in new-home inventory on the Vero Beach barrier island.
"The builder/developers are starting to ramp up and there will be some interesting projects hitting the market in coming months," French says.
Premiere Estate Properties, the brokerage French and O'Dare work for, is moving to larger quarters in the next few weeks and O'Dare says she and French will be opening a new home sales division.
"Part of our office in the new Permiere building will be dedicated to a showroom for new homes with models and displays," she says.
"We have been putting together the partnerships between builders and developers and we will be the brokers selling the projects," French says. "We anticipate a strong increase in new home sales in the coming year."