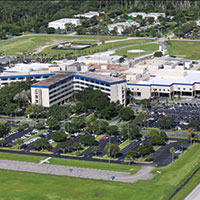 Medical Center gets top grades on readmissions
STORY BY MEG LAUGHLIN, (Week of August 29, 2013)
A national Medicare study conducted between 2009 and 2012 on the problem of excessive readmissions at many of the nation's hospitals placed Indian River Medical Center in a rarified group of top performers. Next year, IRMC will be in another group not quite as impressive, but still comparatively better than most on both national and statewide scales.
The Medicare study resulted in financial penalties being imposed this year on 2,225 hospitals across the United States.
Their Medicare reimbursements are being reduced anywhere from .01 percent to 2 percent because patients who showed up in their emergency rooms with heart failure, heart attacks or pneumonia were discharged, and then readmitted within a month.
Medicare, the federal program for the elderly and disabled, is seeking to get hospitals to pay more attention to patients after discharge. In cutting back payments to hospitals where high numbers of patients are readmitted, Medicare is trying to prod hospitals to make sure discharged patients see their doctors and fill their prescriptions.
The greater the readmission number, the larger the reduction in Medicare reimbursement.
Indian River Medical Center had a low enough readmission number to not to be penalized at all this year.
For the coming year, the hospital will have its Medicare reimbursement money reduced by .10 percent – a comparatively low amount.  
"We are very proud of our low readmission rate and attribute it to the innovative programs and procedures we have developed," Lynn Hubbard, a Vice President and chief nursing officer at IRMC, told Vero Beach 32963.
IRMC is joined in the category of hospitals going from no penalty this year to a small penalty next year by such renowned institutions as Johns Hopkins and Stanford University Hospital.
In Florida, four out of five hospitals will be fined in 2013-2014.
Sebastian River Medical Center, which was fined .33  percent this year and will be fined half that amount next year, still has numbers not quite as good as IRMC.
Martin Memorial Medical Center in Stuart, like IRMC, was not penalized at all in 2012-13 but will be fined .12 percent in the coming year.
Hubbard, Indian River's chief nursing officer, said she believed the perfect rating this year and good rating for next year are due to the opening of IRMC's hospital-based Heart Failure Management Clinic – the first in the region – in 2012.
Heart clinic staff members talk to patients who were admitted for heart failure or heart attacks on a weekly basis following their discharge, she said. Those conversations include discussions about disease process, medications and diet. And, within three days of discharge, a heart clinic staff member phones patients at home to make sure they are following instructions.
Also, said Hubbard, a board-certified cardiologist talks to the patient's primary care physician or cardiologist to provide more specialized care for individual patients after they leave the hospital.
She credited "a multi-disciplinary team approach with input from physicians, nurses, a pharmacist, dietician and discharge planner " with bringing down the number of readmissions for heart patients.
Hubbard said she applauds Medicare's efforts to cut down on readmission rates: "We believe financial penalties will ultimately improve the quality of patient care across the country as hospitals will use it to keep looking at ways to improve care."
---