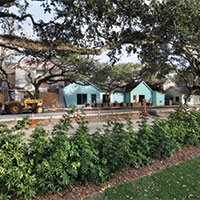 New era dawning for the Village Shops
STORY BY STEVEN M. THOMAS (Week of Decber 19, 2013)
Photo: Outside new J. McLaughlin shop.
The Village Shops is racing to wrap up in time for season the first phase of a major overhaul that new owner Jay McLaughlin hopes ultimately will bring Indian River Shores an upscale shopping experience modeled on the Brentwood Country Mart, a cluster of high-end boutiques and small eateries in Santa Monica.
A neighborhood favorite two blocks from the Brentwood Country Club and a movie star hangout since 1948, Brentwood Country Mart possesses, in McLaughlin's words, "a tremendous energy and excitement. It has something we aspire to here.
"My intention is to create a unique, exciting retail experience of the type that is becoming very successful now, which is a small village-type environment with a blend of entrepreneurial retailers and great customer service," McLaughlin said in an interview.
"But it is not a project that will be done in six months or year. We will continue to invest in the property and renovate buildings as they become available."
The first phase of renovation, which will wrap up in January, is bringing the Village Shops new lighting and landscaping, refurbished parking lots and walkways, some remodeled buildings and a new French Bistro serving fresh baked goods beneath colorful umbrellas.
It also has brought a brand-new men's J. McLaughlin men's store that opened last week. 
McLaughlin is the co-founder of the rapidly expanding chain of high-end women's and men's clothing stores that carry his name, including a women's store on Ocean Drive. He and his brother, Kevin McLaughlin, sold a majority stake in the business two years ago to a private equity group, but the pair continue to operate and grow the business, which currently has 75 locations.
McLaughlin says he has spent "a tremendous amount" so far on site improvements at the Village Shops, that include extensive landscaping with mature Sylvester palms and a complete reworking of the parking lots, walkways and courtyards.
"We made a major investment to fill and level the property to get rid of the highs and lows that created the need for handicap ramps," McLaughlin says. "Now everything from the parking lot to the stores is on one level [with gentle slopes] that makes it easily accessible for everyone."
The courtyards and walkways are paved with what McLaughlin's general contractor Jack Welton calls "sand-set, interlocking brick pavers." The attractive terracotta-colored stonework flows throughout the complex, with a unifying and gentrifying effect.
The large front building where Trafalgar Square was located has been stripped of its worn-out wood siding, revealing concrete blocks beneath. It will be stuccoed to create a smoother, more subtle look that will serve as a prototype for the other six buildings.
The buildings' color palette will be softened and unified as well.
"The colors there are a thing of the past," says McLaughlin. "It is an outdated, almost Haitian look, and that is not where we want to be. We will tone down the palette to get a cleaner, more neutral look, but it will take time to get it totally cohesive."
Other building improvements include enlarging windows for more light and better retail display and adding entrances to create more of a flow-through foot-traffic pattern so customers who enter from the parking lots can exit into the garden courtyards and continue on to other shops or the restaurant without retracing their steps.
McLaughlin says he is sparing no expense in the renovation process, hiring the most highly regarded contractors and spending whatever it takes to get the results he wants. "There is no set budget," he says. "If it feels right, that is what we do."
There are approximately 18 retail spaces in the center, ranging from 700 square feet to about 1,100 square feet. Eight or 10 of them are occupied by legacy tenants whose retail skills and offerings fit McLaughlin's vision. He expects those stores, galleries and spa to remain and thrive. "We think we can bring them new customers," McLaughlin says.
The J. McLaughlin men's store is the first new shop to open in the center.
"Filling the remaining shops is a work in progress. I can afford to be discriminating and I am not just going to accept someone who says, 'I will pay you that rent.' I want to know little bit about their business. I want to understand it and see how it fits into the overall blend of the center. I don't want to be one-sided in home furnishings and not have a balance of children's stores, and ladies or men's apparel.
"We also want to be fair to people who are already here, and not bring in something too similar," says Joan McLaughlin.
"We are looking for the right blend of talented entrepreneurial retailers to make a complete two-hour shopping experience," says Jay McLaughlin.
Citron Bistro, the new restaurant that is going into the space previously occupied by Coco's, is a pet project of the husband-and-wife team. They have owned Islands, a successful restaurant a block from Central Park on Madison Avenue in the Upper East Side of Manhattan for 30 years, and clearly enjoy creating a fresh dining venue.
"We are overseeing all aspects of the restaurant, including décor, design and menu," says Jay McLaughlin. "It will be a French bistro-type environment with pastries and fresh bread and the best coffee. There will be as many seats outdoors in the landscaped courtyard with big umbrellas as inside.
"It will be breakfast and lunch initially with the possibility of a very early, limited dinner if people respond positively. We have applied for a wine and beer license and we hope it will be a place where people will relax with coffee in the morning or a glass of wine in the afternoon and check their e-mail and enjoy the ambiance of the new village shops. We see the restaurant as a key component of the center that will help set the tone."
The McLaughlins say town officials and other community members have been strongly supportive and enthusiastic about the shopping center's rebirth, in part because of Jay's successful track record in high-end retail. There seems to be a general confidence he will create something special at the village shops.
Besides the expertise he brings from nearly 40 years of retail experience, his ongoing work with J. McLaughlin will continue to benefit the center.
The McLaughlins discovered Vero eight years ago when J. McLaughlin began expanding into Florida.
"Friends told us Vero would be a great location for a store," says Joan McLaughlin. "When we came to look it over, we fell in love with it."
The company opened a woman's clothing store on the beach seven years ago, and the McLaughlins bought a home in Porpoise Bay in The Moorings five years ago.
When friends arrive for a Tiki party, they typically show up in J. McLaughlin clothing and often offer advice about items they would like to see in the stores or stores that might be a good fit for the Village Shops, providing a valuable feedback loop.
"We were both really happy when Jay got involved with this project because it means this is the place we are going to be long-term," says Joan McLaughlin.
"This is a long-term investment for us," says Jay McLaughlin, who bought the small 3.13-acre, seven-building shopping center for $3.85 million in April, after having his eye on it for eight years. "Hopefully, God willing, this is something my wife Joan and I will pass along to our children, who also have retail in their blood."