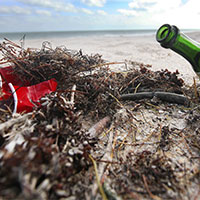 No solution yet for beach debris
STORY BY EILEEN KELLEY (Week of December 26, 2013)
For weeks, Vero's beaches have been piling up with seaweed and debris after an out-of-town work crew threw in the towel, saying it could no longer honor its contract to clean the beaches that put the city on international destination maps.
Just when it seemed the city was getting the matter under control by inviting two local companies to take over the job, it was hit with another delay: The two contractors submitted identical bids, creating a new stalemate.
Treasure Coast Construction Management and Ron Ohmstede, contractors who both have previously been in charge of raking seaweed and removing litter off the beaches as well as emptying the trash bins, each said they would do the job for $49,500 annually.
Now the city is asking them to bid on contracts for longer three-year terms in the hope of breaking the tie.
Ohmstede had the annual contract for years but was outbid in 2011 by Treasure Coast. With either of them, beachgoers and residents had been happy with the city's pristine beaches.
The same cannot be said for a Volusia County crew who a few months ago under-bid Treasure Coast by a whopping $17,514 a year.
From the moment they took over from Treasure Coast, the complaints about seaweed, trash and uneven sand on the beaches rolled in; the Volusia County crew evidently didn't have the proper equipment to work on Vero's soft sand.
"It was like a minefield out there," said South Beach resident Dave Myers. He and others called the city's public works department on many occasions saying it was a big mistake to go with the cheaper crew of Joe Faith.
Faith admitted defeat recently but told the city he'd continue to honor the contract until Vero picks a new cleanup crew.
Problem is, he hasn't made good on his word.  Myers says he has yet to see Faith's crew come back to smooth down the sand and clean up the seaweed and debris since he informed the city he would pull out after a replacement team is hired.
"They haven't been back," said Myers.
City Public Works Director Monte Falls agreed that with the exception of emptying the trash bins, Faith's crew has been missing in action. As a result, he said Faith will not get the monthly $2,000 the city had agreed to pay during non-turtle season.
Falls said getting a new contract in place with one of the local bidders cannot come soon enough. 
City Purchasing Manager John O'Brian said he hopes that the average annual cost will come down by asking Ohmstede and Treasure Coast for three-year contract proposals.
Both he and Falls said they anticipate bringing a contract to the next City Council meeting in early January and hope that whichever group is chosen can start as soon as possible.
Myers hopes that's the case too.
"Our beaches are the reason people come to Vero Beach," he noted.