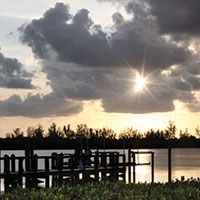 Smithsonian station finds reduced biodiversity in lagoon
STORY BY STEVEN M. THOMAS (Week of Decber 5, 2013)
The Indian River Lagoon is famous around the world for its amazing biodiversity, with more than 4,000 plants and animals thriving in the brackish waters where temperate and tropical zones meet, but scientists at the Smithsonian Marine Station say its diversity is being undermined by environmental problems.
"We see big changes, especially in the St. Lucie Estuary region," says research biologist C. Seabird McKeon. "The biodiversity of samples taken there after freshwater discharges drops dramatically. It takes really hardy species to survive. The environment does bounce back a bit, but it takes a while."
"Even when it bounces back, it is still low, low biodiversity," says research assistant Michelle Stephens, who with her colleague Erin Fryauff has been taking what are called benthic samples up and down the length of the lagoon since 2004.
Benthic samples basically mean bottom samples. Four times a year, Stephens and Fryauff return to the same series of locations in the lagoon and gather a double handful of muck from the bottom. Back at the Marine Station's high-tech labs on Seaway Drive in Fort Pierce, the women filter the muck to find everything living in it, carefully identifying and cataloguing each individual creature.
The variety of species and number of organisms they find tell a dramatic story about conditions in the lagoon when compared with prior samples.
"Long-term data sets such as the one Michelle and Erin have created here are really rare in ecology because they are hard to get," says McKeon. "They are difficult to execute, they are time-consuming and they are expensive, but they are very valuable because they allow you to discern patterns in the environment."
Beginning next year, Marine Station scientists will intensify their studies in the northern lagoon in an effort to help St. Johns River Water Management District determine what caused the ecological collapse that began in that region and extended to Vero Beach in 2011 and 2012, killing most of the seagrass between Vero and Melbourne, decimating fish populations and causing high rates of disease and death among marine mammals.
"There have been so many issues up in the northern IRL, with weird manatee deaths and seagrass losses and harmful algal blooms, St. Johns is looking for ways to figure out what the heck is going on," says Marine Station Director Valerie Paul, a chemical ecologist who has studied life forms in the lagoon for more than a decade.
St. Johns River Water Management District spokesman Hank Largin says details have just been finalized for a three-year $993,000 contract with the Marine Station. "It is part of our Indian River Lagoon Protection initiative."
The district's website says the initiative is a $3.7 million undertaking launched in spring 2013 to "better understand the lagoon's complex ecosystem, the possible causes for unexpected change and how to protect one of the most diverse estuaries in North America."
"Smithsonian researchers will be looking at infauna and epifauna in the sediment, at how those animals graze on phytoplankton," Largin says.
Infauna are animals that live in river-bottom sediment and epifauna are organisms that live on the surface of the sediment. They consume phytoplankton – another name for algae – and getting a clearer picture of their loss or abundance in the environment may help scientists understand why destructive algae blooms infested the lagoon in recent years.
Smithsonian scientists first came to the lagoon in 1969 at the invitation of Edwin Link and Seward Johnson, setting up shop on the grounds of the marine research facility founded by Johnson and Link that became Harbor Branch Oceanographic Institute.
After more than 25 years of marine research at that location, much of it conducted on a surplus U.S. Army barge retrofitted with labs and offices, the Smithsonian Marine Station moved in 1999 to an 8-acre site on South Hutchinson Island, just across the bridge from downtown Fort Pierce.
One of the first buildings put in place at the new location was a 2-bedroom, 1.5 bath house for visiting scientists donated by Vero Beach residents Jeanne and Peter Tyson. According to the Marine Station website, the house was "designed by noted regional architect, Peter Jefferson, in Florida vernacular style and was built on riverfront property in Vero … it was floated on a barge down the Indian River Lagoon to reach its new home at SMS" where it provides comfortable accommodations for an ever-changing cast of international scientists.
"We host about 100 visiting scientists each year," says Paul. The scientists, who apply for the opportunity to do research in the bio-rich lagoon or nearby ecosystems, stay for anywhere from a week to several months at a time.
Many come from the Smithsonian Tropical Research Institute in Panama and the Smithsonian Environmental Research Center on the Chesapeake Bay, another major estuary that lends itself to comparative studies with the Indian River Lagoon.
The station's own science is focused on exploring biodiversity, guiding conservation efforts and sustainable management and creating basic scientific knowledge.
Using a range of exotic equipment including high performance liquid chromatograms, rotary evaporators and electron and confocal microscopes, researchers isolate compounds in marine organisms that have potential to be used as medicines and extract and amplify DNA to track the development of life forms, in addition to doing biodiversity field work and laboratory studies.
Paul says she and her collaborator, research chemist Sarath Gunasekera, have isolated and identified a number of organic molecules never before found in nature, deconstructing sponges, corals and seaweed to find the most active chemicals within them.
It is a measure of the quantity and quality of science conducted at the station that more than 900 scientific publications have come from research at the facility, including many reports in top science journal.
"We publish in the best journals," Paul says.
Besides making discoveries and creating new knowledge on a large scale, the Marine Station is also a center of high-level science education, with a steady stream of undergraduate, graduate and post-doctoral interns and researchers participating in projects and programs.
"The Smithsonian is not a degree granting organization, but we have had 60 or 70 post-doctoral researchers here over the years," says Paul.
Mary Rice, the founding chief scientist of the Fort Pierce Bureau, the original name of the Marine Station, has supervised and helped train 30 of those post-doctoral fellows studying the development and life histories of marine organisms.
"The basic research we do here contributes something unique that other area institutions don't," says Rice, who is now senior research scientist emeritus at the Marine Station where she continues her mentorship of emerging scientists.
The Marine station is also active in local school and community education, much of it carried out through the St. Lucie County Aquarium, which is located across the street from the main Smithsonian facility and is staffed by Smithsonian employees.
The aquarium is open to the public seven a days a week in season for a small admission charge. Its highlight is a 3,300-gallon tank with a living coral ecosystem transported to the shore of the Fort Pierce Inlet from the Smithsonian Institute in Washington DC.