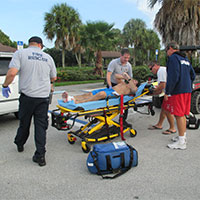 Vero shark victim recovering from severed Achilles
STORY BY LISA ZAHNER (Week of Decber 5, 2013)
A 37-year-old Peruvian tourist's day at the beach turned terrifying last Tuesday when a shark severed his Achilles' tendon and landed him in Indian River Medical Center after an ocean rescue at South Beach Park.
The red caution flag was whipping in the wind and lifeguards Erik Toomsoo and Stephen Harkness had already pulled a 16-year-old Ohio boy out of the surf last Tuesday, his shoulder dislocated by the sheer force of the waves, which were rolling in from five to eight feet high.
From the lifeguard tower, they could see a man about 100 yards out, alone, braving the dirty conditions.
"He was out there for a while, out past the break, kind of bobbing up and down on a body board," recalled Toomsoo, and he wasn't a local he recognized from his three years working the city's beaches.
The tourist on the boogie board was pretty much the only one in the water and the normally busy beach was rather deserted at 4 p.m., dark clouds and blowing sand keeping sun worshippers away. No sharks had been spotted that day.
"We were more concerned about the surf than we were about predatory fish.  It was crappy weather," Toomsoo said. "You always wonder, why are they going in in these horrible conditions? People go in, you can't stop them."
Then Harkness, a lifeguard with seven years' experience, saw the man frantically waving for help.
The lifeguards didn't know at first if they were dealing with an injured swimmer like the Ohio boy earlier in the day, with someone who suddenly realized he'd ventured out too far in rough surf – or with something else entirely.
When they got to him, Toomsoo said, "he didn't know what had happened, said he couldn't feel his leg."
It turned out to be Indian River County's second documented shark attack in the past 18 months.
"I thought, 'Oh not again,'" said Toomsoo, who was on also on the scene in May 2012 when German tourist Karin Stei fell victim to a life-threatening shark bite north of Humiston Beach.
The injured swimmer was still nearly 100 yards out with blood now in the water, Toomsoo said, but he was conscious and motivated to cooperate.
"He was with it, but pretty panicked and in a big hurry to get out of there. I got on top of him and used the body board to ride the wave and get him in and my partner Steve helped me," Toomsoo said.
"He's a pretty big guy, not a small guy," Toomsoo recalled. It took three men – Toomsoo, Harkness and a bystander – to haul 37-year-old Peruvian tourist Daniel Vargas out of the water at the shoreline and onto the "litter pan" mounted on the all-terrain vehicle which carried him to waiting paramedics.
"It was a clean cut, not serrated. The flesh was all still there, but it was deep.  I think I saw bone," Toomsoo said of the gash.
Toomsoo said there's no way to know what kind of shark bit Vargas, but that the waters off the Treasure Coast are home most commonly to spinner sharks – which he's seen ranging from three to seven feet – plus reef sharks, tiger sharks, bull sharks and nurse sharks.
Vargas called Toomsoo from the hospital over Thanksgiving to express his gratitude. Toomsoo said doctors went in to do surgery, but they couldn't sew up the wound due to persistent inflammation.
From his hospital bed, Vargas told Vero Beach 32963 that he was set for surgery on Monday and that he had family with him for help and support.
Toomsoo later said he spoke to Vargas following surgery and doctors had re-attached the tendon and grafted skin over the wound. Vargas was hoping to be released from the hospital on Friday.
"I really, really appreciate the lifeguards being around and helping me get out of there," Vargas said. "I called them the following day to say how thankful I was to them for saving me."
Shark attacks may make headlines, instill fear and inspire horror movies, but they are extremely rare. Last week's shark attack is one of only 663 recorded in the past 131 years in Florida, according to the University of Florida Museum of Natural History.
Since the museum began tracking shark bite statistics in 1882, Indian River County has had 18 unprovoked shark attacks, with a single fatality in 1998 – one of 11 in the state as a whole. During that same 131-year time period, the Daytona Beach area in Volusia County recorded 249 attacks, while Brevard County had 111, and St. Lucie County had 29.
Despite Vargas' Vero Beach vacation ending up on the losing end of those odds with a tough recovery before him, in many ways the Peruvian tourist was a lucky guy.
First of all, he was at a city beach with two lifeguards and not an unguarded beach. Secondly, the bite occurred at 4 p.m., one hour before lifeguards go off duty. City officials have proposed shortening the hours at various beach locations to cut costs, possibly to 3 p.m. Instead, Toomsoo said Vero has opted for "rolling closures" of the beaches so that less busy beaches are closed on less busy days.
Thirdly, South Beach is the only one of Vero's beaches to have the specialized rescue equipment – the litter pan attached to the ATV – that swiftly carried Vargas up the beach where Indian River County Fire Department personnel were there to attend to his leg. Vero Beach Police officers were also called to the scene.
That equipment was purchased with the help of fundraising efforts of the Vero Beach Lifeguard Association.