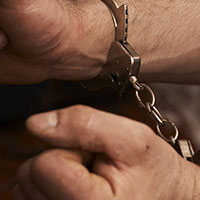 Beachside UF student booked on sex charge
STORY BY EILEEN KELLEY, (Week of February 28, 2013)
A 21-year-old University of Florida student is asking for a jury trial after being accused of molesting a 13-year-old girl visiting his parents' Central Beach home during Christmas break. Tyler Ofner, of Sunset Drive, is accused of inappropriately touching the young girl who was sleeping over at the family's house in late December.
The girl told police she was in bed when Ofner entered the room and began touching her.  She told police she opened her eyes and saw Ofner standing over her and touching her inappropriately.  The girl told police she then turned over to stop the contact. 
When Ofner left the room, the girl told police that she woke up her friend – with whom she was spending the night – and explained what Ofner had done.  The girl said her friend said Ofner must have been joking.
Police reports say the girl then sent a text message to her mother in the middle of the night telling her what had happened.  Police reports say the girl's mother contacted Ofner's mother, who said her son must have been searching around in the bed for his phone charger. 
Ofner's father then drove the girl back to her home.  Later that day, the girl's mother and Ofner's father, Howard, spoke about the alleged incident.
Police reports say Howard Ofner told the woman he spoke with his son and his son admitted to having a "momentary lapse of reason and that he wanted to get counseling."  Vero Beach police arrested Ofner the following day, Dec. 28, on sexual battery charges.  He was freed from jail after a $10,000 bond was posted in his behalf.
According to an arrest report, Ofner told police he had touched the girl a few months earlier on another occasion while she had slept at the house. Less than a month after Ofner's arrest, prosecutors filed an additional charge of molestation against the student.  Again, Ofner was released from jail after a $25,000 bond was posted.