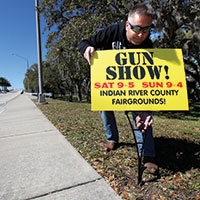 Big crowds expected for weekend gun show
STORY BY MICHELLE GENZ, (Week of February 21, 2013)
Photo: Michael Strickland puts up gun show signs.
In the dead of night Friday, Michael Strickland will leave his home in Roseland to fan out around the county with an arsenal of signs, planting them along roadsides and on street corners to promote his gun show this weekend at the Indian River county fairgrounds.
Not that he needs help with marketing. Business is so good he's thinking of adding a fourth show in Vero to his current calendar of three.
Gun control efforts since the Newtown, Conn., school shooting have had a paradoxical effect on gun sales. They have soared in Florida in particular, where firearm regulation has long been regarded as lenient, and fears have been whipped up that this may not last forever.
"A lot more people are coming," says Strickland, judging from the turnout at one of his shows last month near Orlando.
The "totally booked" Vero Beach show has 207 dealers. As for how many guns are sold, Strickland has only one measure:  between $20,000 and $30,000 is withdrawn from the on-site ATM machine over the course of the weekend show. "That's in 15 hours total," he says. "That's pretty amazing."
Clearly that's not just to buy corn dogs.
One dealer with 32 semi-automatic rifles known as AR-15's to sell drove up from Port St. Lucie to one of Strickland's shows last month near Orlando. The AR-15, which stands for ArmaLite rifle Model 15 – the original name of the weapon when it was developed for the U.S. military in the 1950s – is one of the hottest guns on the market.
ArmaLite sold the AR-15 design to the Colt Manufacturing Company, which first sold it to civilians in 1963. AR-15 now represents a class or caliber of gun produced by multiple companies. Considered an assault weapon, the AR-15 gun type includes the Bushmaster used in the Newtown school shooting. Enthusiasts of such weapons fear it may be outlawed. 
"At the end of the day, he'd sold them all," says Strickland. "Pre-Connecticut shooting, that would have never happened. He would have sold some. But never all of them."
The prices are going up too, he says. "Increased purchasing has driven them up a lot. They used to able to pick up an AR-15 brand new for $700 or $800, right before the Connecticut shooting. Now, you're seeing them for $1,500 and $2,000."
 There is also a high demand for concealed weapon licenses which allow the carrier to avoid the state's three-day waiting period for handgun purchases.
In 1998, when the federal Brady Handgun Violence Prevention Act, commonly known as the Brady Bill, became permanent, it made background checks mandatory for all gun sales, including long guns.
It also overrode the state law on handgun background checks which exempted holders of concealed weapon licenses.
The gun show offers what Strickland brands as "market express" concealed weapon license processing, with classes offered three times a day during the two-day fair.
"Get your permit while (sic) before our govt. says you cannot!" reads a banner on Patriot Production's website.
Run by the Vero Beach-based "TL Training Solutions," the $135 fee (not including the state's $70 licensing fee) includes two hours of classroom instruction, initiation of the federal background check, and the required firing of a weapon.
"The 'express' part is, it's all in one inclusive gig for the student," says Strickland. "The passport photo, the fingerprinting, having the whole thing notarized, that's normally a lot of running around."
What is not express is getting the government to process the request.
Applications have doubled in the past month and Florida's Department of Agriculture and Consumer Services, which issues the licenses, has been so deluged that there is a backlog of 90 days, the limit by Florida law.
As of January, more than a million Floridians had licenses to carry concealed weapons. In Indian River County, 7,661 people have such licenses. Neighboring St. Lucie County has nearly twice that; Brevard County has 32,522.
There is no way to know how many people own guns without such licenses.
County Commissioner Wesley Davis is one of them. "I can just toss it in the back seat and go," he says, not seeing a need for the license.
In the past five years, Indian River County sheriff's deputies charged more than 100 convicted felons with illegal possession of a firearm. If the charges proved true, it isn't likely they bought their guns at a gun show – at least, not directly.
"Felons are afraid of going to gun shows," says Strickland.
Instead, people otherwise banned from gun ownership send stand-ins to shows as well as to gun shops to buy guns for them or for resale.
By federal law, it is illegal to buy a firearm for someone else, and on a dealer's Bureau of Alcohol, Tobacco and Firearms ATF form, known as 4473, buyers have to swear under penalty that they are buying the weapon for themselves.
"There's never any follow up," says B.J. McClure, a Vero Beach attorney, federally licensed firearms dealer and longtime volunteer at the sheriff's department.
"As a dealer, I have no way of knowing if that person is telling the truth or not," says McClure. "To me that's a much larger loophole that anything else."
There is no limit on how many guns an individual can buy in Florida, though dealers fill out an extra ATF form if two or more guns are bought in a five-day period.
To date, only three states plus the District of Columbia have imposed the Brady Center's recommended one-gun-per-month law. The City of New York limits purchases to one handgun and one rifle or shotgun every 90 days.
As for anyone wanting to sell a gun this weekend in Vero, private sellers can enter the gun show – and with a sign taped to their unloaded weapon –  offer it for sale.
Unlike other counties in Florida that have enacted controls on private sales, the private sellers here will not have to run a background check, or impose a waiting period. They only have to confirm that a buyer is a resident of Florida, and old enough to buy the gun.
It wouldn't have to be quite so easy.
By a provision in the state constitution, the Indian River County Commission could impose the same background checks and waiting periods on private sales as there are for dealer sales. Until it was called to their attention two weeks ago, officials seemed unaware such a legislative right existed.
Though the fairs are teeming with law enforcement, private sales go largely unsupervised, Strickland said.   
This weekend, as individuals roam through the throngs at the fairgrounds looking to sell the weapons over their shoulders and handguns in their pockets, anyone can approach them. No background check, no paperwork, no waiting period.
Those private sellers are supposed to check a government photo ID for age and Florida residency. And who's looking over their shoulder if they don't?
"Nobody," says Strickland.