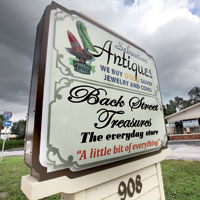 Owners of antique store that bought stolen goods arrested in sheriff's sting
STORY BY MEG LAUGHLIN, (Week of January 3, 2013)
Barrier island residents Leslie and Bob Abbott went to Sebastian Antiques on US 1 a few weeks ago to look for old family antiques stolen from their home in June. 
At approximately the same time the Abbotts visited the shop, Indian River Sheriff's Office investigators conducted a sting at the store  to see if owners Mark and Betty Karpinski were buying merchandise without getting the required information from people who might be fencing stolen goods.
A story about the Abbotts being robbed and the Karpinskis questionable record-keeping appeared in Vero Beach 32963 in early September.
"Police told us it helped them with their work," said Leslie Abbott.
The Abbotts came up empty-handed last month when they visited Sebastian Antiques.
But the investigators didn't. Their sting led to the arrests of the Karpinskis, and a Byzantine tale of betrayal and theft involving residents of the barrier island and west Vero Beach is still unfolding.
It appears to have started in June when the Abbotts and another family in west Vero Beach – the Whitmores – were burgled by two different female thieves who sold the goods to the Karpinskis.
One alleged thief was Carole Ellis, 32, who grew up on the barrier island and who, by her own admission, stole to feed a pain-pill addiction.  She broke into the Abbotts' barrier island home in June when they were at their summer home in the Northeast, and allegedly stole letters signed by Aaron Burr and other valuables that had been in the Abbott family for generations. Ellis has yet to go to trial.
The other alleged thief was Heather Berg, a former employee of the Matthew Hennessey family in John's Island.
Berg ran errands for them and spent a lot of time in their home. Virginia Hennessey, widow of Matthew Hennessey, would not say if any of their valuables had disappeared. Hennesssey, who died in 2009, was the retired owner of a big NYC medical advertising firm.
But Berg's former best friend and neighbor, Jill Whitmore in west Vero Beach, accused her of stealing her "blind."  Berg babysat for Whitmore's two daughters and had a key to her house.
Sheriff's records indicate that Berg's husband, Carey Berg, said she has a problem with pain pills. The husband, however, told Vero Beach 32963 that his wife's only problem is "she is too kind-hearted."
While Ellis confessed to at least two burglaries on the barrier island, Berg insists she has never taken anything and is the victim of Whitmore, whom, she said, framed her. Police, however, have phone texts of confessions from Berg, as well as witness accounts.
"You wait and see. The charges against me will all go away," said a confident Heather Berg on Thursday.
Whitmore called police last July when she realized that her jewelry box had been emptied and that sealed boxes left to her by her grandparents, containing gold and diamond jewelry, as well as porcelain figurines, were also empty.
Berg confessed to Whitmore and others in phone texts that she had taken the valuables and sold them to the Karpinskis at Sebastian Antiques. 
Whitmore said she lost goods valued at between $10,000 to $20,000.
"My entire family history and savings" she said.
Det. Ron Garrison of the Indian River County Sheriff's office said it took almost 10 months to arrest the Karpinskis because law enforcement's attention was focused on alleged thieves Ellis and Berg, rather than on those to whom they allegedly sold stolen goods.
But, now, the net is broadening.      
While Ellis and Berg were charged with felonies, the Karpinskis have been charged with misdemeanors.
But, said the detective, the Internal Revenue Service would be looking into the Karpinskis accounting to see if they evaded paying income taxes.  Garrison said he had taken the Karpinskis a packet explaining the laws on identifying sellers and documenting sales several times and had warned them to follow the law. 
"But I guess they felt they could get away with not doing it," he said.
On the day of the sting a few weeks ago, a police informer walked into Sebastian Antiques with gold and diamond jewelry borrowed from the evidence room at the sheriff's office.
With his wife Betty standing next to him, Mark Karpinski examined the jewelry with a jeweler's magnifying loupe for over 10 minutes.
He then cut into the jewelry and performed an acid test to see if it was real gold. Satisfied, he bought it without properly documenting the seller's identification.
That's when police entered the shop and arrested the couple.
"Finally," said Leslie Abbott.