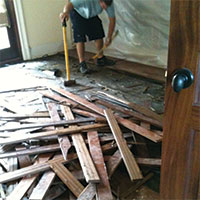 Plumbing leaks can cause huge damage to beachside homes
STORY BY STEVEN M. THOMAS, (Week of January 31, 2013)
Susan Fountain was home alone last April when her brother called and asked if she wanted to go to Miami for a Marlins game.
Her husband, Herman Fountain, medical director of Treasure Coast Community Health, was in California to run in a half-marathon race with the couple's daughter, Briana, who was attending graduate school at the University of Southern California. Briana's twin brother Michael, like her a 2011 University of Miami grad, was in New York visiting a friend.
"I will take any excuse to go to Miami," says Sue Fountain, "so I said 'I am in.'
While she was away, bad things were happening – things that turn out to be far more common, and far more costly, than most islanders realize.
"We went to Miami and saw the game and had a ball and came back the next night, which was Sunday, April 29. I was coming up the front walk carrying my suitcase, with my brother and some other people behind me, when I noticed a trickle of water coming from under the front door."
That trickle was a hint that something had gone very wrong during the 30 hours she was away.  When she opened the door, the extent of the disaster was revealed.
"Water was pouring out of the light fixture in the ceiling like a fountain," she says. It was also cascading down the stairs from the second floor into the foyer where it stood inches deep on the marble floor.
 "It is hard to describe how I felt at that moment," Sue Fountain says. "I had no idea what to do or what had happened. I couldn't form complete sentences at that point. I couldn't remember who our insurance carrier was or figure out how to get hold of my husband or son."
A two-dollar plastic fitting on a toilet supply line in the guest bathroom on the second floor failed, causing what would turn out to be hundreds of thousands of dollars in damage to the Fountains' waterfront home in Orchid Island Golf and Beach Club.
In a prolonged ordeal Sue Fountain describes as "very disorienting," the family ended up being out of their house for nearly six months, living first in the Vero Beach Hotel and Spa and then in a rented home in their neighborhood.
Keith Grella, owner of ServiceMaster by Glenn, the company that cleaned up the mess and repaired the house, says the water had probably been running for at least 24 hours when Sue opened her front door and saw a waterfall begin to flow over the threshold onto the front porch where she stood.
The water damaged marble and hardwood floors and ruined cabinets, rugs and most of the downstairs furniture. Woodwork and soaked drywall had to be torn out and replaced and much of the home's interior rebuilt.
The Fountains are far from alone in their leak disaster.
"People in Florida always think of the dangers of hurricanes and being flooded from the outside," says Sue Fountain. "But what they don't realize is that an internal leak can do just as much damage."
"Internal leaks are our number one claim," says Nicole Williams, office manager for Waddell Insurance Group. "I am always surprised at the end of the year when we review our claims how many of them are for leaks.
"They can range from very minor, if it is caught right away, to hundreds of thousands of dollars. We have had some doozies."
Grella says his company responds to some 400 internal leaks each year and that a solid 25 percent of them originate, like the Fountains', at a toilet supply line.
"The problem is the plastic fittings," Grella says. "Plumbers tighten them down a little too tight and partially strip the threads and they eventually fail. I tell everybody to replace their plastic fitting with stainless steel. They don't sell them at Lowe's and Home Depot, but you can get them from any plumbing supply house."
Burst washing machine hoses, old water heaters, and supply lines to refrigerators and dishwashers are other common internal leak sources, according to Grella.
Grella says he has seen multi-million dollar homes destroyed by leaks, especially in summer when people are away and mold spreads quickly, turning home interiors black and toxic.
He says the Fountains' disaster was an eight on a scale of one to 10, with 10 being total loss.
Bad as it was, though, it could have been much worse.
After graduating from University of Miami, Michael Fountain took a job with the McCall Insurance Agency. When he reviewed his parents' homeowner's policy, looking for possible savings after their carrier raised their rates, he noticed the policy had a $10,000 limit on payments for internal leaks.
For that and other reasons, he switched them – just 20 days before the leak – to PURE Insurance, a company that specializes in insuring high-end homes and does not limit coverage for water damage.
The Fountains say PURE was a godsend, prompt, helpful and quick to pay what ended up being a half-million dollar claim, including the cost of replacement housing.
"Ron McCall called PURE and they contacted Keith at ServiceMaster. His men were out here within an hour, vacuuming up water and setting up blowers, and they worked until four o'clock in the morning.
Sue Fountain says she does not know what she and her husband would have done if their son had not switched their policy. "Ten thousand dollars would not have paid for anything. We probably would have lost the house."
The lesson, says Williams, is consumers should read their insurance policies.
"There are a lot of carriers out there and they don't all offer the same coverage," she says. "Homeowners need to read their policy and know what is in it.