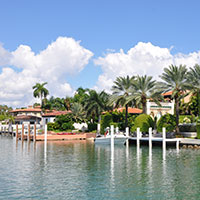 Significant rise in beachside real estate prices seen in 2013
STORY BY STEVEN M. THOMAS, (Week of January 10, 2013)
Most beachside real estate professionals are more optimistic going into 2013 than they have been since the go-go days of the housing boom.
They believe the next 12 months will bring continued strong sales and significant price improvement on the barrier island.
"The coming year will absolutely be a good one for real estate on the barrier island," says Gena Grove, co-owner of Norris & Company Real Estate. "We are predicting a very strong and solid 2013. This is what we have all been waiting for and we are delighted to see it arrive."
"This is the year it is going to happen," says Christine McLaughlin, owner of Shamrock Real Estate Corp. "The town is thriving, attitudes are positive, and the lack of inventory is going to produce a price escalation. Prices are not going to creep up; they are going to jump substantially higher."
"I believe 2013 will see a continuation of the robust market we experienced in 2012," says Michael Thorpe, co-owner of Treasure Coast Sotheby's International Realty. "The tide has turned." 
Part of that tide is surging buyer demand.
"I am hearing there are a greater number of buyers being brought in this season by people who have already discovered Vero Beach, and those who are discovering it for the first time are in love with it," says McLaughlin. "They absolutely want to buy in Vero."
"The past can be a good predictor for the future," says Grove. "The last half of 2012 was extremely strong right through the end of the year. We had the best December we have seen in years, and I am talking about actual closings. I believe that success will carry on in the New Year."
Indian River County median single-family home prices rose every month in 2012 compared to the same month in 2011. The same is true of condominiums and townhouses.
"Particularly striking in this market is the degree to which prices have risen," says Florida Realtors chief economist John Tuccillo.
"This might be expected to be the case for median prices as investors absorb the inventory at the lower end of the market, but average prices are up dramatically as well – and that suggests we're seeing real appreciation occur in the marketplace, another sign of how solid Florida's real estate recovery has become."
"The sizzle is back," says 2012 Florida Realtors President Summer Greene, describing the state of Florida's real estate market. "With home sales strongly trending up and the supply of homes for sale drying up, the market is hot. And we expect these trends to continue into 2013 with the jobs market improving, low mortgage rates continuing and consumer confidence getting stronger."
On the island, shrinking inventory is a two-edged sword.
The shortage of homes many real estate professionals mention will be good for sellers, driving home prices higher and cutting time on the market, but at least in the short term buyers will have less to choose from and brokers fewer properties to sell.
"The lack of inventory and buying choices will definitely drag on the market but will serve to give sellers who have well-priced properties in good condition a competitive advantage," says Thorpe.
At the same time, the advantage sellers currently enjoy has the potential to create a feedback loop that will alleviate inventory problem.
Over the past several years, many homeowners who would have liked to sell for one reason or another hesitated to list their property for fear it would not sell or because they owed more on the property than it would bring in a down market.
If homes are selling quickly and at good prices, those hold-outs are more likely to put their houses and condominiums on the market, replenishing the supply of available properties.
"I would say the lack of inventory will definitely push prices up," says Gene Billero, broker at Billero & Billero Properties. "That will help people who have been buried by the housing collapse start to see relief, and they will be able to put their homes on the market." 
Rising prices also light a fire under buyers who have stayed on the fence in recent years, waiting for some definite sign of a market bottom.
"There is a lot of pent-up demand for homes," says Billero. "The American public gets tired of hanging around and not doing anything. They are ready to buy."
"People who have been looking for the past few years but haven't bought are taking the plunge," says McLaughlin. "They know they have missed the bottom but they want to get in before prices really elevate."
The January/February issue of Florida Realtor reports, "the housing market will benefit from a stronger population inflow, including a significantly larger number of retirees."
"A lot of the wealth that boomers lost in 2008-2009 has gradually been restored," says Tuccillo. "Now, they're reviving their plans to move to Florida."
Real estate investors and foreign buyers, especially from Canada and Latin America, are expected to compete with retirees for available properties on the island and elsewhere.
According to Steve Yoder of The Fiscal Times, "Bidding wars on houses are making a comeback in Florida," as buyers flood into the market.
The more buying pressure, the more prices will rise. The more prices rise, the more homeowners will list their houses and condominiums for sale, reversing the long downward spiral in the real estate market and creating a long-awaited round of upward momentum.
Thorpe says sellers should be careful not to get ahead of the positive curve.
"A problem that can develop as a result of all this is that some sellers will have unrealistic expectations about what their homes are worth compared to what buyers are willing to pay and end up refusing reasonable offers."
Grove sees less potential for that problem. She says sellers have finally adjusted to real estate reality and understand their homes are no longer worth what they were in 2006.
"Sellers have said fine, we understand the actual market value of our home," Grove says. "Buyers are now more realistic, too. We are not seeing those terrible low offers we were seeing. We are seeing realistic offers that lead to deals being put together."