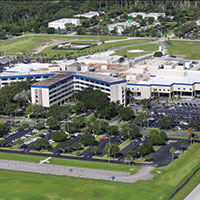 Hospital adjusts to rapidly changing world of healthcare
STORY BY JOSEPH W. FENTON, (Week of July 4, 2013)
At the same time Indian River Medical Center laid off 21 full- and part-time employees last week, workers were putting the finishing touches on the hospital's new Outpatient Endoscopy Unit which opened July 1.
The layoffs – sparked by a three to six percent drop in patient admissions this year – and the opening of the new endoscopy unit may appear unrelated, but they are both part of the hospital's effort to adjust to the rapidly evolving health-care landscape.
Hospital CEO Jeff Susi, in his letter to employees announcing the layoffs, blamed the drop in admissions at the 355-bed hospital on changes prompted by national health-care reform.
The push in health-care The push in reform, officials say, is to reduce the number of expensive hospital admissions and control how long patients are hospitalized while encouraging provision of services on an outpatient basis, a less costly approach to health care.
"As Jeff said, the Affordable Health Care Act is really driving change in medicine as we've known it for the last 25 years," said Dr. Charles Mackett III, the hospital's chief medical officer. "They've kick started (the shift) from inpatient to outpatient.
For example, Mackett said that in the first quarter of the year under tougher Medicare standards, the number of patients the hospital observed rather than admitted increased by 100. That "observation" designation means medical staff can keep an eye on patients for a period of 23 hours without "admitting" them for a hospital stay and treatment at higher Medicare reimbursement rates.
Mackett said this new approach means hospitals take a financial hit because they are paid less for those 23 hours of observation than if the patient was actually admitted. "We get significantly less reimbursement," he said.
For the year, the hospital will likely see an increase in 400 to 500 more patients being put under "observation" rather than admitted.
Another financial hit will occur as the Affordable Health Care Act takes $750 billion out of Medicare over the next 10 years. The loss of those health-care dollars was supposed to be partially offset by additional Medicaid dollars.
But despite Gov. Rick Scott's support for expanding Florida's Medicaid program – which the Urban Institute estimated would bring an infusion of more than $50 million in new federal funds into the state over the course of a decade – the Florida Legislature during its spring session decided to pass up the money.
The action, according to Mackett, was a double whammy for Florida hospitals:  They will receive less in Medicare reimbursements but will not benefit from increased Medicaid coverage of low-income patients.
In addition, Medicare reimbursements for cardiac devices such as pacemakers and orthopedic procedures have been reduced, Mackett said. Reimbursements for vascular procedures also are due to be cut. 
All three of those areas are big revenue generators for the hospital because older people make up a disproportionately large percentage of Indian River County's population.
Federal requirements to prove the medical necessity of some of those procedures also are now stricter than in the past, said Mackett.  The number of audits of hospitals' cases doubled in fiscal year 2013, he said. Auditors are checking on the kind of care and treatment people received, and looking at the hospital's in-patient/outpatient rates.
In response to these changes, Mackett said the hospital is changing how patients are handled, increasingly "moving the patient from in-patient to out-patient.
"We are responding by expanding our out-patient services. We are changing the face of the medical center to accommodate how outpatient is being handled," he said.
That changing face includes the new endoscopy unit, the hospital's still developing Cancer Center – recently endowed with two gifts totaling $24 million – and the new Outpatient Services Pavilion which opened earlier this year which provides a variety of outpatient services including chemotherapy.
In the past, surgeries such as hernias, appendectomies, gallbladder surgeries and most gynecological procedures involved hospitalizations; now, they are done on an outpatient basis provided the patients are relatively healthy.
"They come in the morning and go home in the evening," Mackett said.
The health care shift to outpatient services began in the Clinton and Bush administrations, Mackett said. In addition, Medicare is denying more treatments and placing more restrictions on what hospitals can provide patients.
The hospital expects the financial pinch to continue.
"Financial pressure on IRMC's operating budget will continue for the foreseeable future," Susi told employees. "However, I assure you that the medical center will continue to focus our investments in facilities, equipment/technologies, programs and services that serve our community and strengthen the long-term position of IRMC."
The positions that were eliminated are scattered throughout the hospital and include a director and four management/supervisory positions, the hospital said.
Three full-time registered nurse positions were eliminated. Those employees were offered part-time positions.
In addition, the hospital is still looking to fill more than 70 jobs and officials said employees whose jobs have been eliminated are welcome to apply for those positions, a hospital spokeswoman said. 
The layoffs will help bring costs in line. "We are looking to balance the books as best we can and give people access to outpatient services," said Mackett.  Following the cuts, the hospital will have 1,599 full- and part-time employees filling the equivalent of 1,150 full-time jobs.