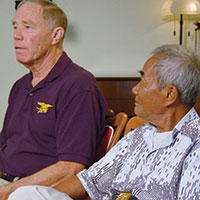 SEALs in reunion with Vietnamese translator
STORY BY JOSEPH W. FENTON, (Week of July 18, 2013)
Photo: Former Navy Captain Ron Yeaw recounts encounter with Viet Cong in which both he and Nguyen Hoang Minh were wounded by shrapnel from a hand grenade.
The two former warriors are grey now. Creases line their faces. Their bodies are no longer young and strong, but shrinking.
As their memories rewind 45 years, their shared experience takes them back to a piece of overgrown ground in Vietnam's Mekong Delta and what happened there on a night in March 1968.
The images they relate are sharp. The details are precise as they tell their stories.
Ron Yeaw – a retired Navy captain, but just a lieutenant then – and his Vietnamese translator Nguyen Hoang Minh recalled the night as if it happened yesterday.
As they drew on their memories, the jungle they painted was very dark. The vegetation was very dense. The 1,000-meter rice patty offered no shelter. Then, when everything finally went to hell, the clatter of AK47s ripped the silence from the night, explosions deafened the men and their blood felt sticky and thick on their clothes.
Yeaw and Minh were part of a small group of SEALs and support personnel searching the jungle for American POWs. Instead of finding Americans, the group stumbled onto a battalion of 500 to 600 Viet Cong – possibly backed by North Vietnamese regulars – that was bedded down for the night.
"We were right in the middle of it, but we didn't realize it at the time," said Yeaw.
The two men were filmed last week as part of an oral history project by the UDT-SEAL Museum in Fort Pierce and that could eventually be turned into a documentary.
Minh and Yeaw told their story about a war rapidly joining long-ago conflicts like Korea and WWII in the history books. They sat side by side in a couple of hard-backed chairs at the UDT-SEAL Museum's Trident House in Sebastian as a video camera recorded their every nuance – Yeaw's Jack Webb-like narration and the often exaggerated pantomimes Minh used to punctuate his story.
The mission changed dramatically after they entered a small hut and found Viet Cong sleeping.
"There was an explosion," said Yeaw. "I felt a little pain in my back and woke up in a canal. I crawled up the bank, took one step and fell down."
Minh also was injured. "It was very dark. You could not see anything. I could not stand. There was blood all over my legs."
They were dosed with morphine and lugged to a medical helicopter whose pilot only came into a landing zone crisscrossed with rifle fire after a helicopter gunship pilot warned him to "set down or be shot down."
Minh recalled being stuffed into the overloaded helicopter by SEAL Mike Boynton. Yeaw remembered the pilot started to lift off before everyone was aboard and he signaled him to drop back down to pick up the last man.
The towering, straight-backed Yeaw looked down at his diminutive Vietnamese ally as Minh acted out how he got two shots of morphine in his left shoulder to ease the pain. His neck craned up as Yeaw talked about their overloaded helicopter "shaking and shuddering" as it labored to lift off.
The battle was the only combat Yeaw saw in Vietnam.
Minh was not so lucky. He served five more years with the Americans and – after South Vietnam fell in 1975 – he disappeared for more than 30 years, dead in the minds of his many American friends.
Rick Kaiser, director of the Navy SEAL Museum in Fort Pierce, said Minh served as translator first for the Navy patrols boats in the Mekong Delta and later with the SEALs from 1968-1973.
For that service, Minh was arrested and sent to a re-education camp where he spent 28 months under inhuman conditions.
"We have a picture of him shackled to a cement floor," said Kaiser. "He was beaten and tortured. Unfortunately, that's what happened to a lot of the people who helped out the Americans."
After his re-education, Kaiser said, Minh struggled for years, unable to get good jobs.
John Donovan, who served on a patrol boat on the Mekong River Delta, the huge waterway and lifeline in the southern part of what was then South Vietnam, started his search for Minh in 1998 when he traveled to Vietnam for business and humanitarian reasons.
The two men were close during Donovan's river patrol deployment. "He taught me a lot about the culture and the language," Donovan said. "We spent almost all our time together.
"I started asking about Minh," he said, adding he finally found a mention of him in "Echoes of the Mekong," a book by Peter A. Huchthausen.
In 2006, eight years after his search began, Donovan located Minh through a Vietnamese woman who was also mentioned in the book and kept in touch with Minh.
"I reconnected with him and his family," said Donovan, 70, a management consultant from Hanover, N.H., who heads a foundation that builds 10 homes a year for Vietnamese families in the delta.
At the time, Minh was living with his wife and eight other family members in a shack covered by a metal roof. Within months, Minh's former SEAL friends raised $20,000 to renovate his squalid living conditions, buy furniture and add electricity and windows to the home.
On a trip last spring, Donovan said he sensed some urgency in Minh's desire to visit the United States. "The last time I was there in April, he said before he died he wanted to come visit his SEAL friends," said Donovan. 
At their April meeting in Ho Chi Minh City, the former Saigon, Donovan said Minh arrived with a copy of "Lone Survivor," the bestseller SEAL Marcus Lutrell, and a Zippo lighter with the SEAL insignia.
The UDT-SEAL Museum and the SEAL Foundation paid for Minh's trip.
Minh and his wife stayed at Trident House with its sweeping Indian River Lagoon view. The museum offers the home to SEALs and their families.
Four-and-a-half decades later, Minh's bonds with the SEALs remain tight.
Erasmo "Doc" Riojas is one of them. He came from Texas last week to see Minh.
"We thought he was dead," said Riojas. "We thought the communists got ahold of him and killed him and then all of a sudden John Donovan finds him. I was elated to learn he was alive.
"I wasn't going to come because I'm almost 82," he said. "But I spoke with him on the phone and he wanted to know if he could take a bus from Florida to Pearland, Texas. I just laughed at him, but he said, 'I've got to see you before I die.' If he could ride a bus to Pearland, I could fly here."
Minh and his wife left Sunday for Virginia Beach, Va., where they'll take part in a reunion with the members of SEAL Team Two, the unit that served with Minh in Tien Giang Province. The couple will finish its U.S. trip with a visit to Washington, D.C.
The depredations Minh suffered after the war were the repercussions translators suffered for helping Americans, said Donovan. He said similar scenarios likely will play out again in Iraq and Afghanistan.
"We left him there," Donovan said. At one point during last week's reunion, Minh fancied a belt "Doc" Riojas was wearing that sported a bright, gold-colored belt buckle with the SEAL logo.
The former Vietnamese soldier wanted one just like it.
The belt was unique. Riojas made the buckle himself. Still, he took it off and handed it to Minh.
A few minutes later, Minh admired the SEAL logo on Riojas' shirt.
The Texan took off his shirt and – again – handed Minh a souvenir.
That's what old comrades in arms do. They not only give friends the shirts off their back they give them the belts off their pants.