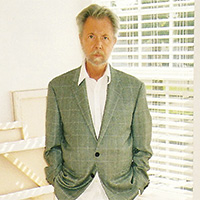 Martin Hoffman: Hard to 'pigeonhole' artist dead at 77
STORY BY ELLEN FISCHER, (Week of March 7, 2013)
Photo of Martin Hoffman.
Martin Hoffman, a prominent artist whose work in the 1970s was simultaneously identified with high art (gritty realist paintings sold through the O.K. Harris Gallery in New York) and low (illustrations for Playboy), has died at his home in Vero Beach. He was 77 and had been in fragile health.
As an artist, Martin Hoffman was hard to pin down.  "I always work simultaneously on several things," he said. "It gives people problems because they can't pigeonhole me."
Throughout his career, his style ranged from energetic abstraction and hard-edge pop to photo-based realism and minimalism. In recent years, he created a series of autobiographical paintings in a winsome, cartoon-like style. He also did a series of subtly hued works in which inscrutable words half-disappear into the paint in which they are inscribed. 
Hoffman, whose death here Feb. 5 attracted little notice, was born in 1935 in St. Augustine. His father, William Arthur Hoffman, was a communications supervisor on the Florida East Coast Railroad in St. Augustine. The senior Hoffman encouraged his son's artistic bent; the artist had an early memory of his father encouraging him to draw a submarine on a cardboard box top.
Hoffman was an only child. His mother and father divorced when he was four years old.
When he was 10, he went to live his maternal grandmother in the countryside west of St. Augustine. That down-to-earth matriarch taught Hoffman "every worthwhile thing that I know," he later wrote. When his mother remarried, she and her new husband brought Hoffman to Miami, where he graduated from high school in 1954 and married his high school girlfriend.
The couple had four children, Marsha, Mark, Marlan and Marisa, before their marriage broke up in the late 1960s. After the couple divorced, the children and their mother, Gail, moved to Vero Beach. In the mid-1980s, Hoffman had another child, Athena, from another relationship.
Hoffman moved to Vero 12 years ago to be closer to his family.
Hoffman's first job out of college was as art director for the Miami News, a position that he held from 1956 until 1962. Afterward he worked as a graphic designer in Miami while making paintings at home in his spare time.
His earliest paintings (which were done, he said, as a "testosterone-driven teenager") were executed in automotive lacquer on 4 x 8 foot sheets of builder's hardboard. They combined glossy, visceral surfaces and metallic paints with collaged-on metal shapes and mirrors.
In the 1960s, Hoffman's paintings began to incorporate figures and symbolism with erotic undertones. Through a mutual friend, Sidney Janis saw Hoffman's paintings and selected one of them for his international "Erotic Art '66" exhibition at Sidney Janis Gallery in New York. Others in the show included Pop Art icons Jim Dine, Larry Rivers, James Rosenquist and Tom Wesselman. Hoffman's painting hung besides an Andy Warhol silkscreen painting of a partially peeled banana.
From 1966 to 1992, Hoffman was a freelance Playboy illustrator. He called those years "a wonderful period – it supported my family."
Hoffman painted a series of nudes titled "Woman Eternal" which was featured in Playboy's December 1972 issue. Through the years, he also created illustrations for books, record albums, movie posters and print ads. Clients included Pfizer, Caesar's Palace, Harley Davidson Motorcycles and the NASA Art Program, which commissioned a series of works based on activities at the former Kennedy Space Center. 
Hoffman had moved to New York City by 1972. On the recommendation of Alicia Legg, a Museum of Modern Art curator who had included his abstract work in a 1962 traveling exhibition, he stopped in at O.K. Harris Gallery where owner Ivan Karp decided to take a chance on the self-assured young artist. So Hoffman joined a stable that included Photorealist painters Robert Cottingham, Robert Bechtle, Ralph Goings and Malcolm Morley, and sculptor Duane Hanson, a fellow South Floridian.
Karp said he wanted Hoffman to "get away from depictions of voluptuous females" and recommended that he "go to the Jersey Meadows and look around."
Jersey Meadows, a pristine salt marsh and pastureland in the early 19th century, was by the late 20th century a noxious garbage dump.
A century after the American Luminist painter Martin Johnson Heade immortalized it in radiant canvases, Hoffman found that the Jersey Meadows wasteland still had what he called "a liquid quality of light."
Like Heade before him, Hoffman used the transformative quality of light to find poetry in what was then a dystopic landscape. 
It was the first group of paintings that he showed at O.K. Harris; other series, "Basements," "Street People" and "Hulks" followed. All depict the grit and drama of the city in Hoffman's sumptuous style. A fourth series focuses on the rural landscape of upstate New York, where Hoffman bought a 10-acre farm. The "Landscapes" series features a serene countryside bathed in gentle, crepuscular light.
Toward the end of his life, Hoffman was concerned about the fate of his paintings that were still in his possession.
He wrote to John B. Henry III, director of the Flint Institute (and past director of the Vero Beach Museum of Art) and offered three major works, "Psyche and Techne," "Abandon in Place, " and "Autumn Landscape with Incident" of 1980. The latter two paintings measure 8 ½-feet tall by 12-feet wide. The Flint readily accepted the paintings for its permanent collection.