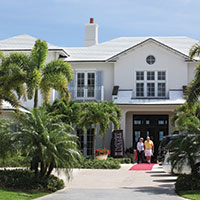 John's Island auction produces no bids
STORY BY STEVEN M. THOMAS, (Week of May 2, 2013)
Photo: Auction of home on Gem Island.
What was billed as the biggest home auction in recent John's Island history didn't quite result in heated bidding – or any bidding, for that matter – but the house on Gem Island may soon have a new owner the more conventional way.
"Historically, a small fraction of our sales occur after the auction date," says Trayor Lesnock, president of Platinum Luxury Auctions, the Miami-based company that offered the 10,700-square-foot waterfront home April 27 with a reserve price of $4.25 million. "There are two written offers being negotiated that exceed the reserve price."
After promoting the auction locally, nationally and internationally for weeks and signing up four parties who put up refundable $250,000 deposits for the privilege of attending the auction, Lesnock and his client received a cash offer "well in excess" of the reserve price just hours before the auction.
Lesnock attributed the offer to a buyer who saw himself as a good poker player, and who thought by short circuiting the auction, he would have more control.
While the offer may have been tempting, the seller and Platinum didn't bite. Instead, they told the potential buyer to come to the auction rather than engage in separate negotiations.
"This is a common strategy in the case of a pre-auction offer like this one, especially when it's received within 24 hours of the auction," says Platinum project manager David Enriquez. "The seller simply wanted to see what the auction would bear, rather than risk jeopardizing the process in advance."
Lesnock says three local residents each put up the $250,000 needed to walk down the red carpet at the entry of the home to attend the auction. A fourth potential bidder was represented by a Jupiter broker who was present with a power of attorney.
The auction, however, produced no bids.
Later, the cash buyer resubmitted an offer and another buyer put in a second offer, Lesnock says. Besides those, which Platinum was responding to at press time, Lesnock says other interested parties have come forward.
"We had a new showing on Sunday [the day after the auction] and we have at least one more party planning to fly in from Virginia. He is very qualified and called in four or five times about the home, but he just could not make it to the property for a visit or the auction."
The 6-bedroom, 7½-bath at 170 Loggerhead Point on Gem Island sits on a 5-acre lot on a quiet cove in the Indian River Lagoon with easy access to the Intracoastal Waterway. Two acres are zoned single-family residential; the other three acres are wetland. 
The auction is not part of a bank foreclosure or any other kind of distressed sale.
Knowledgeable sources say owner James Dobbs has simply moved on to another place and wants the property off his hands.
Dobbs first listed the house for $9.65 million in October 2010. He dropped the price to $8.9 million a year later and then to $7.9 million in 2012.
When the property did not sell at that price, he got in touch with Lesnock.
Lesnock says Dobbs was obviously hoping for a done deal by the end of the auction on Saturday, but that he remains upbeat about the prospect of an early sale.
"I can't stress enough how much of a class act this seller is. He and his lead counsel have been very appreciative of how we have been candid with them at all times throughout the process, which is a hallmark of what we do as a firm.
"Our contract with each seller stipulates that we stay onboard for a given period of time following the auction date, in this case in an exclusive brokerage capacity.
"As such, we work with all of the leads we have developed during the process, in order to attempt to produce a sale. In this business, you simply have to face the fact that some of your buyer prospects are very, very high-powered folks who are very good 'poker players.' You can't win those battles with them one hundred percent of the time.
"By waiting, they don't necessarily get a better price – we've seen post-auction sales end up at much higher numbers than where the buyer's initial offer began – but they'll certainly try."