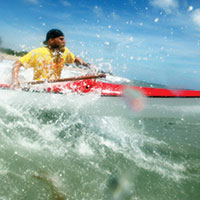 Vero lifeguards get outrigger canoe for heavy waves
STORY BY SIOBHAN MCDONOUGH, (Week of May 2, 2013)
Photo of lifeguard Tim Capra: "With this canoe, you can take it out in any condition."
Vero Beach lifeguards have added a new weapon to their arsenal of life-saving equipment after a local businessman donated a fiberglass outrigger canoe that can handle heavy waves and weather.
The donation comes as the lifeguards gear up for their busiest time of the year – summer.
The Stingray, a 22-foot-long fiberglass canoe with great stability that only weighs 40 pounds, is sleek, fast and can handle the varying conditions of the ocean beautifully, lifeguards say.
"With this canoe you can take it out in any condition from big waves to a flat ocean, and heavy winds," says Tim Capra, a lifeguard. "If someone is crazy enough, they can take it out in hurricane conditions.  This canoe is the right equipment for the ocean for us to be able to rescue someone on the ocean."
Jay Richter, a local carpenter, who watched his brother-in-law in Oahu, Hawaii, build the fiberglass canoes for close to 30 years and decided to build them here, donated one to the Vero Beach Lifeguard Association.
The canoe is as common in Hawaii as the kayak is in Florida, according to Richter, who builds them in his shop at the 49th Street Trade Center.
"VBLA is a soft spot for me," Richter says, explaining why he donated the canoe that retails for $2,800.
The canoe maker is not happy the city has cut back the lifeguard budget for protecting the beaches. "For the city to cut the funds for a group of people who are needed to protect the livelihood of the city – the beaches – is unbelievable. To cut the funding for their equipment and their hours, I don't think the powers-that-be go to the beach."
Donations such as the canoe couldn't come at a better time. The rescue equipment is important because the city is forecasting a budget cut of 5 percent across the board each year for the next three years, says Erik Toomsoo, head of the lifeguard association.
To date, the association has donated $1,752 to the city to buy a rescue skid for the new ATV it uses to evacuate victims off the beach. Apparently, the Rotary Club of Vero Beach is planning to donate three new kayaks to VBLA which in turn will be donated by VBLA to the city lifeguards. Also, Orchid Island Rentals is donating three new rescue boards to the Recreation Department for use in the lifeguard towers.
"Most of our equipment is old and in disrepair," Toomsoo says. "VBLA is working with the community to make up for the shortfalls in funding to city lifeguards."
In 2012, city lifeguards at Jaycee, Humiston and South Beach parks made 30 rescues – an increase of 25 percent from the previous year. City beaches had a 13 percent increase in visitors. There are 17 lifeguards – seven full-time and the rest part-time. Part-time guards also work at Leisure Square pool.
"It's awesome," lifeguard Capra says of the canoe. "It's so quiet, so sleek and so fast. I've been out on every piece of equipment known to man for lifeguarding, and this is definitely awe-inspiring."
The Stingray is red and white fiberglass with an outrigger and built for one person. It comes with custom-made wood paddles. A person sits on top of it like a sea kayak, but it has an outrigger on the port side connected to the main section by aircraft aluminum tubing, which is very stable. There are pedals to steer the rudder. And it is super fast.
"Any opportunity to get something like this – a canoe, kayak, rescue board or stand up board – that makes us get out on the water more, is helping us get in touch with crafts used for rescues," says Capra, 33, who has been a lifeguard since age 16. "It gets us more in touch with the ocean."
Capra met Richter, owner of Hawaiian Boat Builders of Vero Beach, last year while on watch at South Beach.
Richter told him that his brother-in-law, John Martin, had been making the custom-made canoes for decades in his shop in Oahu. Months later, he followed up with Capra to tell him that he wanted to donate one to VBLA.
"The day he showed up and said he was going to donate it, I was at a loss for words," recalls Capra. "I didn't know what to say. It's huge for an East coast guy to get a Hawaiian tradition."
Richter hopes his canoe will be a big help to city lifeguards.
"I was wondering why Florida doesn't have these canoes," he says. "In Hawaii, it's bigger than Little League. People, from kids to old geezers, use them."