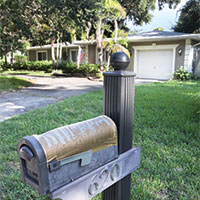 Let's buy this home for Simpson family
STORY BY MEG LAUGHLIN, (Week of September 5, 2013)
Photo: The Simpson family home on Fiddlewood in Central Beach.
In the two weeks since our story on how Kristen Simpson, whose husband Brian was shot to death two years ago by burglars who had invaded their Central Beach residence, was now losing the family home to the bank, a number of wonderful 32963 readers have emailed and phoned asking how they could help.
Their offers of financial aid have ranged from proposed gifts of $1,000 to $5,000 to $10,000 and more.  While amazingly generous, the informal proffers thus far total less than the $220,000 that Chase Bank has suggested would be enough for them to settle the mortgages and not take the home. 
But we believe, based on your calls and emails, that we can raise enough from caring Vero Beach 32963 readers to satisfy Chase Bank, enabling Kristen and her children, 16-year-old Scott and 17-year-old Samantha, to remain in the family home on Fiddlewood.
Kristen tells us if the mortgage and arrears were no longer an issue, she would be able to pay for upkeep, utilities, insurance and taxes out of her $38,000-a-year public school teacher's salary. 
In an effort to channel this outpouring of support, we are launching the "The 32963 Simpson Home Fund," and we are kicking this off with our own contribution of $5,000.
Our check, and all others we receive, will be sent to accountant Clay Price, CPA, a long-time principal with beachside accounting firm Harris, Cotherman, Jones, Price & Associates (now a part of Rehmann).
Our hope is that contributions will quickly reach $220,000. If and when the total needed is reached, Kristen's attorney Brian Connelly (of the beachside law firm Gould Cooksey Fennell) will undertake negotiation of a deal with Chase to satisfy the mortgages.
Connelly, who received several calls himself this past week, said "It's overwhelming to have such big-hearted people in this community. It's so wonderful it's hard to describe without choking up."
Michael Kint, CEO of the United Way of Indian River County, said just before our deadline that an anonymous donor would contribute $75,000 to The 32963 Simpson Home Fund.
"I'm so supportive of our donor stepping in," said Kint. "I hope this generosity will encourage more people to help the Simpson family keep their home."
If the effort to save Kristen's home falls short, Price will return the escrowed funds to all who contributed.
But The 32963 Simpson Home Fund drive cannot be allowed to fail.  Those who wish to contribute can email 32963 Publisher Milton Benjamin at milton@verobeach32963.com  or phone me at 226-7924. We will arrange to pick up or receive checks and take them to Price. Or people can send checks to Price directly (234-8484).  Either way, Price will acknowledge all contributions.
While we plan to provide weekly updates on the generosity of 32963 readers, donations – if you prefer – can be confidential.
Brian Simpson was shot to death by a home invader in November 2011, when he unexpectedly stopped by his house after work to get a glass of ice water before going to watch Scott play baseball. When police arrived and found Brian facedown on the bedroom floor, there was still ice in his glass.
To this day, Brian's Topsiders are on the tile floor by the front door where he left them on the night he was killed. When Kristen and the kids are at home, they always place their shoes next to his.  
Help us save Brian Simpson's home for Kristen and the kids.