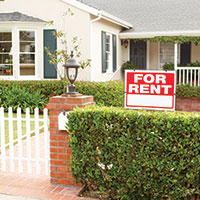 Mayfield, Negron backed law enabling short-term rentals
STORY BY LISA ZAHNER, (Week of September 19, 2013)
When the 2014 session of the Florida Legislature opens in March, cities and towns across Florida hope to overturn a 2011 law stripping away the power of local communities like Vero Beach to regulate short-term rentals in their residential neighborhoods.
"We opposed the bill all the way through the process. We thought it was a bad idea in 2011 and we still think it's a bad idea in 2013," said Casey Cook, a legislative advocate for the Florida League of Cities. The League will meet on Friday in Jacksonville to develop its legislative agenda for 2014. Cook said he expects an upending of the law governing vacation rentals to be on that list.
Lobbyists on the other side are poised and ready to counter these efforts in the name of property rights. Big-name vacation lodging providers – including Disney – will presumably be there to again to write more big checks to legislators like Rep. Debbie Mayfield and Sen. Joe Negron, who voted for the bill in 2011.
Mayfield appears to still see no problem with the law, which now has the city of Vero Beach preparing to go to court in an effort to block the rental of homes by the week in Central Beach residential neighborhoods.
"People should have the right to use their property as they wish," said Mayfield in an email response, adding that she does not recall any local residents voicing opinions for or against the bill.  "No problems were brought to my attention."
Negron was unwilling to pick up the phone to explain his vote or to answer questions by email.
In past weeks, Vero residents have wondered how House Bill 883 – such a seemingly bad piece of legislation – could have run the gauntlet of committees and hearings to garner a 38-0 vote in the Florida Senate and a 94-19 vote in the Florida House, plus a signature from Gov. Rick Scott.
What were they thinking?
Well, it's a sordid tale, a textbook case of government at its worst. All the elements are there: high-powered lobbying, copious campaign dollars, a sex scandal and even a little tinkering by a behemoth corporation.
The Florida Vacation Rental Managers Association – which has no listed members from Vero Beach or from Indian River County for that matter – paid lobbyist Lori Killinger and her associates $60,000 over a two-year period to work the issue in Tallahassee and by all accounts she was quite effective.
"The general idea is that these are owners who have property rights and are entitled to use their property in the way they see fit. Vacation rentals are not an outrageous use," Killinger said. "Local governments with the slice of a pen were saying no more vacation rentals. Literally you could wake up one day and no longer be able to rent your home. These were not thoughtful ordinances."
But how did the bill get stuffed into the legislative sausage-grinder in the first place? That story begins with Mike Horner, the man who introduced the bill in the House.
"Horner was a rising star in the Republican Party," said Cook, of the League of Cities – "was" being the operative word.
Horner, who for nearly four years represented the Kissimmee area, resigned abruptly last September after his name appeared on the client list of an Orlando brothel. But it's who Horner cozied up with in his day job that's more relevant to why Vero Beach now has a problem with vacation rentals.
"You might want to check into how Disney was involved," Cook said, inferring that the vacation giant may have had something to do with molding the final language of the bill that was signed into law.
Legislators in Florida serve constituents on a part-time basis when out of the spring session and most have other full-time jobs. For 16 years, Horner served as president of the Kissimmee/Osceola County Chamber of Commerce, where Walt Disney World is a trustee and holds two spots on the Board of Directors.
The Chamber kept Horner on the payroll for nearly four months after he resigned from the House, despite mounting outrage from the community as details of the brothel operation emerged in news reports and court documents.
When asked if she worked with Disney on the bill or if Disney was a client of hers with regard to HB883, lobbyist Killinger said no. But when asked if Disney pushed for the passage of the bill, she responded, "You'll have to ask Disney."
While an effort to determine what role Disney and its myriad related companies played in 2011 is ongoing, a check of the two legislators representing Vero Beach showed that Disney doles out a lot of campaign cash. Florida election law caps donations at $500, but by giving from numerous subsidiary companies including Disney Vacation Development Inc., the company can, legally, channel more funds to legislators.
In the 2010 and 2012 campaign cycles, Mayfield received $5,500 from Disney companies and Negron received $4,500. Mayfield and Negron also received a total of $1,250 from the law firm of Lewis Longman & Walker, the employer of lobbyist Killinger.
The two who spearheaded the bill also reaped financial rewards. Horner took nearly $11,000 from Disney companies and $2,250 from Killinger's law firm. Sen. Greg Evers, who took up the bill in the Senate, received $3,000 from Disney companies and $500 from Lewis Longman & Walker in the 2012 election cycle.
Neither Disney nor Lewis Longman showed any interest in Evers' rural Santa Rosa County district in 2010 before the vacation rental issue ramped up.
The Orlando Sentinel reported that Disney poured $2.5 million into the 2012 election cycle and that Horner was also Disney's point-man on efforts to block the approval of casino gambling in South Florida.
Disney companies have 32 lobbyists on retainer, creating a tangled web of other campaign contributions nearly impossible to track. Lewis Longman & Walker employs Killinger plus two others.
The League of Cities, on the other hand, employs five staff lobbyists plus two outside lobbyists to track more than 1,500 pieces of legislation per year, but the League lacks a powerful tool to make things happen in Tallahassee.
"We do not make campaign contributions," Cook said.
Without the power to influence with cash, the cities will need grassroots mobilizing – letters, emails, phone calls and visits from constituents and from elected officials who are steamed about the current state of the vacation rental law.
Killinger said she's still on retainer with the Florida Vacation Rental Managers Association and that she'll be back to battle the League of Cities and to keep the power to regulate vacation rentals where she and her client think it belongs – with the state of Florida.
"The big goal is to ensure that the pre-emption stays intact," Killinger said.