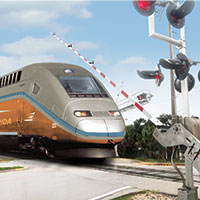 Jumping on the bandwagon to stop high-speed trains
STORY BY RAY McNULTY (Week of April 17, 2014)
To those who oppose the All Aboard Florida high-speed train project in Vero Beach, Sebastian and the other communities north of West Palm Beach, it's an us-against-them battle.
And they know we're outnumbered.
"We're definitely taking on South Florida," Indian River County commissioner Bob Solari said. "If you look at the seven-county region, 91 percent of the population is Palm Beach and south."
More people live there. More businesses are located there. More politicians represent the people, businesses and other interests there.
That's a lot to overcome, especially with All Aboard Florida planning to connect Miami to Orlando with high-speed passenger rail service that includes stations in Fort Lauderdale and West Palm Beach.
Making the challenge more difficult is the support the project has received from Gov. Rick Scott, who already has pledged $215 million for the construction of an All Aboard Florida terminal at Orlando International Airport, and the Obama Administration, which slipped $8 billion in federal funds for high-speed rail loans into its 2009 stimulus package.
In fact, President Obama said in his first State of the Union Address that he wants high-speed passenger rail to serve 80 percent of the nation's population by 2025. So it's unlikely All Aboard Florida opponents will get much help from the Federal Railroad Administration or U.S. Secretary of Transportation Anthony Foxx.
The federal money Florida East Coast Industries needs to fund All Aboard Florida is sitting there, waiting to be borrowed – unless the required environmental impact statement unexpectedly turns up some reason to reassess the project, which is scheduled to begin operation in early 2016.
That's when 900-foot-long passenger trains would start hurtling through the county at 110 mph 32 times each day between 7 a.m. and 10 p.m., forcing residents to endure traffic disruptions, blaring horns, delayed emergency vehicles, public safety hazards along the tracks and a likely drop in property values in neighborhoods near railroad crossings. And those numbers don't include longer stoppages resulting from eight of the 18 freight-train passings that would occur during the hours All Aboard Florida would operate.
That's why local officials along the Treasure Coast are now trying to work together as a united bloc to stop the fast-moving project before it picks up more steam.
"We have to stay together as a community on this issue," said Ken Daige, chairman of the Vero Beach City Council's High-Speed Rail Commission. "If we splinter, nothing gets done. And that's what the other side wants."
As recently as a month ago, there appeared to be little resistance to the high-speed rail plan – so little that local government officials in Indian River, St. Lucie and Martin counties seemed accept that All Aboard Florida was inevitable.
So rather than try to derail the project, they instead sought assistance in funding the safety upgrades needed to create quiet zones at road crossings.
But over the past few weeks, as an awakened public learned more about All Aboard Florida, opposition began to mount.
The Vero Beach City Council, Sebastian City Council and Indian River County Commission have opposed All Aboard Florida, arguing that there should be no state or federal underwriting of the $1.5 billion private enterprise. The county also has requested that FECI make its financial records and projections public, and asked the FRA to extend from 45 to 180 days the period granted to local residents to review and comment on the environmental impact statement.
In addition, state Sen. Joe Negron (R-Stuart) and U.S. Rep. Patrick Murphy (D-Jupiter) have expressed concerns about the impact, safety and viability of All Aboard Florida.
In a letter written jointly with U.S. Rep. Lois Frankel (D-West Palm Beach) to Foxx last week, Murphy stated: "While we wait for information to understand any positive economic benefits of AAF, we have serious concerns with the potential detrimental impacts on existing businesses and the quality of life of residents in South Florida and the Treasure Coast."
That letter came on the heels of a Palm Beach Post story revealing a federal rail engineer, after a two-month survey of every crossing from Miami through St. Lucie County, filed a March 20 report calling for All Aboard Florida to spend an additional $47 million in upgrades because "they are not exercising appropriate safety precautions and reasonable care when designing for High-Speed Passenger Rail service."
A similar survey of the crossings from Indian River County through Cocoa, where the All Aboard Florida trains would veer west to Orlando, is scheduled for this summer.
"There are a lot of very angry people out there," Vero Beach City Councilwoman Pilar Turner said. "They're worried about the traffic problems, their property values, our quiet lifestyle … and they're upset. They're speaking out.
"It's no longer just calls and emails to my office," she added. "People are calling me at home."
Others have organized a grass-roots campaign.
Working along with local governments – and forming an entirely different front – are citizens groups, such as the Vero Beach-based American Coalition 4 Property Rights and Stuart-based Florida NOT All Aboard, which has amassed more than 5,000 signatures on its online petition.
"We're just trying to educate the public and raise awareness," said Phyllis Frey, an island resident who founded the AC4PR group in October 2012.
It was Frey's group that successfully pushed for Indian River County and Vero Beach to withdraw from the controversial Seven50 regional planning effort. Now the target is All Aboard Florida.
"What we need to do is slow down the process so we can examine the full impact of this project," Frey said. "The key is to put a halt to the funding, because All Aboard Florida isn't going to go ahead with this thing on its own. But that's going to take a united voice, not just here but up and down the Treasure Coast and even into Brevard County.
"We've gotten the attention of our local officials, who no longer see this as inevitable. People have realized that All Aboard Florida isn't our friend. Now we have to make sure we get the help we need from our state and federal officials. That's why I'm advising everyone to get involved – go to city and county meetings, contact our representatives in the state and federal government, sign the petition on the Florida NOT All Aboard website.
"As quickly as this thing is moving, it feels like the train has already left the station and we're trying to catch up," she added.
"We are outnumbered, and all the TV stations are in South Florida and Orlando. But if we can slow down the process, I think we have a chance to stop it."