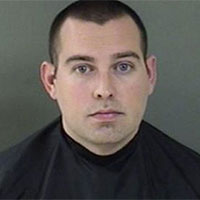 Michael Jones pleads 'not guilty' in Duve murder
STORY BY LISA ZAHNER (Week of August 7, 2014)
Photo: Michael Jones is accused of murdering his on-again-off-again girlfriend Diana Duve.
Michael David Jones, the accused killer of Moorings resident and Sebastian River Medical Center nurse Diana Duve, pled not guilty last week and requested a trial by jury.
The plea was entered in writing by defense counsel Alan Hunt, the head attorney in public defender Diamond Litty's office, so there was no need for the scheduled arraignment, which would have taken place Monday.
The former PNC Wealth Management employee is set to appear in court on Sept. 3, and his defense attorney Hunt has filed a motion demanding that the state turn over all the evidence it has against Jones, plus all so-called "Brady" material, which is any evidence that would help Jones' case.
Jones is accused of strangling Duve at his Vero Beach apartment on June 20 after leaving What-A-Tavern in the wee hours of the morning, dumping Duve's body in the trunk of her car, and leaving the car in a Melbourne Publix parking lot where it was found on June 23.
Jones was arrested at a Hampton Inn in Fort Pierce a few hours before the body was found and held at the St. Lucie County Jail for violation of probation.
When Jones moved to Vero to work for PNC, he was facing trial for an October 2012 aggravated stalking charge from Broward County for threatening to kill his then-girlfriend and co-worker at Wells Fargo Advisors in Fort Lauderdale.
One condition of Jones' probation, which was transferred to Vero, was that he not leave Indian River County, so police were able to hold him on the violation of probation until they were ready to charge him with murder two days later.
The state appointed a public defender for Jones based upon an application he filed for criminal indigent status stating that he was unemployed because he'd been terminated from his job upon being arrested, that he had $8,000 in the bank but was $500,000 in debt.
Acquaintances who knew Jones say he complained of being buried under massive student loan debt. Jones graduated from the University of Georgia with a bachelor's degree in 2005, and returned to earn a Master of Public Administration in 2007.
He subsequently enrolled at St. Louis University Law School.  Officials there confirmed that Jones graduated in 2010 with a Juris Doctorate degree.