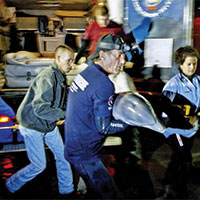 Island's McCulloch appears in 'Dolphin Tale 2'
STORY BY STEVEN M. THOMAS (Week of August 21, 2014)
Photo credit: Dolphin rescue expert Steve McCulloch (center).
Renowned marine mammal rescue expert and island resident Steve McCulloch will attend the red carpet  Los Angeles premiere Sept. 7 of the movie "Dolphin Tale 2," in which he appears along with island veterinarian Dr. Juli Goldstein.
The film starring Harry Connick Jr., Ashley Judd and Morgan Freeman is a sequel to the 2011 hit movie "Dolphin Tale," which was No. 1 at the box office three years ago. The original film tells the story of a rescued bottlenose dolphin named Winter that was fitted with a revolutionary artificial tail at Clearwater Marine Aquarium with the help of McCulloch and Goldstein.
The sequel, which opens in Florida on Sept. 10, portrays the rescue and rehabilitation of a second dolphin, Hope, that became Winter's companion.
"Steve and Juli were a big part of Winter's and Hope's stories and we want them there at the premiere so we are flying them out," says David Yates, CEO of Clearwater Marine Aquarium. He came up with the idea for "Dolphin Tale 2" and is one of the film's producers.
Goldstein, a marine mammal expert, and McCulloch responded when Hope was found near death in the Northern Indian River Lagoon and transported her to Clearwater.
"When we arrived Hope was minutes from death [from dehydration and stress]," says McCulloch.  He and Goldstein stabilized the two-month-old animal and managed to keep her alive during a 170-mile journey across the state.
Hope arrived at the Clearwater Aquarium on the night of the wrap party for the first film, which was shot primarily on location.
"The timing was unbelievable," says Yates. "When I tell people about it, they usually shake their head and ask me, 'What really happened?'
"One of my first thoughts was that we might have the elements of a sequel on our hands."
"The whole story was pretty extraordinary from the beginning," says John Berry, who wrote a four-part series about Winter's rehabilitation and growing celebrity for the St. Petersburg Times. "Both dolphins were babies when they were found and had lost their mothers, which meant they would normally have been euthanized, especially since Winter was maimed. That they survived was amazing, and then they came up with the audacious idea of making Winter an artificial tail."
Kevin Carroll, an executive with prosthetics company Hanger Clinic, heard an interview in which Yates talked about the dolphin without a tail and called to offer help.
The tail was made by Hanger employee Dan Strzempka, who relies on a prosthetic himself after losing a foot in a childhood accident.
"Steve and Juli were on the original idea team that came up with the concept of an artificial tail and worked to refine it," says Yates.
"They were heavily involved throughout Winter's rehabilitation. They came across the state numerous times, brought us equipment and actually mentored our staff. They really helped us out a lot."
Winter and Hope survived and are swimming together at the Clearwater Marine Aquarium.  And the dolphins have returned the favor.
A unique elastomer invented by Strzempka to make the artificial tail adhere to Winter's sensitive skin now enables injured children to wear their artificial limbs with more security and comfort, and Clearwater Marine Aquarium has had a 10-fold increase in attendance, turning a failing institution to a world leader in marine mammal rescue and rehabilitation.