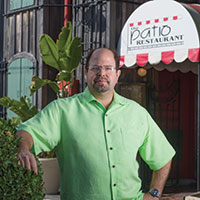 Bill Brown plans to turn old Patio into seafood tavern
STORY BY MICHELLE GENZ (Week of November 27, 2014)
Photo: Bill Brown, hoping to revive Patio restaurant.
As if Orlando restaurant manager Bill Brown didn't have enough on his plate, now he's starting up his new version of Vero's Patio restaurant in time to open his doors to the public for New Year's Eve.
The hopes of the entire Sexton family are pinned to his chef's apron. Nothing would have pleased the late Ralph Sexton more than to see the place succeed, says Ralph's nephew, Mark Tripson. "It was his lifelong ambition for the Patio to do well. I don't know why, he just did."
To the Sexton family, a lease on the property means more than cash coming in through the Patio's wrought-iron door. It's a sign that a piece of old Vero can remain on the planet a little longer.
And with the Patio's four failed efforts in five years, Brown isn't just the latest tenant – he is the face of the family's tenacity.
"A couple of people wanted to buy it and bulldoze it," says Tripson, who estimates 50 people approached him to take over the place after the most recent incarnation failed a year ago.
Bulldozing the 70-year-old restaurant, one of a half-dozen crazy-quilt creations built by Ralph's legendary father, Waldo Sexton, would have broken Ralph's heart. He spent $1 million of his own money refurbishing the kitchen five years ago, including digging up two feet of dirt, filling it back in and pouring a new concrete floor.
That means Brown, 48, can turn the premises into the seafood-focused tavern he envisions with little more than a good cleaning. He's hoping for a soft opening on New Year's Eve, and speaks with an ease born of plenty of experience:
"I'd like to do maybe 100 to 150 people. If we're not ready, then 75 or 50, in some way shape or form."
Brown hasn't got a lot of history in Vero, though his mom, Connie Brown, bought a condo here in 2004 with his late father, a retired attorney. An aunt and uncle, David and Margie Harris, live nearby.
And his old boss at the massive marina resort restaurant he managed in Michigan, Roger Petri, has had a house in The Moorings for many years. Brown says he's offered to volunteer on opening night. "He's so excited," says Brown. "When I called him, he said, 'Oh my God, I used to hang out there!"
Brown does have a long history in the restaurant business, both with large hotel chains and for family-owned businesses, including some whose eccentricities make the colorful Sexton-Tripson clan seem like a PTA meeting in comparison. Topping the list is the Taiwanese family of the notoriously irreverent attorney-turned-celebrity chef Eddie Huang, whose memoir, "Fresh off the Boat," has been made into a sitcom debuting in 2015 on ABC.
Brown managed Louis Huang's Cattleman's Steakhouse on International Drive in Kissimmee, eventually turning it into a Hawaiian-themed tourist draw complete with hula dancers and fire-jugglers (it was the Huang family's concept, he says.) He also ran the Huang's more upscale Mediterranean-Italian place in downtown Orlando called The Black Olive, eventually morphing it into a trendy burger place called Blue Smoke. 
Earlier, In 2007, he was brought in as managing partner in the hospitality group that opened the 300-seat Tavern on the Lake, part of the $700 million Veranda Park, a luxury multi-use project in Orlando's MetroWest suburb, led by Kevin Azzouz, a former Silicon Valley software developer whom Brown met when Azzouz had lunch in the Crowne Plaza hotel where Brown was working. 
"We had a tremendous business," says Brown. "It was 'the' meeting place." When the rest of Veranda Park went belly-up in 2011, and bankruptcies, liens and lawsuits were flying around Azzouz, Brown escaped "by sheer luck," he says.
Brown was involved in five other restaurant concepts in development when the Veranda project collapsed, he says, in addition to the coffee-and-panini place he had already opened.
Experienced in both the budgeting and menu development aspects, Brown's roots are in Cuban cuisine. Brown's maternal grandfather had a restaurant in Havana.
"That was my background, all those fresh fruits and fresh vegetables, avocados, plantains and papayas. That's why I love salsas, chutneys and relishes that bring out the flavor. A fresh piece of grouper, or an aged steak? Don't go crazy over it. Treat them with the beauty of what they are and just maybe accent what's so awesome about them."
Brown has not wracked his brain to figure out the Patio's challenging past. Though many point to its size – at 250 seats, it is one of Vero largest – Brown has managed much larger restaurants. "Sounds like somebody tried to do something that was maybe more than they could do," he says.
"My branding of this restaurant is a seafood tavern," he says. "The tavern part of this is really important. If you want to come in and have a beer and just an appetizer, I don't want anybody to feel intimidated. I want this to be where people can come on a regular basis to get together with friends."
Brown studied accounting at Northeastern University in Boston, then rather than return to Madison, CT, his hometown, he moved to Miami – where many of his Cuban relatives had settled – and began a tenure with Interstate Hotels. He worked at the Sheraton on Brickell Avenue, then as banquet chef at Key West's Casa Marina and eventually as executive chef at a Sheraton in Philadelphia.
When he was transferred to Michigan, he got in with a new marina resort opening in Harrison Township on Lake St. Clair north of Detroit. For the next seven years, into the mid- to late-1990s, he worked his way up from executive sous-chef to general manager of a 535-seat restaurant called Mac & Ray's, which Brown says won a slew of awards. 
The "Ray" in the name was Ray Nicholson, who with his brother and father developed an inventory system for grocery stores called RGIS in 1954. With $64 million cash, as Brown tells it, laughing, he bought a half-built marina and restaurant "because he wanted to buy a boat for his daughter."
At around that time, Nicholson bought a condo in Boca Raton and soon became one of the largest condo developers on the Florida east coast.
Meanwhile, Brown's wife Anne was still working as a controller for Interstate Hotels. When she got a generous offer and promotion to open a new resort in a town of 20,000 in Oklahoma, they decided to gamble and with their two young children, moved.
While the experience turned out to be worthwhile, the couple, who had met in Miami, wanted desperately to move back to Florida.
They ended up with jobs in Orlando in 2002, making frequent trips to Vero when Brown's mom moved here.
He finally saw the sign in front of the Patio when he took a wrong turn coming home one night. He called Tripson, who met with him.
But at the time, Tripson was in serious discussions with the owners of 12-A Buoy in Fort Pierce. "I thought we had a lease down with them," says Tripson. When 12-A went away, he called Brown.
Of those 50 other prospects, a number had problems with their credit report, Tripson said. Or they had bankruptcies in their past, and for that, Tripson turned them away.
"You can't count on them," he says. "Every business has its ups and downs, but you've got to leave enough in there to carry you when it's down. If you don't have a couple hundred thousand to help you get going and carry it, you'll be broke before you can turn it around."
The family members, led by Ralph Sexton, thought of re-opening the Patio themselves, soon after chef-owner Leanne Kelleher left to return to her beachside restaurant, the Tides. But Kelleher's subsequent bankruptcy filing on the Patio venture kept Tripson from being able to re-hire her crew, he says. Eventually "they all had to find other work," he says.
Then Ralph's health took a turn for the worse. 
Waldo Sexton's other restaurants have not had the problems the Patio has had.
The Ocean Grill has thrived under the same tenants, the Replogle family, since the 1960s. The Driftwood Resort with its restaurant Waldo's, was sold when the property went to time-share long ago. And another restaurant at 43rd Avenue, Szechuan Palace, has had the same tenants for 25 years. 
"Most restaurants that fail to be successful, it's because of undercapitalization," says Billy Moss, a longtime commercial real estate broker and member of the Main Street board that promotes the downtown area.
"Mark Tripson is very knowledgeable about the restaurant business and they're very, very thorough in how they investigate possible tenants. That's for sure," Moss says.
Brown would not discuss finances or details of the lease agreement, but Tripson made clear: the more they talked, the better Tripson felt about putting the family's beloved Patio in Brown's hands.
"He's stellar," says Tripson.
And while Brown won't own any part of the property or equipment, he is allowed to redecorate, though Tripson says the place doesn't need it. "Why paint a rose?" Tripson says.
As for Ralph Sexton, who died in September at the age of 86, Tripson hopes he feels as the rest of the family does.
"We're all proud to have it rented. It needs to be rented. It's a beautiful building."
Through the long year of searching for a fresh start at the Patio, Ralph's wishes were at the fore, Tripson says. "We all say he's looking down from heaven."