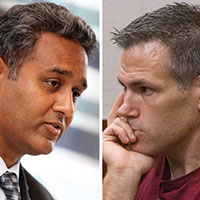 Top surgeon Ramdev defends actions, but libel suit proceeds
STORY BY MEG LAUGHLIN (Week of December 11, 2014)
Photo of Dr. Pranay Ramdev and Dr. David Gillis
In his first interview in two years, prominent Vero Beach vascular surgeon Pranay Ramdev defended his actions in an incident that led to a noisy malpractice suit against him over the death of a female patient, saying he did everything right and another doctor at Lawnwood Regional Medical Center failed to interpret a test correctly.
The interview came three days after Judge Cynthia Cox refused to dismiss a libel suit against Ramdev filed by yet another physician, former Indian River Medical Center emergency room doctor David Gillis, in the aftermath of the incident. Allegedly, Ramdev called Gillis "incompetent" and "a liar" after Gillis gave a deposition in the malpractice suit against him.
The war between these two doctors goes back to Ramdev's settlement of the malpractice suit in March, 2013, after Gillis said in a deposition that it was his "logical conclusion" from two phone conversations with him that Ramdev would see a patient with a life-threatening condition.
Ramdev blamed Gillis for having to settle the suit for hundreds of thousands of dollars and told IRMC doctors it was his "life's mission to prevent Dr. Gillis from ever working at this hospital again ...," according to Gillis' defamation suit.
Gillis was not rehired – unlike several other ER doctors who kept their jobs – when a new management team took over the hospital's emergency room.
Ramdev broke his silence Saturday and told Vero Beach 32963 and Vero News: "I didn't settle (the malpractice suit) because I did anything wrong. I settled because it was in the news and I was hearing from other physicians that some patients wouldn't see me because of what they read. I have a very solid reputation that was being hurt."
Indeed, in a county with very few vascular surgeons, Ramdev, who trained at Dartmouth and Harvard, is widely hailed as an excellent vascular surgeon, whom the community is fortunate to have.
"We're very blessed to have three very good vascular surgeons here, including Dr. Ramdev, because most communities this size don't have any.  Dr. Ramdev is on call a lot and is known for being a great, attentive surgeon," said physician and hospital ICU chief George Mitchell.
Still, Ramdev says, the lawsuit and coverage were "very painful." Ramdev says what he said about Gillis after the malpractice suit was settled was his legal right, as part of the peer review process.
On May 24, 2012, Arthur Bollman filed the malpractice suit over the March, 2010, death of his wife Catherine. She had been rushed to IRMC with multiple fractures and dislocations after a fall. Orthopedic surgeons evaluated her and recommended she be transferred to Lawnwood Regional Medical Center in Fort Pierce, which was better equipped to treat her fractures.
After Gillis popped her dislocated left knee back into place, a blockage occurred, which, physicians say, is not uncommon after such treatment. Before the transfer occurred, a nurse discovered Bollman had no pulse in her lower left leg and told Gillis, who knew that the blockage, if not reversed, could result in amputation and possibly death. Gillis immediately called Ramdev, the vascular surgeon on call at IRMC, about operating to restore circulation.
"I was in the operating room at Lawnwood when the call came in on my cell phone and a nurse had to hold the phone to my ear so I could talk," said Ramdev. "Dr. Gillis told me a transfer to Lawnwood was to take place, but there had been a change in the patient's status with no pulse. I said we had a six-hour window (to restore the pulse and salvage the leg) and told Gillis to go ahead and send the patient to Lawnwood."
Within five minutes, said Ramdev, Gillis called back and asked if he should do an angiogram to prepare the patient for surgery.  "He also asked me: 'Are you going to see this patient?'" said Ramdev. "I told him if I'm on call, I will likely see the patient."
Gillis wrote in the IRMC chart: "I asked him (Ramdev) to see the patient again and he said to transfer the patient to the trauma center."
Ramdev and Gillis disagree on what was actually said in the conversations, with Gillis saying he asked Ramdev to see her, and Ramdev insisting: "I never told Gillis I would see the patient."
Gillis said it was his "logical conclusion" from what they said that Ramdev would see her. Ramdev says: "He didn't ask me to see her, and shouldn't have reached a logical conclusion."
When Bollman arrived at Lawnwood, Ramdev, who had discovered he was not on call there, had left. The vascular surgeon who was on call at Lawnwood did not operate on her for 24 hours, when it was too late, resulting in an amputation, organ failure and eventually death.
"She got to Lawnwood. Since I was not on call, it would've been a violation for me to take the case. The on-call surgeon there ordered a CT scan and misinterpreted the scan. The patient sat there for 24 hours until the leg was not salvageable and she ultimately died because the on-call surgeon there didn't do what he was supposed to do. Yet, the finger is pointed at me for refusing to see her," said Ramdev.
He also said that he had given Gillis medical advice for Bollman on the phone during their two conversations in an effort to help Bollman, and had wanted her sent to Lawnwood because "a higher level of orthopedic support was in place there," which her surgery required.
"What I did for the patient was in her best interest," said Ramdev. "I did not refuse to come in. I would never refuse to come in to see a patient. I was in the operating room when Gillis called. I was not off somewhere having coffee. I wanted the patient at Lawnwood because it's a trauma center with a higher level of care."
IRMC CEO Jeff Susi agrees with Ramdev: "We can tell you that the incident referenced has been reviewed internally as well as externally by independent medical reviewers. Clearly, Dr. Ramdev responded appropriately to the emergency room physician and provided appropriate advice relative to the best way to treat the patient," said Susi.
"The bottom line," said Ramdev, "is that my greatest concern is and always has been patient safety and patient care. It is very important to me that everyone know that I have always been and will continue to be an active advocate for each patient's well-being."