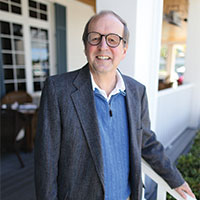 Island investors being sought for Colorado marijuana industry
STORY BY RAY McNULTY (Week of February 20, 2014)
Photo of Peter Orrick
You'd expect to find the intersection of free-market capitalism and government-endorsed marijuana sales somewhere in Denver or Seattle, the largest cities in the two states that have legalized the recreational use of the drug. But here? In Vero Beach? On the barrier island?
"To find the investors capable of making an investment of this size, we have to call on affluent people," said Seagrove resident Peter Orrick, who has spent the past 15 months convincing local millionaires to put their money into the burgeoning cannabis industry in Colorado, where the licensed selling of marijuana became legal on Jan. 1.
"We're not asking for $10,000," he added. "We're asking for at least $100,000. In fact, to be an investor with us, you must sign an Accredited Investor Form provided by the Securities and Exchange Commission, certifying that you have a net worth of at least $1 million, excluding the value of your primary residence, or that your annual income exceeded $200,000 on each of your two most recent tax returns.
"There are a lot of people on this island able to make such an investment."
Able, yes.
But willing?
Thus far, Orrick has found only five island residents – one each from The Moorings, Seagrove, Riomar, Mabrisa and Sea Oaks – who've committed to invest from $100,000 to $225,000 in a Colorado-based Limited Liability Company. A sixth local investor has agreed to put up $50,000. Orrick is the seventh.
All, except for Orrick, wish to remain anonymous, he said.
Combined, the group will provide a licensed marijuana company the $750,000 needed to convert a two-story commercial building in Boulder to a 15,000 square-foot grow house.
"The building needs to be refitted for cannabis growing," said Orrick, who moved to Vero Beach 15 years ago and is a licensed real-estate broker. "The utilities, the lighting and the plumbing all need to be upgraded. Then there are the soil beds, the pesticides, the water … everything you need to grow the crop."
Orrick's LLC will provide the funding necessary for those capital improvements and will hold the lease to the building, but it will not be directly involved in the growth and sale of marijuana. To do so would be illegal.
Colorado's cannabis law requires all marijuana growers and sellers to be licensed by the municipality in which they operate, and only people who have been state residents for at least two years may apply for licenses.
"We can provide support to the legal marijuana industry, but we cannot be a part of it," Orrick said. "So, for us, it's really a real-estate deal. We're lending money to the marijuana company. We're providing the company with the funding to lease or buy the grow houses and dispensaries.
"We don't own the product," he added. "We can't."
The five-person partnership that owns the company Orrick's LLC is financially backing was formed 3 ½ years ago, with its roots in the medical marijuana business. Two of the partners own homes in Riomar. Two others live in Colorado. One is based in Chicago.
The company owns and/or operates nine grow houses, including the largest cannabis greenhouse in Colorado, and seven dispensaries in the Denver-Boulder area. It also recently purchased a 90-acre parcel in Pueblo – the largest property licensed for marijuana growth in the U.S., Orrick said.
In addition, the company last week purchased a 56-acre parcel in Arizona, where marijuana is legal only for medical purposes, with more than 30,000 square feet of existing greenhouses.
"If you missed the dot-com boom of the '90s," Orrick said, "now, 25 years later, you can invest in a highly profitable industry that is taking off."
So why have only six of the "300 to 400 people" Orrick said he has approached during the past year decided to invest in his LLC?
The recreational marijuana business is still illegal in most states, including Florida, as well as under federal law, though the Obama administration has said it will not prosecute violators in Colorado or Washington or any other state that might eventually legalize the drug.
It's also almost exclusively a cash-only business, though the U.S. Justice and Treasury departments last week finally gave banks some guidance in conducting transactions with legal marijuana sellers – a move designed to further legitimize the industry and make banks feel more comfortable working with cannabis companies that are licensed and regulated.
Legal distributors are hoping the new federal guidelines will enable them to secure loans and set up accounts with major banks that previously had been reluctant to do business with them. Although Colorado and Washington are the only states to have legalized recreational marijuana use, 18 others and the District of Columbia allow prescribed use of the drug for medical purposes.
"This is another big step forward," Orrick said, "but for a lot of people here, it's still a hot potato."
And, as Orrick pointed out, the island is heavily populated with Republicans, many of them politically and fiscally conservative. He said all of his current investors are, like him, registered Republicans in their 50s and 60s.
So, despite the promise of what Orrick described as a "significant, double-digit return" on the investments made by his initial LLC, he said the fact that the deal involved the marijuana industry made it a tough sell.
"People here are educated and very smart; they're really going to vet their investments, anyway," Orrick said. "But then you tell them it's the marijuana business, and they're a little leery.
"I've been rejected a lot, but that includes all the people I approached before the president and attorney general said they wouldn't enforce the federal marijuana law in Colorado. For the most part, I've gotten a pretty good reception from people here. I haven't gotten the immorality lecture you might expect.
"Most people said, 'It's interesting, but it's too risky. Let's see what happens with your first deal.' They just weren't ready. But I'm sure we'll talk again."
"The advantage to doing it now is that with greater risk, there's greater reward. Once money becomes easier to get, the payouts will be less. I'm enthusiastic and persistent, and I'm in this for the long haul."