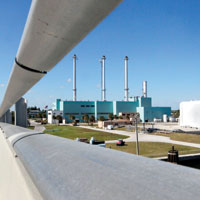 New electric deal needed in time for August referendum
STORY BY LISA ZANER (Week of February 6, 2014)
With the current agreement by Florida Power and Light to purchase the Vero Beach electric utility going nowhere, a new deal needs to be quickly worked out between the city and FPL that can once again be submitted to referendum on the August primary ballot.
The bottom line is that ill-advised entanglements and bad contracts agreed to by a succession of outgunned Vero Beach City Councils over the past quarter century have left the city unable to escape without making huge ransom payments to the Florida Municipal Power  Agency and Orlando Utilities Commission. 
With FPL apparently unwilling to bear the full cost of Vero mistakes, the current deal would appear dead unless voters are willing to agree to a new deal that would see Vero electric ratepayers, to get out of the FMPA, agree to make supplemental payments on top of their new, lower FPL rates for some unspecified time, maybe a couple of years, after a sale was concluded.
Any deal of this kind would require another referendum.  And unless such a referendum is placed on the ballot in August, with three City Council seats up on the November ballot, angry voters could well turn out all the incumbents as they did in 2009 and 2010.
It's unfathomable why it took FPL nearly two months to announce that the Florida Municipal Power Agency ransom figure, which according to reliable sources came in at $50 million, was much more than they could or would pay.
But it's time to get a workable solution on the table to get Vero out of the FMPA power co-op once and for all so city electric ratepayers do not have to suffer another 30 years before its leaders get up the nerve to take on the status quo and the employee unions and try this again.
Nearly four years ago, Vero Beach 32963 reviewed every single article available in the newspaper microfilm in the Indian River County Library archives about the previous attempt to sell Vero electric.
It was a contentious time, much like today, with the vast majority of the public desperately aching to sell, a dug-in minority of vocal obstructionists actively working to kill the deal and the city employees dead-set against any upset of their cozy financial and retirement applecart.
A former power plant manager sued to stop the sale. The employees formed a PAC and funded full-page ads in the daily newspaper to turn public opinion against the deal brokered by City Manager John Little and Mayor David Gregg. FPL countered with its own full-page ads touting lower rates and the resources of its corporation to provide customer service and top-notch reliability.
In 1976 voters overwhelmingly approved the sale of Vero electric at the ballot. The vote on the barrier island was 2-to-1 in favor. Then in 1979, under quite different market conditions from today's, federal regulators killed the deal out of concern that FPL would gain a monopoly or at least a vast controlling share of Florida's power customers.
When that sale fell through, city leaders were, ironically, instrumental in starting FMPA – the agency that now holds Vero and its 34,000 customers hostage to perennially high rates. Vero even pledged its good credit to help the FMPA borrow money.
The intended result was that a loose confederation of small, government-owned utilities could benefit from economies of scale by joining forces to buy and produce power.
The unintended consequence is what exists today – the FMPA has become an extremely expensive middle-man, a bureaucracy of 70 full-time employees, ensconced in a four-story building in Orlando, running an albatross that is nearly $2.3 billion in debt.
The albatross now around Vero's neck was born out of the aftermath of the failed 1976 sale.
The bottom line is that political pressure to get rates down after the unconsummated sale resulted in some very poor decision-making that inadvertently sucked Vero Beach and its taxpayers and ratepayers into what now seem like perpetual obligations to a statewide entity which cares only for its own continued existence.
What can be learned from this history lesson? For those who oppose the sale, what happens after it fails could be worse. Councilwoman Pilar Turner has called Vice Mayor Jay Kramer's dream of a partial sale "absolutely destructive" for the City of Vero Beach. No analysis has been put forth to prove her wrong.
Shutting down the power plant or selling off the 20,000 outside customers would result in massive layoffs of Vero city workers with no promise of job opportunities with FPL. City ratepayers would end up holding a bag of debt, pension liability, and costly power contracts with the FMPA.