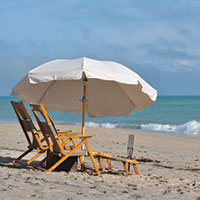 Coming soon: Chair and umbrella rentals at South Beach
STORY BY LISA ZAHNER (Week of January 23, 2014)
After several failed attempts to get money-making ventures through the city council, Vero's Recreation Commission and staff may have struck upon a small winner in the form of beach chair and umbrella rentals at South Beach Park.
The rentals, if approved by the City Council in February, would provide a premium service at no cost to the city, help keep the city's busiest beach free of litter and bring in a few thousand dollars per year to help defray the cost of beach maintenance and lifeguard protection.
Pay beach parking – though potentially lucrative – got unceremoniously killed after a public outcry. Advertising on lifeguard stands was deemed too tacky for Vero.
But having the amenity of quality wooden beach chairs and heavy-duty umbrellas ready and waiting on the shoreline to be rented to visitors and locals alike seems to be more in line with the high-end clientele Vero's beachside merchants want to continue to draw into town.
"We're very in tune with the Vero Beach lifestyle and keeping the quaintness of Vero Beach. It's very important for our philosophy of operations out there because a lot of people come here for that," said Scot Caviness, owner of Vero-based Shark Bait Beach Gear Rentals. "People don't come from Miami to go to Miami."
After the commission was satisfied that the staff had looked into risk management, financial and legal issues and details of the equipment storage facility, the seeming lack of any downside to the proposal prompted the members to recommend the City Council negotiate a contract with Shark Bait. Members noted it was "a great idea" and "wonderful."
"I'm fine with it. Initially I was lukewarm. I'm okay with it," said Recreation Director Rob Slezak, who added he thought any minor issues could be worked out through communication with Caviness and the lifeguards.
Caviness already contracts with the Costa d'Este Resort, Vero Beach Hotel and Spa, and with the Driftwood Resort, and starting Feb. 1 with Holiday Inn Oceanside, to provide beach rentals – not just chairs and umbrellas but most anything guests would need to make the most of their beach stay. From snorkel and dive gear to paddle boards and kayaks, Caviness said he could expand the menu of services beyond chairs and umbrellas should the city desire that someday.
Caviness said his company can handle the city contract by putting on two or three part-time people to set up equipment and staff the concession. He said City Manager Jim O'Connor advised him that the best course of action would be to start out very basic, prove he can do a consistently good job for the city and go from there.
The city would have the final say in setting rental rates for South Beach Park, but a good rule of thumb might be what the going rate is now at the resorts. A package of two beach chairs with an umbrella and table go for $10 per hour or $25 to $40 per day, depending upon the location. Caviness said he envisions creating a "beach club" that customers can join for discounts and said he intends to target locals as well as out-of-town visitors.
Under the current proposal, the city would get 10 percent of whatever Shark Bait takes in. Revenues would not be huge for just one beach location. For example, if rentals totaled an average of $300 per day, the city's cut would be just shy of $11,000 per year. Compared to the $600,000 it costs annually to take care of the beaches and make them safe for swimmers, that's not much, but Caviness said it could help purchase needed safety equipment for lifeguards, or maybe extend hours of lifeguard protection a little later in the afternoons.
Through an online reservation system on his website, customers can book and pay for rental beach chairs and umbrellas online with a credit card and have them ready and waiting when they arrive.
"I am also working with the off-beach resorts to offer a day at the beach package," Caviness said, adding that through partnerships with Ocean Drive restaurants that package could also include food and drink.
The chairs are made in North Carolina of solid oak and both the chairs and umbrellas are crafted of quality Sunbrella fabric, which is found on the cushions of high-end pool and patio furniture. Caviness said he buys the equipment in bulk from the manufacturer and keeps it well-maintained.
At around 8:30 a.m. he and his staffers take the equipment out of nearby storage facilities and set up chairs and umbrellas spaced a good distance apart on the beach. He said he's learned to read the calendar and the weather, which both predict how many rentals he'll need for the day.
Caviness said residents should not expect to see "a big sea of umbrellas."
"I put exactly what the customers want out there," he said. "I always have one available open so if a customer comes out we don't have to have them wait while we set up a piece of equipment for them."
They start packing up around 4:30 p.m. but could extend that a little later for lingering beachgoers. "All the equipment has to be off the beach at the end of the day," Caviness said.