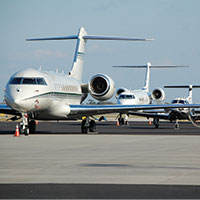 Holidays see snowbirds arriving by private jet in record numbers
STORY BY MEG LAUGHLIN (Week of January 9, 2014)
Photo: Private jets lined up at Vero Beach Municipal Airport.
A private Citation jet taxied to a stop at Vero Beach Municipal Airport last Thursday morning. As the pilot exited the eight-seater, still wearing his down jacket and wool-knit cap, he exclaimed, "It is cold-cold in Pittsburgh and great to be here."
His sentiments echoed those of his passengers – a Pittsburgh family of five with a winter home in John's Island – and those of hundreds of snowbirds with seasonal homes on the island who flew in last weekend, the busiest at the airport in years. 
Between Thursday and Sunday, more than 100 private jets and planes landed in Vero, a measure of perhaps of the bitter cold in the north that has winter residents arriving in numbers not seen since 2008.
They started arriving Thanksgiving, say airport officials, and their numbers have escalated through the New Year: Prime Minister Stephen Harper of Canada and his wife arrived in a Canadian-made Challenger jet with a red maple leaf on the tail, and headed to Windsor, as did the CEO of an international corporation with 750,000 employees.
A 39-seater Bombardier Dash 8 flew in several times, and the crew, wearing tan Homeland Security jumpsuits, went to C.J. Cannon's for Cuban sandwiches.
Dozens of CEOs and their families have landed at the airport in the past few weeks in Challenger, Citation, Hawker, Gulfstream, Bombardier and Falcon Jets, ranging in size from six-seaters to 16-seaters.
Sunday at noon, four jets – a Lear 45XR, a Citation X,  a Falcon 2000 and Challenger 601, ranging in size from  14 seats to 8 – were on the runway behind C.J Cannon's Restaurant ready to fly North.
A family of seven walked toward the Falcon with two English bulldogs to head back to New York.
With her fur-lined jacket in hand and wearing Ugg boots, Victoria Pinsonnault boarded the Lear jet with eight family members to return to snowy Montreal after almost two weeks at John's Island.
"It's hard to leave here," said their well-tanned pilot Mario Lachapelle.
Recently, a barrier island resident chartered a jet to fly in more than two dozen of her cats from the Northeast. Other seasonal residents fly their dogs back and forth between here and the Northeast and Midwest – mostly labs and small, fluffy dogs, according to airport employees.
Cases of vintage wine also arrived by air over Christmas and New Year's. And, right before Christmas, three freshly-cut, seven-foot spruce trees were unloaded from three different private jets. Also, more than one jet has ferried clothes bought at beach boutiques to the cold North for holiday parties.
"Most of the people are going to John's Island and Windsor and don't want to be identified publicly," said Sun Aviation owner Pete Holman.
They usually arrive in suits and coats, talking about how they can't wait to put on shorts and get out on the golf course or tennis court, he said.
Sitting in his airport office surrounded by sailing photos and deer heads, Holman looked over the schedule for Jan. 5: "We are going to be jammed," he says.
"The Sunday after New Year's will be our biggest day ever."
At Corporate Air, about a half mile from Sun Aviation, three private jets landed before noon Thursday and owner Rodger Pridgeon looked forward to "a very, very busy weekend."
"We're expecting 2014 to be our best year," said Holman.