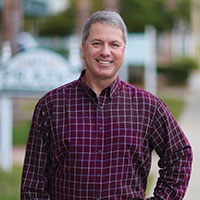 Ray McNulty joins 32963 as columnist
STORY BY PIETER VANBENNEKOM (Week of January 23, 2014)
Photo: Ray McNulty to write 'My Vero' column
Award-winning columnist Ray McNulty, who has worked for newspapers in New York and Los Angeles as well as most recently for the Vero Beach Press Journal, has joined the staff of Vero Beach 32963 as a columnist and general news writer.
McNulty's new column, "My Vero," will start appearing in Vero Beach 32963 as of the Feb. 6, 2014, edition. McNulty will also participate in the newspaper's coverage of important local events and trends.
"We are particularly pleased to be adding Ray McNulty to our editorial lineup, because we have long thought he writes the kind of literate column that should appeal to the readers of our papers," said 32963 publisher Milton R. Benjamin.
"In the tradition of Pulitzer Prize winning local columnists Jimmy Breslin and Mike Royko, McNulty will focus his Page 1 commentary for 32963 on the things that are special about Vero, while keeping an eye out for ways to make our beachside community even better."
"After more than 30 years in sports, I'm excited about the chance to return to my news roots – especially in Vero Beach, where people care so much about their community and still embrace the need for a local newspaper that cares as much as they do," McNulty said.
"I have read 32963 for the past three years and, despite working for the competing Press Journal, I couldn't help but be impressed with and intrigued by the quality of its journalism.  I look forward to doing my part to make sure 32963 remains a must-read publication by producing compelling columns that complement the best local news coverage in town."
During his career McNulty has won many journalistic awards, including from the Associated Press Sports Editors, the Florida Sports Writers Association, the Florida Press Club, the Florida Society of Newspaper Editors and the Colorado Tennis Association. He also won first place in the "Commentary" division in the annual "Best of Scripps" contest in 2008.
McNulty was born in Brooklyn, NY, and grew up on Long Island, where he was a two-sport (football, lacrosse) athlete at Brentwood High School. He began his newspaper career at age 11, delivering the New York Daily News.
McNulty graduated from Washington & Lee University in Lexington, VA, in 1980, double-majoring in Journalism and Sociology; his faculty adviser there was the late Pulitzer Prize-winning investigative reporter, Clark Mollenhoff.
His first full-time journalism position was here at the Press Journal, which hired him in June 1980 to cover the sheriff's department and the courts. A year later, he joined the three-person Indian River County news bureau of what was then "Cocoa Today" and eventually moved up to the paper's Melbourne office.
McNulty worked as a sports writer at the Florida Times-Union in Jacksonville from 1983 to 1994, covered the Mets and the Yankees as well as Big East college basketball (Big East) at the New York Post from 1994 to 1997, and covered the Los Angeles Dodgers and was the Major League Baseball columnist for the Orange County (CA) Register from 1997-98.  He covered the Colorado Rockies baseball team and was a columnist for the Colorado Springs Gazette from 1998 to 1999. He then covered the Denver Broncos and was lead sports columnist for the Boulder Daily Camera from 1999 to 2000. He worked for the Denver Post and Associated Press from 2000 to 2002, and became the sports columnist for Scripps Treasure Coast Newspapers in 2002, a position he held until last week.
McNulty has covered most marquee sports events including the Summer and Winter Olympics, World Series, Super Bowls, college football national championships, college basketball Final Fours, Daytona 500s, Stanley Cup playoffs and Finals, NBA playoffs and Finals, golf and tennis major championships.
McNulty, who lives in Vero with his wife Kathy, has two adult daughters in college, one granddaughter and two teenaged stepsons.