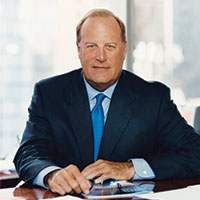 Conde Nast CEO Chuck Townsend chooses our community
STORY BY STEVEN M .THOMAS (Week of July 10, 2014)
Photo: Conde Nast CEO Chuck Townsend.
Conde Nast CEO Chuck Townsend and his wife Jill have decided to forsake the Ocean Reef Club in favor of the Vero barrier island as the place they make their primary home when Townsend retires in a few years.
In the meantime, they will be at the home they just purchased for $2.2 million in Riomar Bay part-time beginning around Labor Day.
"My guess is, that's when we will start to migrate down," Townsend says. "My wife will probably be in town over the winter more than I will, but I have a tendency to fly in most weekends."
The Townsends have been winter residents of the Ocean Reef Club in Key Largo for decades, but Townsend said Vero Beach had greater appeal as a place to spend his post media-mogul years.
The Townsends presence here will certainly lend the town some added cache. A well-known yachtsman and former commodore of the New York Yacht Club, he leads one of the most successful media companies in the world, publisher of Vogue, Glamour, Vanity Fair, GQ, The New Yorker, Architectural Digest, Golf Digest, Wired and a dozen other premier magazine titles in the U.S. and around the world.
He was familiar with the barrier island from visiting his parents, who had a winter home here for 25 years, and was attracted by the quality of cultural and civic life he encountered during those visits.
"I have the deepest respect and affection for the Ocean Reef Club, but in retirement I want to be part of a community like Vero. Another piece of it is many of my close friends from New York, Connecticut and Rhode Island have retired to Vero Beach, so I will be joining them."
The Townsends looked at homes up and down the length of the barrier island before settling on Riomar Bay, according to their real estate agent Karen Smith.
"I think the location in town, close to the village, was a big part of why they chose Riomar Bay," says Smith, an agent with Alex MacWilliam Real Estate.
"The Townsends could obviously have purchased a home anyplace they wanted to, in any great resort town, and as head of the company that publishes Conde Nast Traveler, I am sure Mr. Townsend is well-informed of his geographic and lifestyle options," says Alex "Buzz" MacWilliam, owner of Alex MacWilliam Real Estate. "It certainly says something very positive about Vero Beach and what we have to offer that such prominent, successful people chose to buy here."
Townsend plans to play an active role in the community after retirement. "I don't believe in living in a place without being involved," he says.
"Chuck Townsend is a wonderful person and we are lucky to have him," says Cindy O'Dare, who was the listing agent for the house the Townsends purchased. "I think he and his family will be a great fit for Vero."
Townsend's company has adroitly expanded its digital footprint in conjunction with its print products and now is in the midst of the swift sea change to mobile applications. Its newest division, Condé Nast Entertainment, was launched in 2011 to develop film, television and premium digital video programming.
"Magazine publishing is a very traditional business that happens to be changing at the speed of light," says Townsend, who has been CEO since 2004.
Under his leadership, the multibillion-dollar company, which employs 4,000 in the U.S. and another 4,000 abroad, had its most profitable year ever in 2013.
Besides managing the complex transition to mobile devices that is defining the future of media and advertising, Townsend is in the midst of preparing to move his company from its historic Times Square location to One World Trade Center, the tallest building in America located at site of Ground Zero.
As a yachtsman, Townsend raced high-performance carbon-fiber boats for a number of years before switching to a 39-foot, 1956-vintage Sparkman & Stephens wooden classic named Fidelio, with which he continues to win first-place trophies.
"This is the first wooden classic that I've owned, and it is like sailing a museum piece," Townsend told a boating writer on the eve of last year's New York Yacht Club Annual Regatta. "[The classics are] so graceful through the water ... beautiful to sail and to see."
The Townsends have three homes in the Northeast – an apartment in Manhattan, a home in Middletown, RI, near Newport, and a house on Block Island, all convenient for yachting – but they plan to make Vero Beach their primary residence.
Townsend says he loves the highly demanding job he has been engaged in for the past decade.
"Every day is a source of great excitement and enjoyment," he says. "God willing I plan to work for another two or three years, but I am putting my retirement plans in place."
Those plans include seriously ramping up his golf game. "My primary extracurricular activity up till now has been competitive sailing, but I plan to become a very active golfer in retirement. I am also a tennis player."
In the meantime, until he can spend his mornings on Vero's fairways, Townsend says he keeps track of what is happening in his future hometown by reading Vero Beach 32963 online. "I love your paper. It is a great read."