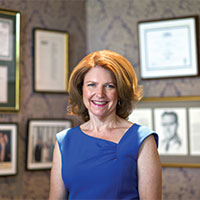 Kerry Bartlett moving on from Community Foundation
STORY BY MARY SCHENKEL (Week of July 31, 2014)
Photo: Kerry Bartlett at Community Foundation.
After six years working side by side with some of the island's leading philanthropists, Kerry Bartlett has resigned as executive director of the Indian River Community Foundation to take a position with an international philanthropic consulting firm. 
Bartlett was hired in 2008 to lead the then new foundation, which offers donors services ranging from hands-on assistance developing estate plans and managing family foundations, to providing informational access to nonprofits and connecting donors to advisors.
From that start, the organization today manages $24 million in assets and has facilitated an additional $21 million in grants to predominantly local nonprofit organizations on behalf of its fund holders.
"I felt like Kerry was the perfect person to get the Indian River Community Foundation kick-started and get it off the ground," said Ann Marie McCrystal, who had been chairman of the board of the VNA & Hospice Foundation when Bartlett previously worked there as chief advancement officer. 
"I recommended her for the position," said McCrystal, an early IRCF founder with husband Dr. Hugh McCrystal.  "We are very fortunate to have someone with her skills, her talent and her dedication to the nonprofit sector living in this community." 
"Kerry has been a dedicated and tireless leader for the Community Foundation from the first day she was hired to lead our organization," said Becky Allen, IRCF immediate past president.  "I am heartbroken that she is leaving, but certainly understand that she is ready for a new chapter in her life."
"One of the major challenges we've had is trying to help people understand just what a community foundation can do for them," said current IRCF board president Bob Puff.  "We're not a charity in and of ourselves.  We're a collection of services and know-hows, as well as a vehicle to help people manage their own philanthropy.  
"Kerry understood quite well the advantages of a public foundation and she was able to explain that effectively to any number of families who were interested in making that conversion," Puff added.
"It's bittersweet for me," said Bartlett, who has accepted a position as managing director of Bob Carter Companies, an international philanthropic consulting firm, but will continue on a part-time basis through the end of the year while the board seeks her replacement.
"This was the first opportunity I had to work with a board to build a nonprofit organization from the ground up," Bartlett said.  "It has been so rewarding to see where we started six years ago, and the work we have done in partnership with our donors and the nonprofit community to achieve our mission – which is building a stronger community."
Bartlett said she attributes their success to the board's commitment to helping connect local philanthropists, professional advisors and civic leaders to the causes they care about most. She particularly enjoyed having the opportunity to work with numerous donors who appreciate the community and who desire to understand the impact of their giving.
"I believe more and more people are looking at their charitable giving as a philanthropic investment and I have found that in turn helps our local nonprofits be even stronger because of the expectations our community's donors have," said Bartlett.   
"The interesting part about the Community Foundation is the seed planting that you do along the way, talking about the Community Foundation and its services, sharing the story with professional advisors; it's all about timing," Bartlett added.  "When someone in the community needs the services of the Community Foundation they reach out, and you never know when that's going to happen."
From its original group of 51 founders, who each committed to donate $25,000 over a five year period to fund IRCF operating expenses, the donor-driven foundation has  grown to 108 fund holders with investments in Donor Advised Funds, Field of Interest Funds, Designated Funds, Legacy Funds, Scholarship Funds and Agency Endowment Funds. 
"We've spoken with community foundations around the country from time to time to try to keep abreast of things, and as best we can tell, the program to date after six years in Indian River County has been above average," added Puff.  "Kerry has been a most effective executive director."
"I am also glad to have had a part in broadening the role of the Community Foundation into community leadership, such as the commitment the board has made to the Moonshot Moment," said Bartlett. 
As a member of the Literacy Leaders steering committee, a cross-sector collaborative focused on aligning community programs and services, the IRCF made a two-year commitment through 2015 to the advancement of the Indian River County School District's Moonshot Moment goal of having 90 percent of area third graders reading at grade level by 2018.   
While Bob Carter Companies is based in Sarasota, Bartlett will remain in Vero Beach, working alongside senior vice president Steve Higgins, as a philanthropic consultant for nonprofit organizations, focusing in the areas of fund development, strategic planning, and governance.
"My whole family is here," she said. "I'm invested in this community and am so proud of what we've done with the Community Foundation and I look forward to continuing my involvement.  I would love to work with nonprofits on the Treasure Coast."
Puff said that during the transition, they will continue to rely on the back-office administration and investment management services of Greater Horizons, the firm with which IRCF has contracted since its inception.
 "It will be business as usual for donors and professional advisors who rely on us for philanthropic management," Puff said.
Scott Alexander, IRCF board vice president, is chairing the search committee for Bartlett's replacement, charged with identifying the "characteristics, strengths and expertise" required for the next leader to ensure its future growth.