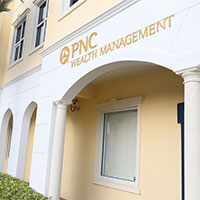 PNC Bank's hiring practices questioned
STORY BY RAY MCNULTY (Week of July 3, 2014)
Photo: PNC Wealth Management.
When Michael Jones was arrested last week and charged with the murder of 26-year-old Diana Duve, he became the second member of PNC Bank's wealth management team, based in the Ocean Drive office, to take up residence in the Indian River County Jail.
The other was Burim Turkaj, who was arrested in May 2013 and is scheduled to be sentenced in October on charges that he bilked four elderly clients out of nearly $400,000.
The cases, though unrelated, raise questions.
Is it mere coincidence that both men worked as financial advisors in the same office – Jones as a senior wealth manager, Turkaj as an investment broker?
Or is there a flaw in PNC Bank's hiring practices, which allowed Jones to get his job in Vero Beach despite his October 2012 arrest in Broward County, where, after a former girlfriend filed a domestic-violence complaint, he entered a plea of no contest to an aggravated armed stalking charge and was placed on five years probation?
How, in fact, did Jones survive the bank's pre-employment background check and get hired for a position of trust, especially in the wake of Turkaj's arrest?
A request to speak to the manager of the bank's Ocean Drive office Monday produced a referral to PNC's headquarters in Pittsburgh, where spokeswoman Marcey Zwiebel said she could not comment on law-enforcement cases or personnel matters.
Not only did Zwiebel refuse to even confirm Jones' employment with PNC, but she also would not discuss the bank's hiring policies, including the extent of background checks on potential employees.
"I cannot comment at all on this story," Zwiebel said.
In October, the Financial Industry Regulatory Authority (FINRA) fined PNC Investments $100,000 for failing to follow procedures that likely would have foiled Turkaj's scam, which involved him taking control of his clients' accounts and having their investment-related mail sent to him at the bank rather than to their homes.
His clients, including one island woman, ranged in age from 85 to 90 at the time the thefts were uncovered.
Turkaj initially fled the country and went back to his native Kosovo, but investigators tricked him into returning to the U.S. in May 2013 to face what he was told was a minor charge – the theft of his work computer.
Upon his arrival at Orlando International Airport, he was arrested on the more serious charges and transported to the Indian River County Jail, where he was held in lieu of a $1.5 million bond.
In May, Turkaj changed his plea from not guilty to no contest on all nine felony charges – four counts of theft from a person over age 65 ($300 to $10,000) and five counts of criminal use of personal ID information – and his bond was revoked.
According to the State Attorney's Office, Turkaj, whose sentencing is set for Oct. 17, faces 14 to 245 years in prison.
Jones, 31, was charged with first-degree murder after Duve's strangled body was discovered two Monday's ago in the trunk of her own car in a Melbourne parking lot. He could face the death penalty.