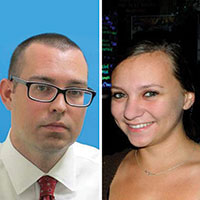 Island jolted by hideous murder of young nurse
STORY BY LISA ZAHNER (Week of June 26, 2014)
Photo caption: Diana Duve (right) and prime suspect Michael Jones (left).
Michael Jones seemed like the kind of guy any parent would want their 26-year-old daughter to show up with for a family dinner or a holiday barbeque – not the type to end up on the evening news as the prime suspect in their daughter's murder.
In a quiet community like beachside Vero, where singles moan about dismal dating prospects, Jones seemed a pretty good catch – if you hadn't seen his rap sheet for aggravated stalking in Fort Lauderdale.
A senior wealth manager for PNC on Ocean Drive and self-described attorney (though not licensed by the Florida Bar), the University of Miami-educated 31-year-old is a clean-cut, professional-looking young man.
He's six feet tall, 200 pounds with no tattoos or piercings, and appears more than respectable – borderline nerdy – in his crisp, white business shirt, tie and dark-rimmed glasses in a professional photo that was, quizzically, posted on the website Mugshots.com.
Acquaintances say Jones had been quite social since arriving in Vero, as evidenced by photos on Facebook and in the local newspapers attending the Indian River County Chamber's Young Professionals Networking events, and representing PNC at charitable and estate planning functions.
He was often seen in area bars having a drink with friends. He was just "normal guy," they said.
Diana Duve lived on Spinnaker Drive in The Moorings with her mother, Lena, and stepdad Bill Andrews. A licensed Registered Nurse, Duve had worked at Sebastian River Medical Center for the past three months as a per diem nurse.
After graduating from Vero Beach High School, Duve attended Santa Fe College in Gainesville and finished her nurses' training at the University of South Florida in Tampa. She got a job in the oncology ward at Lakeland Regional Medical Center, but came home to Vero every chance she got, on her days off, Andrews said.
"She's a very caring girl, she was always early to work, she was never late and she always got good recommendations on how good she was and how compassionate. She was a very hard worker," Andrews said.
Though weary from interviews with police and with the media and still reeling from Monday's tragic developments, Andrews said Duve and her mother were extremely close.  Even the two-and-a-half hour commute from Lakeland to Vero was too much distance between the young nurse, an only child, and her family, so she sought work locally to be closer to her mom.
Jones and Duve seemed like an average, young professional couple, even as they strolled out the door of What-A-Tavern in the wee hours last Friday morning after a night out on the town.
Duve had been to a couple of other Downtown Vero bars with friends earlier in the evening. According to police reports, Duve and Jones left What-A-Tavern together shortly after paying their tab at 1:15 am Friday morning. The bartender, who reportedly knew both Jones and Duve personally, noticed "nothing unusual," Vero Beach Police Chief David Currey stated in a press conference.
Police say that Lena Andrews got a text from her daughter's cell phone at 1:45 am saying she wouldn't be home that night.
By Friday afternoon, Lena Andrews started getting worried when she couldn't reach her daughter on her cell phone. Calls and text messages went unanswered.  It was not like Diana to be out of touch for so long, mom said.
Stepdad Andrews told the television media that Duve had been in an on-again, off-again relationship with Jones, and that they even lived together for a while, but that Duve had split with Jones a couple of weeks ago because he was "too controlling."
Duve was scheduled to fly to California next month to visit her close friend Christa Farkas, to check out the area and possibly make plans to move cross-country, according to Farkas' mother, who lives in Vero. The young women met after college and became close friends. Glenda Farkas said her daughter was "hysterically crying" Monday morning upon hearing the news that her friend's body had been found.
"Christa and Diana talk to each other every day" Farkas said. "She was a wonderful girl and is definitely going to be missed in the community."
Apparently Lena Andrews either knew, or suspected, the rocky relationship with Jones was on again, and that Jones was the reason for Duve's text that she would not be home.
After pounding on the door of Jones' Carolina Trace Apartment on 16th Street and getting no answer, and seeing neither her daughter's 2013 Nissan Altima or Jones' 2002 Honda Accord in the parking lot, Andrews reported Duve to police as missing. Saturday, warrant in hand, police searched the apartment and soon after obtained another warrant for Jones' vehicle. The Honda was later found, still next to What-A-Tavern.
On Sunday, Duve didn't show up for her scheduled shift at the hospital.  It was not like Diana to miss work.
Around midnight Sunday night, police tracking signals from Jones' cell phone found him at the Hampton Inn off the Interstate in Fort Pierce and arrested him on violation of probation.
 He wasn't supposed to leave Indian River County without permission from his probation officer, after a January 2014 conviction in Fort Lauderdale on a 2012 crime. Charges in the Broward County Court were aggravated stalking with a deadly weapon.  Jones was sentenced to five years probation, supervision by the court until 2019 and he was labeled "a violent felony offender of special concern," according to the June 23 arrest affidavit.
A trace of Jones' cell phone signals also led police to a Publix shopping center parking lot on Babcock Street in Melbourne, where Duve's body was found early Monday morning in the trunk of her car.
What happened between the time the couple left Royal Palm Pointe together, and Jones and Duve ended up two counties apart – her dead, and him in handcuffs – is what detectives and crime scene investigators from multiple law enforcement agencies were working to figure out.
Meanwhile, a Moorings family grieves, talks to police detectives and makes funeral arrangements while they wait to get their daughter's body back from investigators.
An Ocean Drive bank refers questions to the corporate office about their senior wealth manager, who is now behind bars. Friends and acquaintances are stunned, in total disbelief that something like this could happen in this close-knit Vero Beach island community.