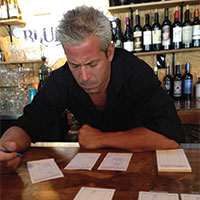 Blue Star bartender jailed for stealing from elderly
STORY BY MEG LAUGHLIN (Week of May 29, 2014)
Photo: Blue Star bartender Glenn Schwarzkopf.
Popular island bartender Glenn Schwarzkopf, charged with grand larceny, forgery and tax fraud in Manhattan for bilking an old man out more than $1 million, has pled guilty to all charges and received a sentence from two to seven years in a New York state correctional facility.
He is eligible for parole in two years, but could be incarcerated for up to seven years.
In an interview with Vero Beach 32963 last July, while out on bail, he insisted he was innocent and it would "just take time to clear it all up." Meanwhile, he worked at Blue Star Wine Bar in Central Beach, pouring wine and beer and schmoozing with customers – many of whom, he said, were sympathetic with him.
"It's nice to be the face of Blue Star and be around people who believe in me and support me," he told Vero Beach 32963 at the time.
But in early March, he pled guilty to all of the criminal charges, and, at his May 13 sentencing, he told the court: "I was greedy; I stole the money."
A high-powered Manhattan investment broker for Citicorp Investment Services from 2002 until his 2013 arrest, Schwarzkopf, now 44, was charged with stealing $1,092,789 from a trusting 84-year-old investor between 2007 and 2011. He used the money for his own lavish lifestyle, which included expensive grooming for his small dog and vacations with girlfriends at five-star hotels.
During the four-year theft spree, according to court records, Schwarzkopf met frequently with the client to reassure him that his money was smartly invested and earning interest and dividends. Meanwhile, he was forging withdrawal slips and helping himself to it.
To conceal his actions, he also falsified his income tax returns in 2009 and 2010. 
At his sentencing, Schwarzkopf told the judge that he viewed his crimes as "victimless" because "nobody was physically injured."
But Judge Charles Solomon would have none of it: "It's not a victimless crime; you stole a lot of money," said the judge.
"I knew that my actions were wrong and criminal," conceded Schwarzkopf.
New York County District Attorney Cyrus Vance, Jr. whose office prosecuted Schwarzkopf, said the crime was one of 800 elder abuse cases in his district involving financial exploitation in 2013.
"We work with financial institutions and community organizations to detect abuse, and stop those who seek to commit crimes against victims who are often unable to defend themselves," said Vance.
Currently Schwarzkopf is incarcerated in Rikers Island, awaiting transport to a corrections facility upstate.