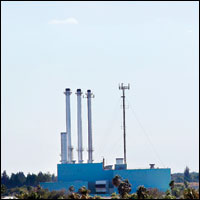 Vero claims out-of-city customers can't break ties to electric co-op
STORY BY LISA ZAHNER (Week of May 22, 2014)
As Vero electric continues to labor in vain to exit its costly long-term contracts with the Florida Municipal Power Agency so it can sell to Florida Power and Light, Mayor Dick Winger now claims the 20,000 electric customers outside the city limits are bound by the same hopelessly bad deal that holds Vero and its taxpayers hostage.
The Florida Municipal Power Agency, Winger said, would have to approve the exit of Indian River Shores, South Beach and county customers from the Vero system. The Orlando Utilities Commission would also have veto power on a split of the system.
Winger made these statements to members of the Taxpayers Association of Indian River County on May 14, and reiterated them to Vero Beach 32963 in a phone call prompted by a records request for the legal opinion or documents backing up Winger's assertions.
"There is no backup on this that I know of, nothing in writing," Winger said, adding that he got the information from the city's new transactional attorney Robert Scheffel "Schef" Wright.
Wright was originally retained by Vero in 2009 to mount a defense to a Florida Public Service Commission petition by utility activists Dr. Stephen Faherty and CPA Glenn Heran seeking to have the Shores, South Beach and County customers carved out of Vero's territory granted by the state.
Winger said City Manager Jim O'Connor could provide more details. O'Connor backed up everything Winger said at the Taxpayers' luncheon, and fleshed out the legal reasoning behind the interpretation, which he said Wright has delivered only verbally,
"That was his discussion with me, he has not issued a legal opinion," O'Connor said, so there is nothing in writing.
When asked whether or not FMPA or OUC tossed up these legal roadblocks to a partial sale, O'Connor said the information came strictly from Wright, the city's own attorney.
"We have not talked to FMPA or OUC, but when you boil it down, you're talking about 34,000 customers," O'Connor said. "With the OUC contract it's all based on capacity and demand for the system – the termination clause, that we can't go out and buy lower-cost energy for capacity."
In 2008 when Vero signed the 20-year, $2 billion wholesale power and fuel management contract with OUC, the Orlando utility reserved enough power for Vero's peak-load demand. Drastically cutting that peak demand by shedding 61 percent of the customer base, O'Connor said, would violate that contract.
"Legal opinions would be that they would have a real problem with that," O'Connor said, adding they might sue for breach of contract.
"FMPA – that's the one that gets a little more tricky, though, because we have pledged our revenue stream to pay our entitlements and I would dare say that if we lost 60 percent of our customers they would do the same thing (sue for breach of contract) because we would not have the revenues to pay those obligations," he said.
According to O'Connor, the revenue derived from the outside electric customers has been pledged, forever, to the FMPA to cover any and all potential liabilities, including the bonds and monthly "pay or take" payments of $914,972 on the FMPA entitlements (Stanton 1, Stanton 2 and St. Lucie Nuclear). All electric infrastructure, inside and outside the city limits, has similarly been pledged as collateral to the FMPA.
In addition to providing adequate compensation to the city to buy the customers out of the system, the County and Shores would be required to make FMPA and OUC and their respective bondholders whole in order for those entities to grant permission for the outside customers to leave Vero electric and go to FPL.
O'Connor said he could not pull any specific sections of the contracts out as evidence because the capacity and peak load issues are woven throughout the OUC contract, and the pledging of the revenues and assets as collateral to the co-op are an integral part of the FMPA contracts as a whole.
When asked to comment on Wright's interpretation, as expressed by Winger and O'Connor, County Attorney Dylan Reingold said the county has engaged outside counsel and is "exploring the options to extricate the outside ratepayers in the event a full sale of the City of Vero Beach electric utility is not possible. I have no comment with respect to the legal positions held by the City of Vero Beach."
Shores Town Manager Robbie Stabe gave a similar response, "I am unable to comment at this time."
The county has committed an initial $100,000 to work on this issue and has retained utilities attorney Floyd Self of Gonzalez Saggio & Harlan LLP. The Shores last month approved a $10,000 deposit on legal services to retain its own counsel and is set to vote on a tentative engagement letter with a Tallahassee law firm on Thursday.