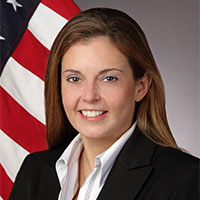 Westbrook misses deadline to run for Congress by a minute
STORY BY LISA ZAHNER (Week of May 8, 2014)
Photo of Corry Westbrook.
Democrat Corry Westbrook did not meet qualifying requirements to continue her bid to challenge Congressman Bill Posey to represent Florida's eighth district in the United States House of Representatives, according to the Florida Department of State.
"She did not file the proper paperwork prior to the deadline," said Brittany Lesser, director of communications for the Division of Elections. Lesser added that the deadline was noon Friday.
The division posts PDF documents of all candidate paperwork submitted and Westbrook's Federal Office Loyalty Oath form was faxed at 12:01 p.m. on Friday and stamped "received" by the state at 12:02 p.m.
Even if it had been on time, the form had one blank that was not filled in, Westbrook's voter registration card number. Lesser said she could not say whether or not that missing number would have been a disqualifying factor as well. Westbrook apparently faxed the same form again, still without the voter registration card number, at 2:30 p.m. and again on Monday.
Westbrook, who is the daughter of Hibiscus Children's Center Development Director Parris Westbrook and Kathy Westbrook, a former trust officer at Northern Trust, entered the race last June.
As of the last reporting deadline of March 31, the Westbrook campaign had raised $164,000 and spent $79,000.
According to the Federal Elections Commission, Westbrook is not required to refund the unused funds remaining in her campaign account.
Federal law allows various options for that money, including making donations to other candidates or committees (respective of contribution limits), rolling the money over to the next election cycle, or donating it to a nonprofit organization, but not to an organization which is the employer of the candidate.
The Westbrook campaign did not return telephone and email requests for comment about the failure to qualify or about what Westbrook intends to do with the money left in her war chest ($10,000 was a loan from the candidate herself), but she posted a message to her supporters on Facebook:
"Due to a paperwork error, I did not qualify to be on the ballot," she said. "This is devastating news to me, my family, friends, volunteers and supporters. I want to thank my wonderful volunteers and supporters for all their hard work this past year.
"I will communicate with you all individually as I close down the campaign. Our campaign was about the issues – the environment, economy, jobs, equality and preventing big money from buying votes. I hope the ideals and values of this campaign move forward despite my name not being on the ballot.
"I am sincerely sorry for this error," the Facebook message concluded. "That has to be the understatement of the year but the only words I can manage at this time."
Should she have qualified, Westbrook would have faced fellow Democrat Gabriel Rothblatt of Melbourne Beach in the August primary. Rothblatt, who is the son of SiriusXM radio founder Martine Rothblatt, had raised a mere $48,000 as of the March 31 reporting deadline.
The winner in that race would have been on the November ballot facing Republican incumbent Posey, a Rockledge resident who has raised $608,000, and write-in candidate Christopher Duncan of Palm Bay, who has no campaign contribution reports on file.
Posey, who was elected to Congress in 2008, is seeking his fourth term.