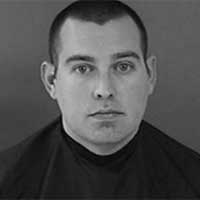 Jones at class for batterers before murder
STORY BY LISA ZAHNER (Week of November 13, 2014)
Only hours before accused killer Michael David Jones drove off from What-A-Tavern with his sometimes girlfriend Diana Duve, who subsequently was found brutally murdered, records show the beachside banker had attended a 90-minute evening session of a 26-week intervention program for batterers of women.
Among the thousands of pages of documents and images in evidence against Jones, who sits in jail awaiting trial for the first-degree murder of Moorings resident Duve, is a sign-off sheet showing that he was in week 14 of a Batterers' Intervention Program run by the Mental Health Association.
The document was discovered and photographed by Vero Beach Police Department detectives after they served a search warrant on Jones for his Honda automobile. The original document is secured in Vero's evidence lockup, but Vero Beach 32963 obtained copies of the photographs through a records request submitted to State Attorney Bruce Colton's office.
Three high-resolution digital photographs show a "26-Week Batterers' Intervention Program Payment Contract" tossed in the trunk of Jones' car with a manila legal file folder, a towel, folding chairs, a beach blanket, a wooden coat hanger, a red car jack and a green-and-white golf umbrella.
The document shows that, pursuant to his post-conviction probation on aggravated stalking charges from a previous arrest in Broward County, Jones enrolled in a mandatory counseling program for domestic abusers and paid a total of $1,275 to the Mental Health Association in March for assessment and program fees. Jones then began attending the sessions on March 20.
On the MHA's website, the course is listed in the menu of programs as "Stop Battering Now – Domestic Violence (for men)."
Throughout the spring and summer, Jones apparently showed up at the Mental Health Association's 37th Street offices every Thursday at 5 p.m. and stayed the 90 minutes so staffers would initial his contract form.
Jones had attended six sessions of the program before police were called to his Carolina Trace apartment on April 30 by neighbors complaining about a disturbance. Duve was there, and according to Police Chief David Curry, Jones told officers the noise was from "rough sex."
Duve told police she was leaving, and friends later told investigators that she showed up at a downtown bar in her pajamas with bruises on her neck. A friend took cell phone photos, which are also in evidence, along with text messages showing Duve revealed that Jones had tried to strangle her that night.
On June 12, Jones was listed as a no-show. But on June 19, the evening before Jones met up with Duve at What-A-Tavern and left with her around 1:30 a.m., he was apparently marked present by a Mental Health Association staffer and marked "N/S" in red pen for the previous June 12 class that he missed.
Duve's body was found a few days later in the trunk of her own car in a Melbourne parking lot. Jones was the prime suspect from the beginning, when family and friends did not hear from Duve and she did not show up for her night shift at Sebastian River Medical Center, where she worked as a nurse.
The state assessment form for the MHA program would have required Jones to give a full history of his abusive behavior toward women, plus his family and psychological history, criminal history and any substance abuse or stalking behavior.
A "risk assessment" portion of the form asks questions that Jones was presumably smart enough not to answer honestly, like "Have you ever attempted to kill your partner?" and "Have you ever fantasized about killing your partner?" It also asks about jealous and controlling behavior, sexual violence, access to and use of weapons, etc.
The last page provides a checklist for mental health staff to assess the patient on manner of dress, mood, behavior, thought process, judgment, responsiveness, memory function, eye contact and other factors.
A partner education leaflet on the Florida Department of Children and Families website says:  "Participation in a batterer intervention program does not guarantee that your partner will change their violent behavior. Batterers must first acknowledge their violence, take responsibility for it, and be willing to change. Other factors such as legal and financial consequences also motivate a batterer to change."
The document also advises the partner of options available to protect them from violence, including emergency shelters. It's unclear if Jones told Duve he was enrolled in these classes, or ever gave her this "partner guide." Records of Jones' treatment are confidential.