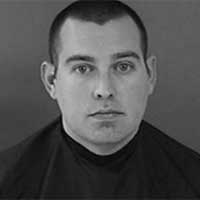 More from bizarre past of accused killer Jones
STORY BY LISA ZAHNER (Week of November 27, 2014)
After 13 months as live-in girlfriend of accused killer Michael David Jones while the two of them attended graduate school in Miami, Alice (last name withheld) found that Jones had somehow during this time secretly married a woman back in Missouri.  She learned this when her boyfriend was served with divorce papers.
Alice's discovery is the latest bizarre twist to emerge from police interviews with previous girlfriends of Jones, who is awaiting trial for the murder of island resident and Sebastian River nurse Diana Duve.   The state has announced it will seek the death penalty.
It was during turkey week four years ago that Alice, then 26, finally decided that enough was enough.
"My family ... came to visit Miami and stayed in our apartment for Thanksgiving," Alice told police on June 27, just days after Jones was jailed and charged with Duve's murder. "And my mom quickly saw how sick I was. My hair was falling out. I wasn't sleeping. I was constantly upset."
During her family's Thanksgiving 2010 visit, something set Jones off. "He started yelling at my younger sister," Alice said. 
"My dad tried to intervene to get him to calm down. So he went storming out of the apartment and called the police.
"It was at that point, once the police showed up, that the male and female officer told me very emphatically 'it is not safe for you to be here. You should leave for the night, or at least for a few days'."
Alice's family then insisted that she come home, and her mother accompanied her by car back to St. Louis.
"And I never talked to him again," Alice said.  
"I never spoke to him. I transferred schools. My family went down there to get the rest of my clothing and whatever furniture of mine."
It was not clear from the police interview how Jones, while living with Alice, managed to carry on a long-distance relationship with a woman back in Missouri named Heather and married her,
But according to the interview, Heather even came to visit Jones and Alice in Miami.  Alice said Jones told her Heather was just an old friend.
"He (Jones) basically explained that they had been friends for many, many years, their families knew each other very well," Alice said.
"And Heather, bless her heart, she lost her father when she was in law school ... And he made it seem as though he was her sole source of emotional support. So this is his best friend and she's always going to be his best friend.
"We stayed living together because I didn't find out about the marriage until she served him with divorce papers," Alice told the detective.
He responded, "Wow."
Alice told how, besides the secret marriage, Jones had become "increasingly controlling, very manipulative, would yell and scream and oscillate between 'I love you so much,' into 'You're making me so angry.' I think the only reason he didn't resort to strong physical violence with me is because he couldn't because he was still recovering from the (back) surgery."
During the interview, Alice reacted to the news, which at the time was just a few days fresh, that her ex-boyfriend had been accused of murdering his girlfriend. Duve was 26 years old, the same age Alice was when she lived with Jones.
"It's definitely sad. My father was absolutely right. You know, he (Jones) started with two failed marriages, and then it escalated to the restraining order that I had to get against him, and then aggravated stalking for another and now ..." Alice's voice trailed off, inaudible on the court reporter's recording.
Relieved to hear that Jones was now behind bars, Alice asked the Vero detective if there was any chance Jones would be released.  He replied that he didn't see any way Jones would get out, considering the evidence against him.