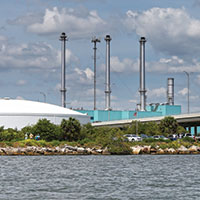 Vero and Shores headed next for mediation over electricity
STORY BY LISA ZAHNER (Week of October 30, 2014)
After failing to settle the lawsuit filed by the Town of Indian River Shores against the City of Vero Beach over excessive electric rates, the City and the Shores – with Indian River County along for the ride – are headed to pre-trial mediation.
When the Shores filed its suit in circuit court in July, and the County followed up with its own petition to the Florida Public Service Commission, it looked like things couldn't get any worse for Vero Beach.
But a City Council no longer controlled by a majority that wants to extricate Vero from the electric business once again retained an outside lawyer that took a dismal situation, and torpedoed the city deeper into the abyss.
Shores Mayor Brian Barefoot, reacting to the skeleton of a plan revealed last week that held out the nebulous promise of short-term rate reductions, said: "From my perspective, it appears to be too little, too late and too risky."
In an effort to reduce electric rates, Vero's hired utility attorney Robert Scheffel "Schef" Wright and City Manager Jim O'Connor brokered a deal with the Orlando Utilities Commission that would give away valuable contractual rights to natural gas and nuclear power, while at the same time increasing the long-term chokehold of outside electric providers by instituting a "take or pay" provision into a contract that currently has no minimum purchase requirement.
Mayor Dick Winger last week praised the plan which dangles a temporary savings potential of up to $10 per 1,000 kilowatt hours if all other cost factors remain stable.
But once the proposal – which was billed as Vero's last great hope of getting rates anywhere near those of Florida Power and Light – was circulated and analyzed by the Shores and the County, both entities bristled at the tradeoffs found buried under the fool's gold of an illusory break in rates.
Still Winger defended the OUC proposal Tuesday in the joint meeting with Shores Town Council members and Indian River County commissioners.
"OUC does not have to give us new competitive wholesale market rates and could hold us to the 2008 contract. This is not a finished deal, but does represent an opportunity to negotiate significant rate reductions over whatever is the term," Winger said, reading from prepared remarks.
"This is important because this 60 percent of our load is the only area to make a potential double-digit reduction in rates. The 40 percent Florida Municipal Power Agency (FMPA) power will remain much over market and has to be averaged in."
Mayor Barefoot, in his remarks, addressed the FMPA and its high rates, and chastised previous Vero City Councils for its dealings with "an unelected body, accountable to no one.
"Your hands are not only tied by the FMPA, but your destiny is entirely controlled by the FMPA," Barefoot said. "It's sort of ridiculous."
County Commission Chairman Peter O'Bryan jabbed at Winger for his deference to city staff and the city's hired attorneys. That approach over the past few decades, O'Bryan said, is what got all the ratepayers into this mess.
"Since Mayor Winger said twice that he would defer any questions to staff," O'Bryan said, "I see no point in sitting here any longer and wasting any time."
O'Bryan moved that the parties declare impasse and move onto mediation, which happened about an hour later by a show of hands. No voice or roll call vote was taken.
Tuesday's meeting was the third session in which the Shores, Vero and the County gathered around a table in hopes of finding an escape from high electric rates, and also a way to avoid the cost to taxpayers and ratepayers of waging war in court for months or even years.
The second meeting on Sept. 26 focused on Vero's rates, and the options the city has to reduce them.
But on Monday,  Commission Chair O'Bryan echoed a statement published by Shores Mayor Barefoot, who pointed out that by refusing to even consider eliminating the nearly $8 million annual subsidy Vero electric provides to the city's general fund,  Vero officials are hardly doing everything they can to reduce rates.
Mayor Winger, who at this time can produce a three-vote majority for most any policy he wants to push, said eliminating the electric subsidy to the general fund entirely could force city property owners to make up the difference in taxes.
Commissioner Bob Solari, the only member of the commission who lives within the Vero city limits, said during a special call meeting of the Board on Monday: "I frankly question the good faith of the City of Vero Beach.
"With the mayor of Vero Beach taking off the table the one thing that they actually have control over," namely the subsidy, Solari said Vero seemed committed to what he called "basically an immoral transfer."
Eliminating the direct transfer could shave nearly 6 percent from customers' electric bills. That, coupled with the estimated $10 savings off 1,000 kilowatt hours that attorney Wright said he hopes would materialize in the first three years from the major concessions Vero has offered to OUC, might bring rates down to within about 10 percent of FPL rates.
Solari asked Vero Vice Mayor Jay Kramer to make a motion to end the transfers, but Kramer countered with an outlandish proposal to do away with profits for all companies across Florida.
The parties now have 14 days to choose a mediator, or a maximum of an additional seven days past that should they require help settling on a mediator.
Vero, the Shores and the County then must meet again within 14 days. Should they walk out of that mediation session without a workable compromise, the suit is headed to circuit court for a jury trial – a trial in which star witnesses are expected to include current and past elected Vero officials, consultants and city staffers who played critical roles in the management of the electric utility from 2008 to date.
On a separate track, the entities did agree to appoint delegates to jointly search for a heretofore undiscovered way to make the sale of Vero electric a reality.  Winger, though he agreed that completing the sale would be the best possible outcome, did not hold out much hope. "Any honest  person would have to say that solving the FMPA issues and closing the FPL sale is, at best at long odds," Winger said.
If that's not possible, Barefoot said, the Shores intends to go its own way Nov. 6, 2016 when the Town's electric franchise agreement with Vero Beach expires.