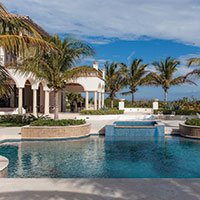 $10.2 million sale record for auction
STORY BY STEVEN M. THOMAS (Week of April 2, 2015)

A five-year-long real estate adventure came to a sudden end Thursday when Splendida Dimora, a house once listed for nearly $19 million, was auctioned off for $10,195,000 in a fast-moving bidding process onsite at the spectacular oceanfront home at the southern end of 32963.
"It was all over in 10 or 12 minutes," said Tom Laboon, a partner in the development company that completed construction of the 16,120-square-foot house in 2013.
"There were 11 registered bidders, with five or six on scene and the others bidding by phone," said Clark French, a broker associate at Premier Estate Properties. "The field quickly narrowed down to about six bidders and then the final two. Most of the serious bidders dropped out around $8 million."
Last Thursday's auction was conducted as a bidder's choice – the winning bidder could walk away with a contract on either Splendida Dimora or Sandy Lane, a 15,400-square-foot Barbados-inspired house just to its south built by the same developer.
Within 72 hours after the auction winner chose Splendida, Sandy Lane went under contract, according to French. He declined to disclose the contract price, but the buyer likely was one of the bidders who had dropped out along the way in Thursday's auction.
French said the atmosphere at the high-stakes, catered affair was festive and charged with excitement, with approximately 50 people present for the 6 p.m. no-reserve auction, including five or six of the bidders, some with family members in tow.
"It was a very elegant night," said his partner Cindy O'Dare. "After the rain stopped, we opened all the sliding doors and the breeze was filled with the scent of orange blossoms."
There was a long table set up with phones and folding chairs where agents for the phone bidders sat during the rapid-fire auction.
The buyer, identified  by sources as Joseph F. Trustey, managing director of the Boston-based investment firm Summit Partners, was said to plan to use the 7-bedroom Mediterranean-style house for a family vacation home. His winning offer of $10,195,000 included the standard 10 percent buyer's premium.
The selling price was the most ever paid for a home at auction in Vero Beach, but Brook Lenfest, owner of Beachlen Development, was less than thrilled with the outcome.
"[It was] definitely a huge disappointment," said Lenfest, a Philadelphia businessman, art collector and philanthropist. "Building two houses over a three-year period and selling them at a loss is not what we set out to do. These houses would have sold for much more and in a short period of time in other areas of Florida."
Lenfest and Laboon bought approximately 7.5 acres of oceanfront land in 2008 and erected the two big houses on the southern half of the property, building the homes simultaneously to save money on construction costs.
The auction was structured as a bidder's choice to generate maximum interest, since equal numbers of potential buyers were interested in each house, and to put pressure on buyers who have not felt urgency to purchase since two homes of similar quality and size were available in the same location.
Put on and promoted by Concierge Auctions, the auction also was intended get around another sales roadblock. There are 10 or so homes priced at or over $10 million on the market in Vero, but there hasn't been a $10 million-plus sale since 2012. That means there were no comps to help establish the fair market value of the Beachlen homes.
"In Vero, there is not enough information to make a buyer confident that the price they are paying is what they should pay," Lenfest said prior to the auction. "I think that has been in large part the reason the homes aren't sold yet. The auction is a perfect way for a buyer to be comfortable that they paid the right price."
Even though Lenfest was not happy with the price the market set for Splendida Dimora on Thursday, it could have been worse.
The house sold for more than 50 percent of the original asking price of $18,875,000, a much better result than when Miami's Versace Mansion was auctioned off a year and half ago.
In another high-profile auction that took place last month, a 12,000-square-foot Gulf-front house that was the most expensive home in Cape Coral, sold for a mere $2,640,000, about 45 percent of its original asking price of $5.9 million.
The sale of Splendida at roughly $620 per square foot created a local comp that will likely make it easier to value and sell the other $10 million-and-up homes on the market here.
Staff writer Milton R. Benjamin contributed to this story.