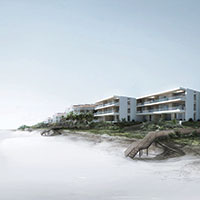 Luxury modernist condos to be built in Shores
STORY BY STEVEN M. THOMAS (Week of April 2, 2015)

Hard on the heels of a March announcement that 11 new luxury townhomes will go up on the former site of the Surf Club Hotel on A1A comes the news that 18 modernist, even-more-expensive condos will be built on the oceanfront just north of John's Island in Indian River Shores.
"We are very excited about the project and think the design will be very well received," says Katherine McConvey, CEO of Alloy Development, the New York-based company behind the condominiums, which are slated to break ground this fall.
Alloy President Jared Della Valle says Alloy's first Florida offering will be a "thoughtfully contemporary project, offering the market something they have not seen before. It will celebrate the special location and take advantage of this being the gateway to the tropics."
"I think the buyers here are quite sophisticated," says McConvey. "They will see that our design really allows the incredible coastline to be the main feature of the home. It will be a simple design that blends the exterior and the interior. The focus will not be on crown molding but on the world outside the windows."
Della Valle says the 103,000-square-foot building, which has two setbacks that make it look more like three buildings than one, will harmonize not just with the natural environment but the structural rhythm of The Carlton, its neighbor to the south.
"We are very design-driven company with a strong sense of responsibility about what we do," he says. "Buildings like these have a long lifespan with lasting impact on the place they are built, and we care deeply about what we leave behind, the value of the architecture and the quality of the work."
Della Valle says Alloy has been looking for Florida development opportunities for a while. The company settled on the Vero site in part because McConvey lives on the island and in part because of a perceived synergy between the community and the type and quality of design on which Alloy has built its reputation.
"It is part of our corporate MO to do projects near where we live," says Della Valle. "I live a few blocks from our projects in Brooklyn and since Katherine has been a fulltime resident here for 10 years this project fits in that regard."
McConvey is the builder, owner and occupant of the striking modernist home that went up on Ocean Drive south of Jaycee Park in 2013-14. Community reaction to that masterpiece of contemporary design convinced her and Della Valle that Vero is ripe for a more modernist aesthetic that moves beyond the time-worn Mediterranean Revival, Georgian and West Indies styles that predominate on the island.
"I am a private person and not a whole lot of people have been in the house. But every time I have had people over it surprises me how much they love the house," McConvey says. "They are amazed at how different it is from their vision of what 'modern' structures are like. The positive response has been overwhelming.
"The house is much warmer and more livable than people expect and people will find that 8050A1A (the condo name) is a warm and lovely place to live as well.
"Our biggest consideration when we thought about this project was whether Vero Beach is really interested in the type of design we provide. We are convinced the community is ready for this and confident of a very positive reception."
Alloy in October paid $7,250,000 for the prime 4.8-acre parcel north of The Carlton where the cool, clean-lined building will be located. Clark French and Cindy O'Dare of Premier Estate Properties were the listing agents. Kay Brown, also of Premier, was the buyer's agent. Beachlen Development was the seller.
Della Valle says the company expects to start selling units this summer, prior to starting construction in the fall. The 3-bedroom, 3.5 bath units with bonus rooms and summer kitchens will have 3,350 to 3,950 square feet of air-conditioned space with 850 to 1,550 square feet of outdoor space. All will be oceanfront.
According to 8050verobeach.com, a website Alloy just put up to introduce the project to the community, "Each home features dramatic ocean views and sunset exposures with twin 15-foot covered terraces, the ideal spot to take in any sunrise or sunset. Contemporary chef's kitchens with integrated European appliances are thoughtfully configured.
"Open plan living and dining rooms are outfitted with wide plank wood flooring or stone floors and enjoy 11-foot ceilings. Expansive master baths feature double shower heads, free standing tubs, and his and her water closets. Select penthouse master baths feature open air showers ... Access to unique courtyards, skylights, and ample outdoor space make for unrivaled light-filled oceanfront homes."
Subterranean parking for two cars per unit, private elevators and swimming pools are part of the package too.
Besides being CEO of Alloy, a job she says takes up 50 percent of her working hours, McConvey is the owner of KMM Telecommunications, a company she founded in California in 1991 as a Woman's Business Enterprise. According to its website and other sources, the company does more than $1 billion in business annually with locations in eight states, including Florida.
McConvey and Della Valle founded Alloy in 2006. The company has designed and developed a number of award-winning projects in New York, including energy-efficient single family residences, affordable housing complexes, mid-rise condominium towers, loft conversions and luxury townhomes.