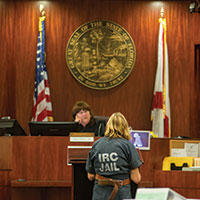 Mental Health Court off to promising start
STORY BY MEG LAUGHLIN (Week of April 16, 2015)

Three months after it began in late January, Indian River County's Mental Health Court seems off to a highly promising start with more than 15 clients, defendants who were diverted to the problem-solving court instead of going to jail.
"Mental Health Court here is exceeding our expectations as it continues to grow," said Sheriff Deryl Loar.  "The court has already saved taxpayers more than $50,000 for jail bed space and cut way back on recidivism."
The thought behind the new court is that structure, accountability and services are a better approach than incarceration toward getting mentally ill people who have committed crimes to be crime-free, productive citizens.
Last week, defendants-turned-clients appeared before Judge Cynthia Cox as they do every two weeks. Several, who came to the court on its first day in late January have already changed notably.
Matt, who began in late January as a stuttering young man who made false bomb threats, would not look at the judge then. But, now, he speaks clearly and looks her in the eye when he tells her how well he is doing. Thanks to the mental health court team, he is getting disability money and services, which are clearly making a difference.
Case managers recently gave him an "A-Team" rating along with seven other successful participants, for being 100 percent compliant with everything asked of them, from regular check-ins to getting drug and alcohol screenings to participating in all programs and therapy.
Matt tells the judge how much he likes his group therapy sessions and going to the Mental Health Association's Drop-In Center to talk to new friends, play pool and use the Internet.
"Thank you. I'm doing good," Matt tells Cox, who usually rules on complex motions and presides over complicated civil trials.
Presiding over Mental Health Court, the judge is quick to say, is a welcome change: "It's more rewarding than what I usually do because I can measure the fruits of my labor and get instant gratification when I see how we are helping people help themselves," she said.
Along with Matt, Irene, also on the A-Team, appeared before the judge last week. Two months ago, when she first came to Mental Health Court on probation for trespassing, she was disheveled and too strung-out to talk. But since then, she has been taking regular medication and is in a residential program.
The picture of spring in a light linen dress and espadrilles, she cheerfully greeted the judge, telling her what a "gem and life saver" Mental Health Court coordinator Karleen Russ is because she has set Irene up with providers and medicines and talks to her almost every day.
"The structure and attention are very good for me and I'm very thankful," she tells the judge.
Then, before she leaves, she turns to prosecutor Chris Taylor, who attends all court sessions on behalf of the state attorney's office, and says, "Thank you, State."
In response, "State" nods and smiles at her.
Most of the 15 participants currently in Mental Health Court are on probation for trespassing, petty theft, disorderly conduct or marijuana possession. The mental illnesses of the 11 men and four women, who range in age from 18 to 77, include autism, schizophrenia, bipolar disorder and major depression.
Several live at home; several live in group homes or in residential programs. Two are hospitalized and two are in jail.
Bradon was recently rearrested for throwing a brick and breaking a window at his group home. When he appeared in court last week in shackles, Cox told him: "You let your temper get out of control. What are you going to do the next time you get mad?"
"Count to 100," responded the 18-year-old, who has been declared mentally incompetent.
If he has any more problems, the judge warned, he'd be back in jail for a longer time.
"Think before you get angry. Be polite. Be on your best behavior," she told him, as he nodded that he understood.
Also in jail last week was Alice, 55, who has been in and out of jail over a number of years for disorderly conduct, trespassing and public drunkenness and is well known to jail and court administrators.
Assigning Alice, who is homeless, to Mental Health Court is a last-ditch effort on the part of the system to stop the cycle of incarceration or, at least, slow it down.
"How can we help you?" asked Cox.
"I need counseling and AA. I need to see a doctor," Alice told the judge, who suggested a residential program.
"Thank you," said Alice.
Including the new Mental Health Court in Indian River County, there are 27 such courts in Florida, where 125,000 mentally ill people are incarcerated either in jails or prisons at a cost of $600 million a year, according to a Florida Senate report. 
Based on statistics, the Florida Supreme Court website says "monitoring and treating offenders with [serious mental illness] in a mental health court is more effective, efficient, and less expensive than the remedies available through traditional justice system approaches."
Last week, Lisa Kahle, director of the county's Mental Health Collaborative, a coordinating body which was instrumental in setting the court up, was there to see how the defendants were progressing.
Kahle said she was impressed with the "professionalism and compassion" of the Mental Health Court team, and the "obvious gratitude" shown by the participants in response.
In late January, when the court started, most of the participants seemed baffled that the judge and the Mental Health Court team appeared genuinely concerned with helping them. But, at the time, Russ, the coordinator of services for the court, said she hoped the participants would get used to it, feel more secure and dedicate themselves to doing well.
Last week, Russ's hope seemed to be coming true for the majority of people participating in the three-month-old program.
"If things are going this well now, just imagine where we'll be in a year," said Sheriff Loar.